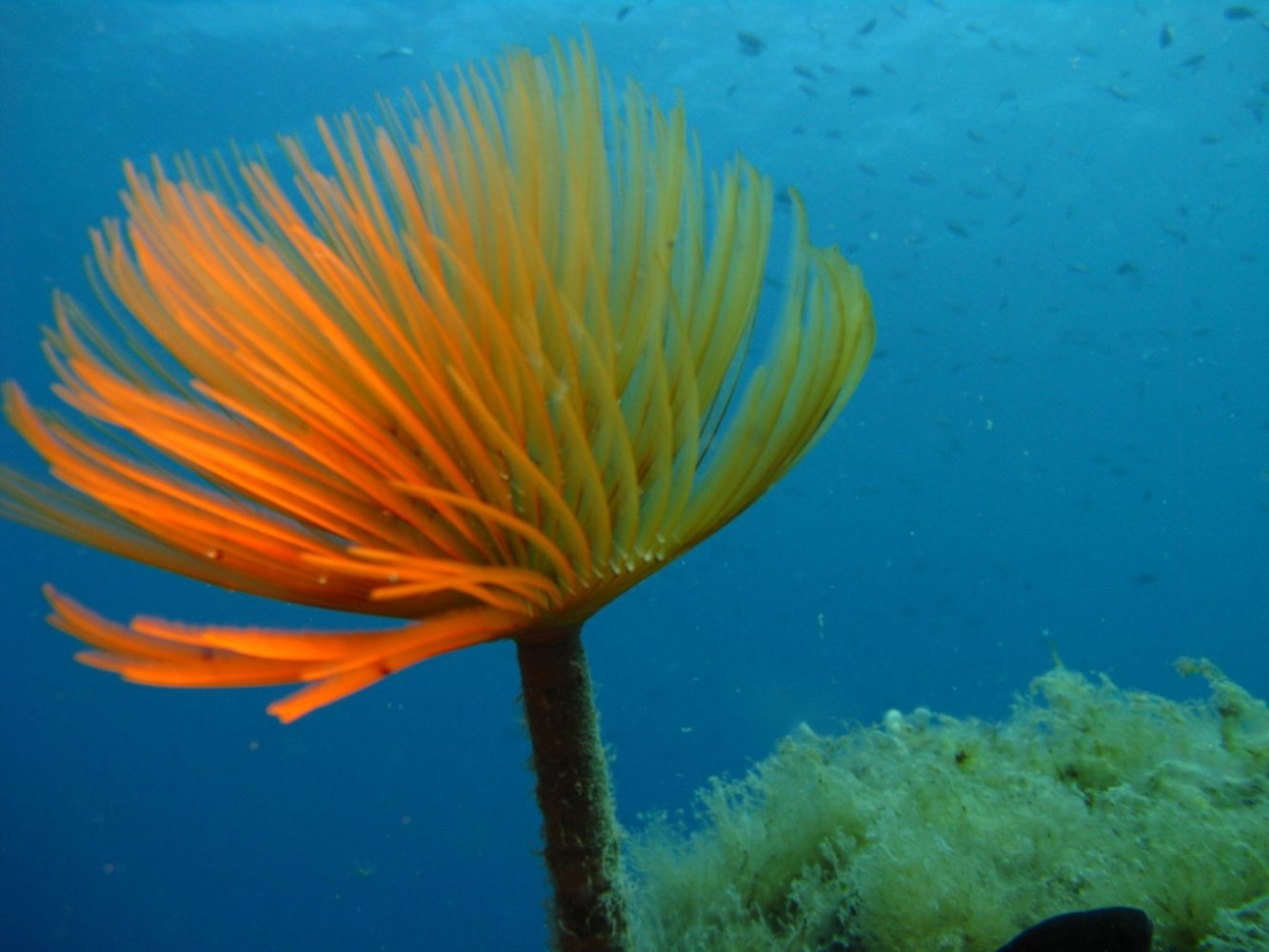 Porto Azzurro: paradise for scuba divers
For both amateurs and professionals
For fans of scuba diving, some of the most beautiful places in all of Tuscany are located along the coasts of Elba Island, where, particularly at Porto Azzurro, the depths are perfect for both professional divers and beginners. Here, all you have to do is put on a mask and a pair of flippers to experience the beauty of the seascape at your fingertips. The bright colors of the vegetation, the caves and the colorful fish make the whole scuba diving experience spectacular. Here are some of the best spots for discovering the underwater world of Elba Island.

Picchi di Pablo

Near Punta Bianca, you'll see several rocks rising up, just a few meters from the water's surface. By beginning your dive from these rocks, you'll be able to appreciate the extraordinary amount of Parazoanthus that are present in the area, characterized by their intense orange hues. As you continue gliding along in the water near the steep rock wall's niches and cavities, you'll find sprouting yellow sea fans growing on the seabed. Wide canyons characterize the area where you'll find a deep coral reef and all its stunning wild-life. Slightly further north, you'll reach a small cave, inhabited by hundreds of Plesionika narwhal red shrimp. Reaching the base of the wall, you'll find several isolated boulders and burrows that are home to gorgonians, lobsters and moray eels.

Sassi Neri

Past Capo Caldo on the south side of the Gulf of Porto Azzurro, you'll find large black boulders that serve as a lively backdrop for a 35-meter cliff which is completely covered with red sea fans. While peeking amidst the rocks, it is not hard to see the antennas of lobsters; with the help of a flashlight, you're also sure to spot red shellfish hidden underwater beneath the crevices. The slope of the reef faces open sea. There, you can see bream and snappers and, during the summer months, it's not unusual to spot sunfish. Somewhat sheltered from the winds, this area is an outdoor gym-of-sorts for novice divers as it is ideal for diving in less than perfect weather conditions.

Punta delle Cannelle
Punta delle Cannelle lies on the north side of the Gulf of Porto Azzurro. Swimming out to sea, you'll pass a plateau which slopes gently upwards, before reaching a sharp ledge which drops steeply into the blue. White and yellow gorgonians colonize amidst the rocks, but if you look toward the open sea you're sure to find splendid schools of white bream and the gleaming silhouette of some large pelagic fish chasing schools of azure fish. Beyond the ledge, you'll find the base of the cliff with open narrow passages between the rocks. There, in the darkness, you'll see colonies of sponges and Parazoanthus, while in the larger cracks, you may spot shellfish and eels.
You might also be interested in