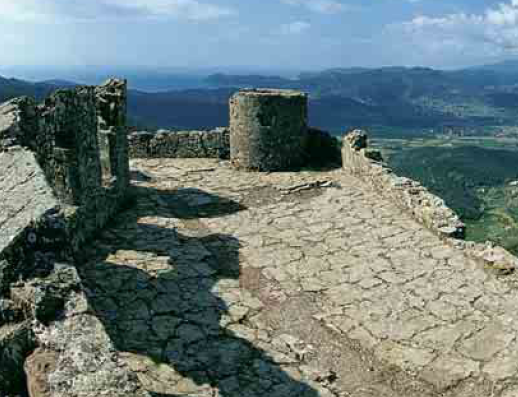 Pirates ahoy! on the Isle of Elba
Watch-towers and fortified towns
In order to protect itself from the terrible Islamic, Norman and Greek pirates from the 8th century onwards, or the sporadic conflicts with the Genoese, Catalans, Neapolitans and French, right up to the English and Dutch corsairs in the 1500s, Elba built itself a respectable defensive system, mainly with the help of the Pisans and the Appiani Seigneurs. This defensive system was not, however, able to adequately protect the island: between 1534 and 1555, in fact, the pirates Barbarossa (Red Beard) and Dragut devastated fortresses and entire villages with their raids. Two important landing beaches, Marina di Campo and Marciana Marina, are guarded by two almost twin-like cylindrical towers: the Torre della Marina (fig. 16), an 11th century tower built by the Pisans, and the Torre Pisana, also known as the Torre Saracena, which probably dates back to the 1400s.

The quadrangular Torre di San Giovanni (fig. 18) has stood behind Marina di Campo, near San Piero, since the 11th century. This tower was built by the Pisans out of a single mass of granite. It is possible to note that one of the edges rests on the wheel of an ancient millstone. The hexagonal Torre Medicea (fig. 17) is located in Rio Marina. It was realized by the Appiani family in 1534, and subsequently elevated in the 1800s by a small square tower housing the town clock. The remains of the Pisan Fortezza di Luceri, or Santa Lucia, can be found on the hills overlooking the Gulf of Portoferraio, whereas Monte Giove, near Rio Marina, hosts the ruins of the Castello del Giogo. Both these fortifications were destroyed in 1552 by the pirate Dragut. At the peak of a rocky spur on the north-eastern ridge, is the Castello del Volterraio (fig. 19), the place of vultures. The castle is located on the site of an Etruscan settlement, which was fortified by the Romans, the Pisans and the Spaniards.
You might also be interested in
Tuscan Archipelago
Crystalline waters, Mediterranean shrubbery, pine groves overlooking steep cliffs, hidden coves and sprawling soft sandy beaches: the Tuscan Archipelago is an mesmerizing set of Tuscan islands with wild nature and magical sea beds worth ...
Scopri Tuscan Archipelagokeyboard_backspace