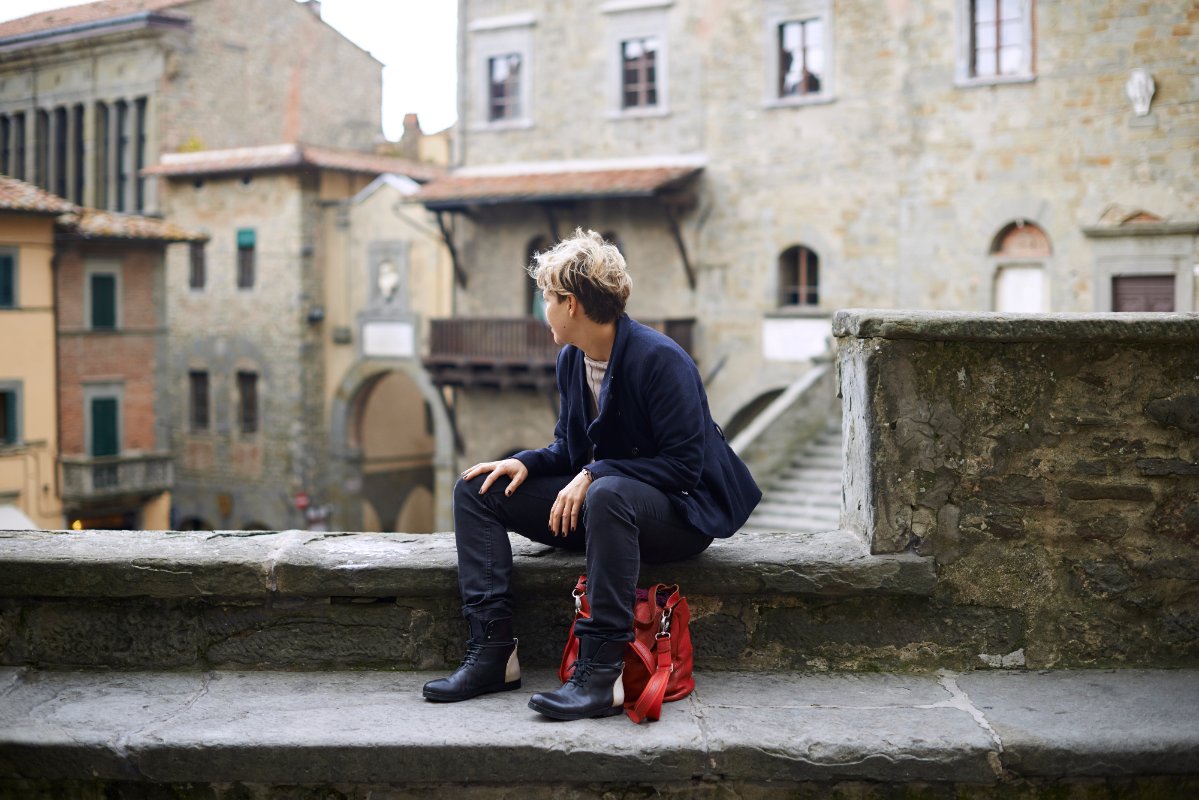 Pecha Kucha night in Florence - on top of the trend!
Last night I went to the fifth edition of
Pecha Kucha Night in Florence
, organized by ISIA Firenze (design school). I'd heard about this worldwide event with its funny name but I didn't really know what it was, so i looked it up on the
Pecha Kucha official website
. Turns out that Pecha Kucha nights (PKN) began seven years ago in Tokyo. It is a line-up of short visual presentations that are distinguished by their 20x20 format - twenty slides for twenty seconds each, on auto-forward. Conceived of by architects, the presentations are by creatives of all types who might talk about everything from a single project or trip they took to their entire career. Cities around the world caught on and are authorized by the event's inventors to use the name and official logo.
There has been Pecha Kucha in Florence, Italy since October 2008
and I had no idea! Of recent events around the world I'd heard good things; Michelle who is hosting
Slow Art
in Worcester (MA) told me that a PKN is so inspiring, you can ride that creative wave for days. So I headed out to
EX3 contemporary art center
, where PKN Firenze #5 was being held. The large room that houses
Eva Marisaldi's installation
had been set up with soft, post-modern furniture that looked cool but was not terribly comfortable, especially as I ended up with a hard bench. Booo. My PKN was a bit of an adventure because I managed to park my car in an underground lot next door that I did not realized closed at 9pm (hey, there was no sign!). Luckily I ran into friends who brought me home... at which point I realized that my house keys were in the car! This resulted in waking my in-laws at midnight to come save me. But it was worth it, if only for the fact that I ended up with another story to tell on this blog. Some of last night's presentations really stood out for the originality of the material presented. What makes me happy about having taken part of this evening is that it
showcased the creativity of local artists and designers
, living proof that "made in Tuscany" exists and is going strong.
Pattern as meta-language
Visual artist Simone Massoni, explored the concept of
what a visual artist is
, and if I understood correctly, he sees it mainly as communication. With his brand "
Sketchthisout
", he declares that he uses pattern as meta-language. His 70s/ music themed works take pattern from the wall to the museum to the tshirt or board shorts. Originally a book illustrator or cartoonist, he's not afraid to move into other - more commercial? - media into which he carries a strong personal style.
Branding CIAK notebooks
I really enjoyed the presentation by Alessandro Dilaghi, Art Director at
Senza Filtro
, who presented part of an advertising campaign they developed for
Ciak
, cute little notebooks with an elastic closure that are entirely made in Italy (and the company is from Florence!). [These would make good gifties to bring home from a trip!] They held a contest for people to
personalize their Ciak
, and Alessandro showed some of the
best examples
. These blank books inspired so much creativity! Some people clothed the covers in other fabrics or materials, one artist added security features like spikes and locks, some broke down the whole concept of book, like the artist who cut the center of the book to house a growing flower and the open page was used to measure its height. They will be launching a bigger version of this contest in May 2010 so keep an eye out on the Ciak website and think about how you would make art with your Ciak.
1-hour-art
This project wasn't born locally in Florence, but it's still Italian. Curators Vivienne Checchia and Anna Santomauro realize that art museums put up barriers that make it less accessible to people - from ticket booths to crowds to simply having to go there. People whiz through museums and hardly look at many of the works - which is exactly what we hope to counter with Slow Art, so you can understand why I am so enthusiastic about this project!
One Hour Art is a one-year project that began in July 2009 that puts "customers" in touch with artists who provide art, for free. The main format is the artist comes to your home for one hour and does something (you can pick from a list of projects), but in some cases the artist will travel with you on a train, or mail you art. Some will draw on your walls, other will play music with your vacuum cleaner. Luckily you can decide what art you get in advance so you don't end up with a wall-drawing that you hate ;-). And the even better news is that you can get your one hour artist in the following countries: Australia, Belgium, Germany, Spain, France, Italy, Luxemburg, Austria, Romania, San Marino, Senegal, Slovakia, Slovenia, Suomi, Switzerland, UK, and USA (Los Angeles and CN). I hereby vow to hold my birthday party with my very own home-delivery-artist.
Simple Design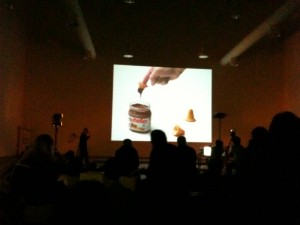 I was so impressed when designer Paolo Ulian presented his humorous, simple works, because I'd seen many of them in magazines and had no idea that he was a local. A born and bred Tuscan from Massa-Carrara, he studied painting at the Accademy of Fine Arts of Carrara and then design at ISIA Firenze (Institute of Industrial Arts). He showed practical objects designed from already-available, mass-produced items like the corrugated cardboard vase, the swim-cap lamp, or the metal egg holder that snaps on to your regular plate. He also showed some of the funny items for which he is famous, like a bath mat with integrated slippers, and best of all, cookies that you stick on your finger and dip into Nutella.
All in all I had an eventful evening and I look forward to the next PKN.
Have you ever attended a Pecha Kucha? Where? How was it?
You might also be interested in