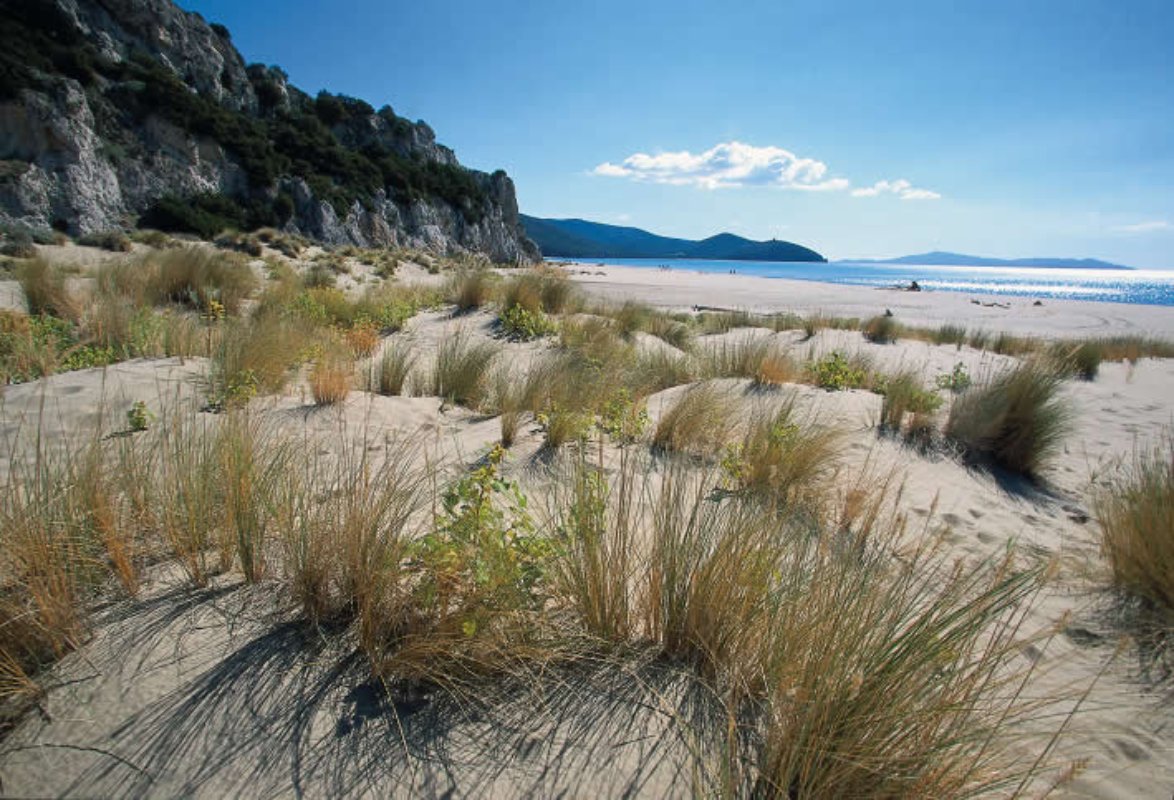 Outdoor vacations in the Maremma and the Tuscan Archipelago
A camper itinerary along the southern coast and islands
The Maremma is a fascinating land, unique in its landscapes and the contemplation it inspires. It's the ideal place to spend a vacation en plein air. The wild, untamed beauty of this coastal area contains completely uncontaminated areas like the coastline of Scarlino, with its famous Cala Martina bay (where, in 1849, Garibaldi, who had escaped from Rome, hopped on a fishing boat that took him to Porto Venere), and Cala Violina bay, and part of the cliffs that from Punta Ala reach Le Rocchette or Castiglion della Pescaia.
Once you reach the Follonica Gulf, the view is absolutely stupendous: the reflection of the deep blue of the sea, the green coastline that offers a nice contrast between the colors of the sea, and then, a bit far off, Follonica, a resort town that maintains its original character as an industrial center. Returning to Aurelia, we can change course toward Punta Ala, situated at the most southern point of the Follonica Gulf. It is one of the most famous tourist establishments on the entire Tyrrhenian coast.

Toward Le Rocchette, there's Castiglion della Pescaia, perhaps the most well-known resort area of the Maremma. It is close to gorgeous pine forests and strands, and has maintained the feel of an old-fashioned fishermen town. Situated on a rock at the mouth of the Bruna lake, the higher part of the town retains the typical, picturesque feel of a medieval town.
You absolutely should visit the nearby small town of Vetulonia, a great Etruscan necropolis. To get to the Maremma Natural Park you have to turn toward Alberese. Here you can see some of the famous Maremman horses and some very rare plant species, explore uncontaminated strands, and wander up high to admire the beautiful view of the Archipelago.

Continuing southward, you'll get closer to Argentario, the promontory that almost touches the islands of the Tuscan Archipelago. In this stretch of coast, you must visit the Costa d'Argento for its sparkling sands and the Tomboli of Orbetello, Giannella and Feniglia.
An excursion along the Tuscan coast must include a visit to Elba Island, which offers lots of camping opportunities and has a fascinating ancient history. It's surrounded by a clear sea and the crystalline white beaches of Portoferraio and the Ghiaie; the sea is deep and intense along the cliffs going down from Monte Capanne. It's probably for this very reason that the Argonauts wanted to land on this stretch.
You might also be interested in