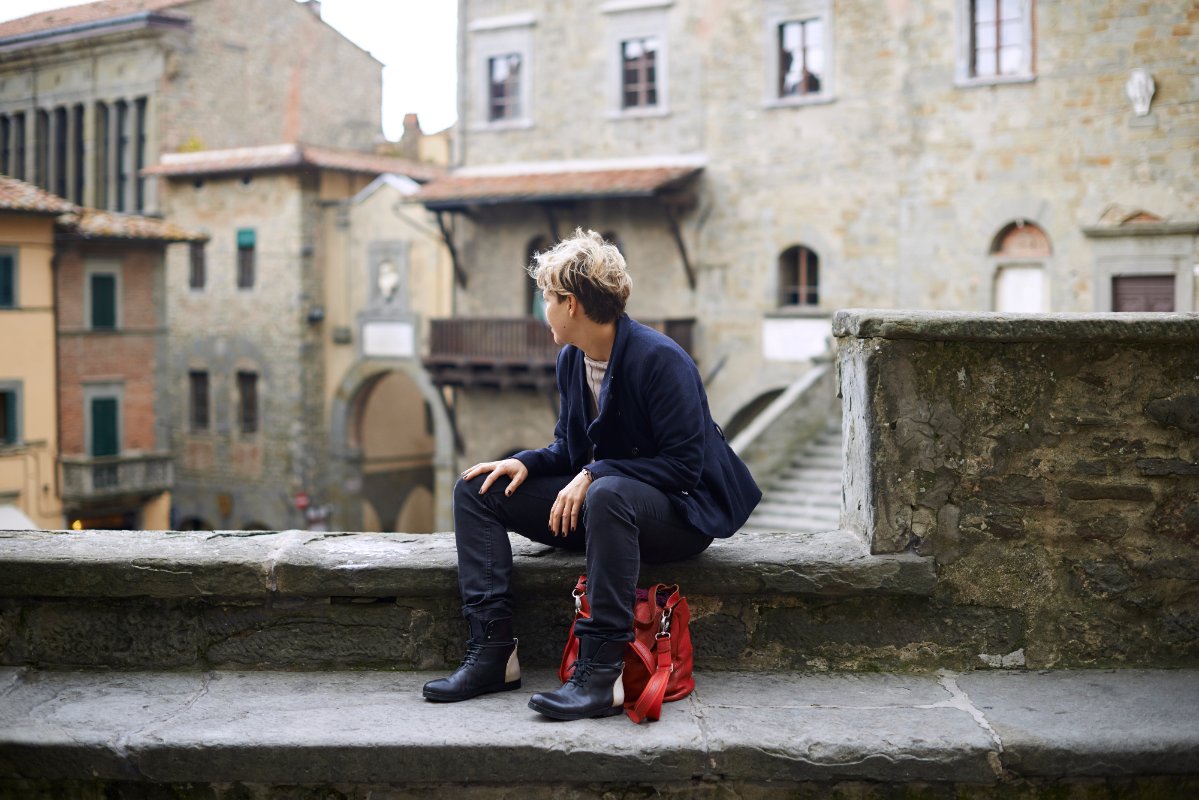 Must-have Florence Travel Apps
Unique concentration of art and culture, colorful mix between urban buzz and rustic lifestyle, the Renaissance charm and the best open-air museum of the globe:
Florence
is perfect spot for your holidays and the quintessential dream of Italy. For anyone who is
planning a trip
to the Cradle of the Renaissance, the city can be an overwhelming experience, especially if your travel plan includes other wonderful Italian destinations or a journey through the Tuscan countryside. Luckily there are
many mobile apps
available to put you in an empire state of mind. From public transportation to city guides, take a look at the following
apps
. Italy uses the
GSM mobile system
; therefore only 50% of U.S. and Canadian telecommunication equipment works in European countries, but luckily the majority of U.K. mobile devices should be compatible. Please,
contact your service provider before departure
and ask about the compatibility of the mobile phone and roaming terms, or sign up for a local data plan available with a
rechargeable SIM
(which is in general the cheapest solution).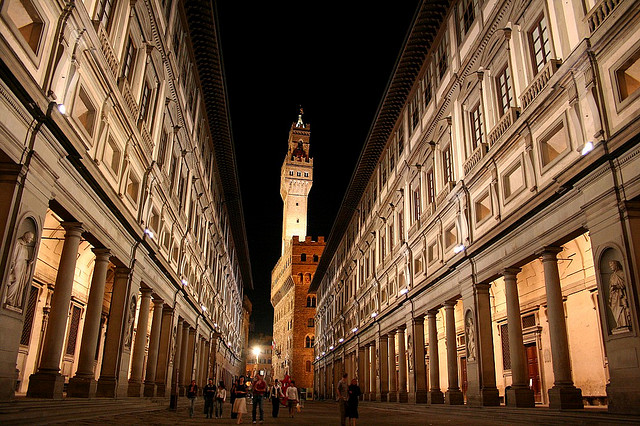 Firenze Up
Free Released: 14 April 2013 Available on:
App Store
|
Google Play 
Firenze Up
is like the city in your pocket. It helps you discover what's happening and to find out if there are events in the surroundings using the search tools. You can also search which event is "top rated" by the tourism office of Florence. You can share the events on Facebook or Twitter or you can submit a new event.
Firenzecard
Free Updated: May 18, 2013 Available on:
App Store
|
Google Play
Firenzecard App
, like the
Firenzecard
, allows you to discover the extraordinary historical and artistic heritage of the major museums, churches, villas and historical gardens in Florence. The app supports
real-time updates
about all the attractions featured by the Firenzecard, such as
prices
,
opening hours
,
ongoing exhibitions
and
events
. After you have downloaded the app to your device, that Firenzecard version will be
available offline
, when you have no network connection. Download the app at home or when you have access to a wi-fi connection, so you can use it when you are in Florence avoiding any expensive data roaming charges. Key benefits include:
Full description and Interactive map of each Firenzecard attraction including opening times, contact details and directions
Details about all of special events available to Firenzecard customers
Directions for Info Point and Free Wi-fi around you
Description and information about all the events in Florence
Interactive map of the Firenzecard sales points/collection points (Tourist Information Points, Sale and Collection Points)
Firenze weather forecasts (powered by Yahoo Weather)
Firenze The Walking City
Free Updated: 03 June 2013 Available on:
App Store
Florence has a small historical city centre, so the best way to
move around in Florence
is on foot. In this way you'll enjoy every detail and you'll have plenty of time to reflect on everything around you and to shot photos. Firenze The Walking City helps you in the
exploration of the city
suggesting the best itineraries. The routes featured in the APP are beautiful, sometimes unusual and scenic. Beside the
most famous monuments
, there are others
off the beaten path
, nevertheless extraordinary and amazing. Each itinerary is classified by distance, slope and hiking level.
Website
Florence Heritage
Free Released: 03 May 2013 Available on:
App Store
|
Google Play
Florence Heritage App
combines the best of the historical heritage with the contemporary side of Florence. The APP is extremely simple, but it offers a list with
twelve suggested itineraries
and each one has its own map view. Moreover, it is possible to see many routes together, just selecting them in the list and then switch to map view. Unfortunately you need the Internet connection to get the digital PDF ebook guides for each route. The app connects to
Florence Heritage website
to download all the ebooks guide. Key itineraries include:
Art and historic shops divided by area or major streets
Niccolò Machiavelli: and the chancery of Florence
Boccaccio: culture and power in fourteen-century in Florence
The Prince's way
The Flemish sculptor Jean de Boulogne
Zocchi view
Firenze Card Museums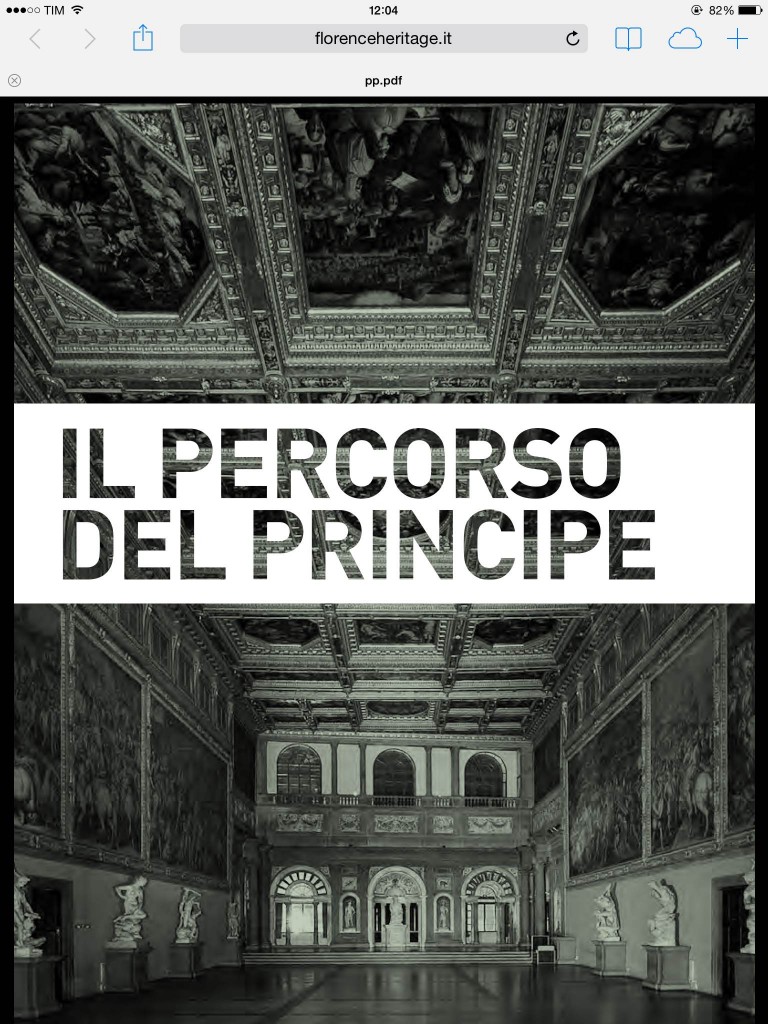 Uffizi
$1.99 Updated: Feb 09, 2014 Available on:
App Store
This APP is authorized by the Superintendencies for Historical Patrimony, Artistic and Ethno-Anthropological Heritage and by the
Uffizi Gallery
. Uffizi APP helps you design a
customized visit
. The information are clear and the key benefits include:
Map: it shows all of the rooms and the exhibits, keeping you updated with the new arrangements.
Artworks: it describes all the works available (more then 1500) and most of them are completed with photos. The top 100 must-see artworks also have a brief factsheet about its history.
Info: it provides essential info for the visit, such as opening hours, ticket prices and other practical information
News: about the Gallery, such as announcements, events, current exhibitions and more
Uffizi Art History Guide
$3.99 Released: Nov 17, 2013 Available on:
App Store 
The Uffizi Gallery
is one of the most famous and old museums in the world. It hosts one of the richest collections of unique artworks and masterpieces and it is not wrong to say that is also big and tiring! After waiting in line for hours to enter it is easy to miss the masterpieces or to come out not having understood the meaning or why they are so important. This app, written by
Alexandra Korey
, an art historian and blogger whose goal is to make art accessible, helps you
get the best from Uffizi experience
. There are a few links within the text to further information for which the Internet connection is required, but the great thing is that
99,9% of this guide works offline
. Key benefits include:
Photo of the painting.
Relevant factual information.
Basic interpretation of the artworks.
Art historical context, or how the painting relates to those before and after it.
Observation tips for a guided looking and learning experience.
Inferno Florence Guide
$2.99 Released: Nov 06, 2013 Available on:
App Store
|
Google Play
Are you a
Dan Brown fan
? This APP is perfect to discover Florence following in the footsteps
"Inferno"
, Dan Brown's latest book. It helps you picture and understand the places in which scenes of Inferno are set. This app is written by the editors of
The Florentine
, a local newspaper curated by long-term residents of the city and the team counts experts in literature and art history. The APP offers a map view or the list of places, and for each place mentioned in the book (regarding Florence) there's an original photo, contextualized it within Dan Brown's story and described with historically accurate information. Key benefits include:
Map of Florence with Inferno locations, with no need for internet connection
GPS to locate your position on the map of the city
31 listening points, lasting almost 1 hour
Original photos to help you picture it
Quote from book where location is mentioned
Extra historical information about each location
Nearby visitor tips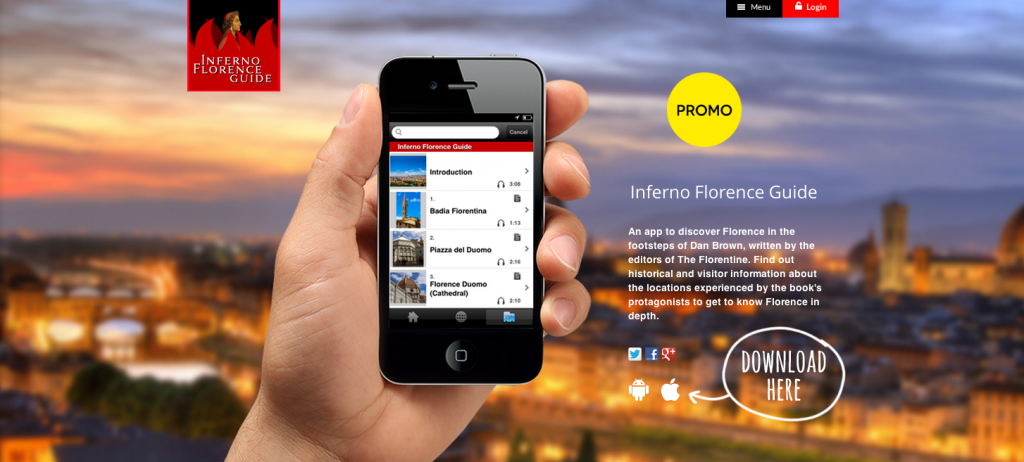 These apps feature some of
the best travel tips
and places to visit in Florence, so, if you're heading to Tuscany, make sure to download them before you come.
What APP would you add to this list?
Leave a comment below and share your thoughts with us. Post by Kinzica Sorrenti - Tuscany Social Media Team
You might also be interested in