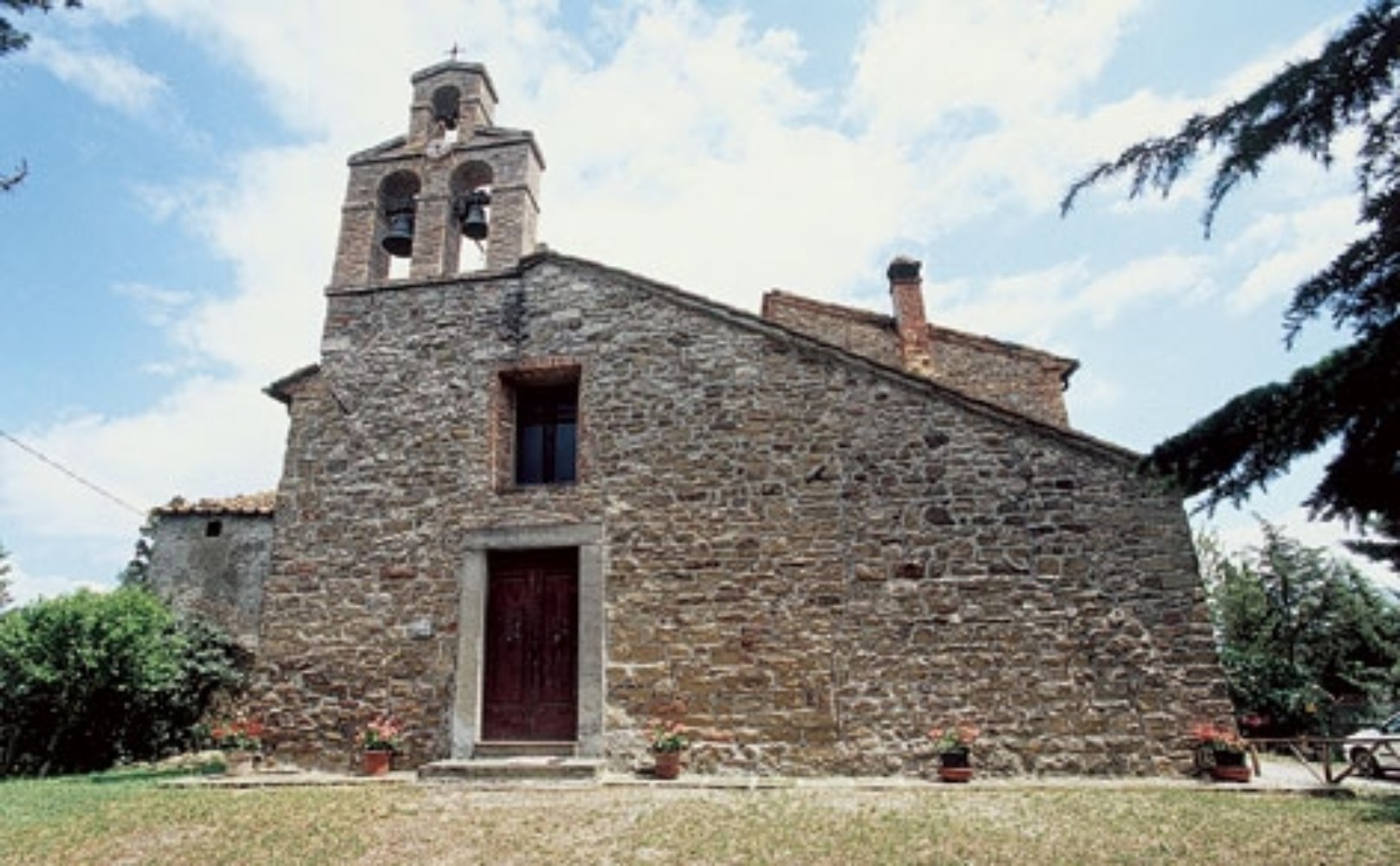 Monterchi and its churches
Architectural gems immersed in natural beauty
The church of San Simeone
This church undoubtedly has very remote origins that date back to the high Middle Ages. In 1830, it was completely demolished and rebuilt by archpriest Valbonesi. Afterwards, it remained seriously damaged by an earthquake in 1917; successively it was completely rebuilt once more. Inside, you'll find a lovely wooden crucifix from the XV century, a beautiful ciborium in polychrome terracotta from the fifteenth century, and a stone pulpit depicting Hercules killing the Hydra, created in sixteenth century.

Church of San Michele Arcangelo a Padonchia
Inside the church, you'll find several very ancient architectural elements such as the four figured corbels which sustain the vault of the presbytery. There are two elegant Gothic arches on the right side and a Madonna and Child from the first half of 1400s, in addition to a noteworthy work depicting the Archangel Michael as a warrior battling against the devil. The church hosts many paintings depicting various other saints including saints Christopher and Sebastian.

Church of St. Apollinare la Villa del Poggio
This church probably dates back to the VII / VIII centuries and it boasts a Romanesque style. It can be divided into three distinct sections: its nave, semi-circular apse and bell gable that hosts seventeenth century decorative motifs.

Church of St. Michele Arcangelo a Pianezze
This church is located halfway up the Caianello mountain at an altitude of 410 m. Many features of its Romanesque style remain in tact including its ceiling with wooden rafters and its terracotta floors. In this church, you'll find a remarkable fresco depicting the 'Madonna della Misericordia' from the XVI century which was restored in 1998. There is also a noteworthy 'Pietà' in polychromatic terracotta.

Church of Santa Maria a Scandolaia
The Church of Scandolaia lies near the ruins of the Montagutello castle, on the slopes of Mount Felcino. It dates back to at least the twelfth century. This church once hosted an ancient wooden icon of the Madonna and Child. In 1998, it was restored and placed in the church of Le Ville.

You might also be interested in
Valtiberina
The Tuscan Valtiberina is the easternmost stretch of the region and takes its name from the river that crosses through it, all the way down to the border of Umbria, the Tiber. ...
Scopri Valtiberinakeyboard_backspace