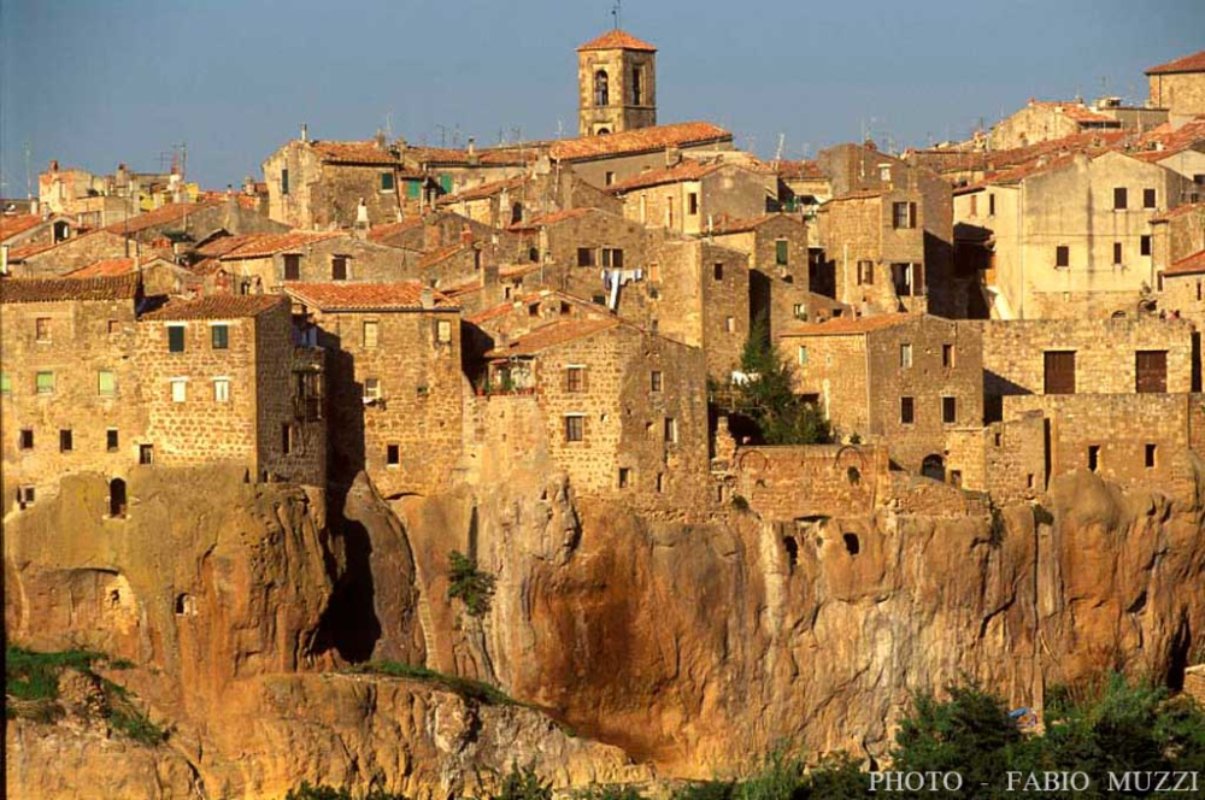 Maremma: from the nature park to Sorano, surrounded by nature
A journey around some breathtaking wine cellars in one of the wildest natural landscapes in Tuscany
Our journey starts deep in the most untamed part of Tuscany: the Parco Naturale della Maremma. This chain of lush green hills leads down to the coast and some beautiful sandy beaches and rocky cliffs. It covers a large area and owes much of its beauty to the diversity of its landscape and the mix of colours and aromas which vary with the changing of every season. As well as nature, the area also has a rich historic and artistic heritage, which can be found in places such as Complesso di San Rabano.
CAPALBIO. After your journey through the countryside, Capalbio is the perfect place to visit. This small old town sits atop a wooded hill and overlooks the whole Maremma region, the countryside and the sparkling sea. Capalbio retains nearly all of its medieval architecture and visitors can walk along the town walls just as the ancient guards used to do. The Sienese gate still has its original 15th-century wooden doors. The wonderful Tarot Garden in Garavicchio, created by the talented artist Niki de Saint Phalle, is an absolute must. 
TENUTA DELL'AMMIRAGLIA. Our first wine-making stop is to the north at the Tenuta dell'Ammiraglia. This wine cellar is owned by the Frescobaldi family and is in Magliano, in the heart of the Maremma – a region which is ideally suited to wine growing and bursting with unspoilt natural beauty. The combination of these elements results in an exceptional variety of rich and aromatic wines produced at Ammiraglia. The wine cellar itself was designed by architect Piero Sartoga and is the perfect example of design influenced by the needs of wine-making and a deep respect for the surrounding countryside.
SATURNIA. From here, head to Saturnia for a relaxing spa break. Legend has it that Saturn became angry with the men on earth who were constantly as war. He is said to have taken a bolt of lightning and thrown it down to earth, which made warm sulphurous water gush from the crater of a volcano and eventually brought peace. The place where this all took place was Saturnia, where, today, the thermal springs flow from the ground at 37°C. This delightful town is home to a luxurious spa, but anyone wishing to try the thermal waters for free can go to Cascate del Mulino just outside the town where there are natural thermal pools fed by the Gorello spring. The flow of the water to the Stellata river has carved out pretty limestone pools where you can even take a dip in the winter.

PITIGLIANO. Pitigliano is just a short distance from here and is undeniably worth a visit. Located on a rocky outcrop, it is without doubt one of the prettiest towns in the whole of Tuscany. The beauty of the town is in part down to the volcanic rock used in its buildings. Its ancient history is best discovered slowly as you wander along charming narrow streets and steep alleyways where the pace of life seems altogether calmer.
SORANO. Lastly, head to Sorano, a town build into an incredible ridge of volcanic rock. This fascinating old town is little changed since medieval times, when the houses were often developed upwards and are sometimes even carved into the rock. You'll never tire of photographing this fantastic place.


Find out more
Maremma Hills Wine Trail

Designations
Morellino di Scansano DOCG
Morellino di Scansano DOC
Bianco di Pitigliano DOC
Maremma DOC
Parrina DOC
Capalbio DOC
Sovana DOC
Ansonica Costa dell'Argentario DOC
IGT Maremma Toscana Bianco e Rosso

Local products
Tuscan extra-virgin olive oil PGI
Pecorino Toscano PDO
Honey
Maremma saffron
Biscotto Salato di Roccalbegna
Sorano beans
Maremma beef ("vacca")
"Palamita" from Giglio Island
You might also be interested in
Maremma
Picture this: wide expanses to get lost in, wheat and sunflower fields, a rail that cuts through countryside behind a pine forest on the Tyrrhenian Sea. A haven for both mountain and sea lovers. Fishermen's villages. ...
Scopri Maremmakeyboard_backspace