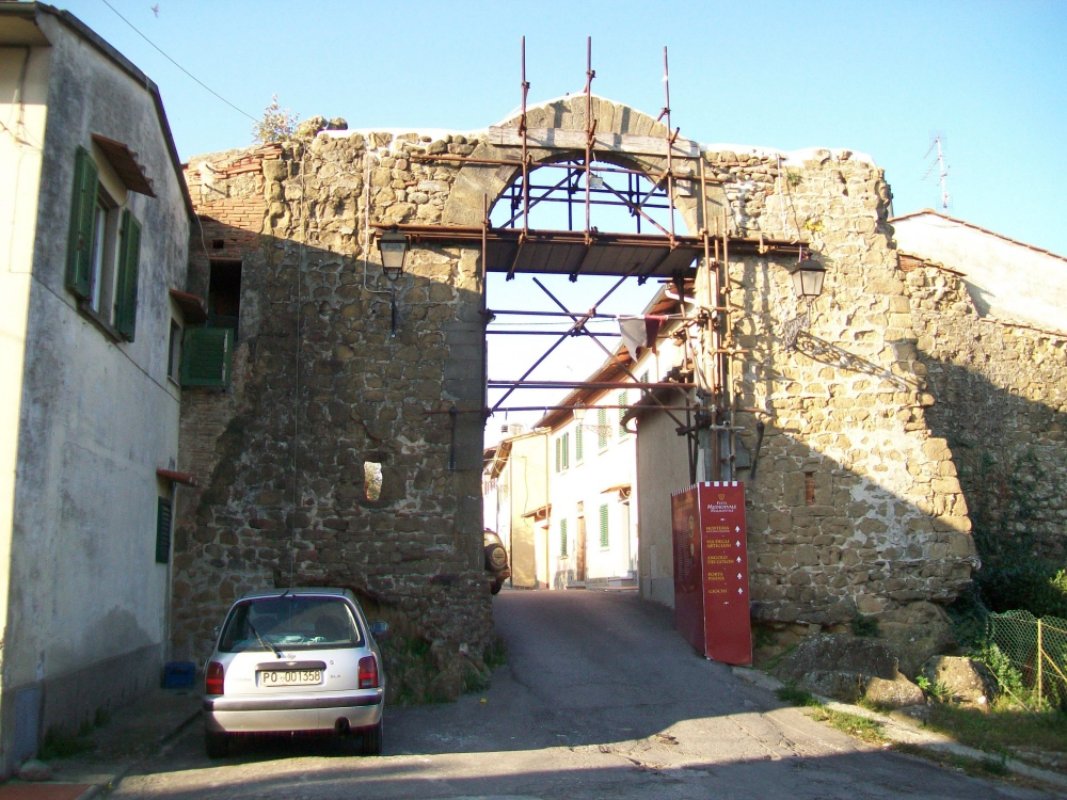 Malmantile: A thousand tales of a fortified village
Legends and traditions of an exciting area
Originally, Malmantile was nothing more than an old postal station and a few houses spread out along the via Pisana. Tradition has it that Saint Ambrose, on a walk through the Florentine countryside, stopped at a small inn in the village. The future Bishop of Milan asked the innkeeper how he was doing. The innkeeper responded that he couldn't complain, since God had given him a life without any major worries.

Saint Ambrose, feeling wary of the innkeeper's good luck, thought the man was being guided by the devil and decided to put a curse on his house. "Mala Mantilla!", he said, underscoring the maliciousness of his guests. As soon as St. Ambrose spoke the words, the innkeeper's house fell into the bowels of the earth, taking with it the man and his entire family. A plaque on a tabernacle just outside the walls of Malmantile reminds us of this legend still today.

Repetti, author of the celebrated Dizionario Geografico Fisico Storico della Toscana (1835) speaks of the town as a "half destroyed castle with a parochial church down below…The Malmantile fortress is located on the backside of the rocky slopes whose left hand side leads into the long and tortuous Golfolina gorge.
This desolate land was catapulted into nation-wide fame thanks to a Burlesque opera by Lorenzo Lippi, titled Il Malamantile and published in 1665. The subject of the opera—the conquest of the city by a queen—is rich in cultural references and Florentine sayings. In fact, the prestigious Italian language society, Accademia della Crusca, has always considered this work an important document for the construction and divulgation of the Italian language.

According to historical data, the Malmantile castle was built at the beginning of the 15th century to defend the Florentine Republic from Pisa. The presidio was celebrated by various military leaders but lost its importance after Pisa was subjugated to Florentine rule and after the road between Porto di Mezzo and Montelupo was opened in the 18th century.

During the 19th century, the village was run by various powerful Florentine families, including the Frescobaldi. The parish church is called San Piero in Selva and was founded in 1276. The most important sacred building, however, is the former Lecceto monastery, built at the end of the 15th century. Its foundation would not have been possible without financing from Filippo Strozzi, who was sent into exile for his role in a plot against the Medici. It was Strozzi who commissioned the decorations from Benedetto da Maiano and the altarpiece by Domenico Ghirlandaio, both of which disappeared in the 19th century.

The recently restored monastery was deconsecrated during the Napoleonic era and thus began a period of length decline. In 1875 it was purchased by the archbishop of Florence and turned into a summer residence for the seminary's upper school. Today Lecceto is a spiritual retreat named after Cardinal Elia Della Costa.
You might also be interested in