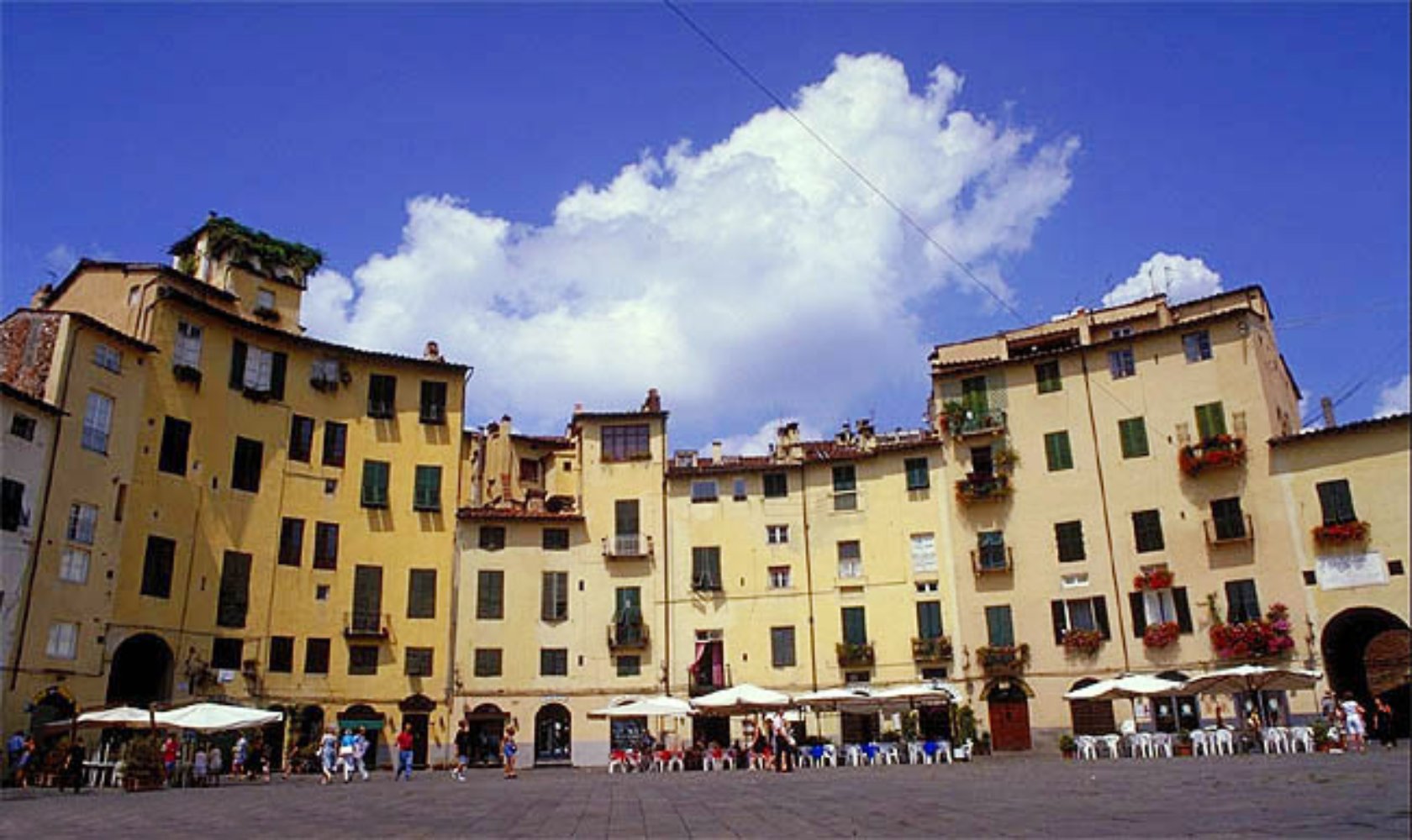 Lucca: medieval magic and modern appeal
A place representing an almost timeless portrait of an ancient fortress town
Famous the world over for its perfectly preserved medieval walls, Lucca is a city rich in history and culture. Traces of Roman origins are still visible today, such as the
Piazza del Anfiteatro Romano
, where building construction in the Middle Ages closely followed the oval shape of the former Roman Ampitheater.
Ancient villages to discover, thermal baths, 18th century villas in beautiful gardens. All of this and more is available in the Lucca area, which runs from the city of
Lucca
to the
Appennine area
, and is traversed by the passageway to the
River Serchio.A BRIEF HISTORY
During the Middle Ages, Lucca's military power grew to rival that of
Florence
and
Siena
; Lucca was, in fact, the only Tuscan town that managed to escape Florentine conquest.
In 1805
Napoleon
conquered Lucca and instated his sister as ruler. The town also holds special rank in the history of opera, as the birthplace of
Giacomo Puccini
, and as such the area is home to popular opera events throughout the season. Located near the Ligurian sea, Lucca is an ideal escape from other faster-paced Tuscan cities.
LOCAL PRODUCTS
Lucca has established a prominent role for itself in the textile and olive oil industries. The famed
Lucchese olive oil
has a complex flavor and superior quality,ranging from fruity in taste to surprisingly spicy. To complement Lucchese cuisine, three varieties of wine are produced in this town—the
Colline
,
Lucchesi
and
Monte Carlo
varieties are a must try for any visitor to Lucca. The town is also known for its honey production and chestnut harvesting.
SOME HIGHLIGHTS
Lucca's duomo, the
Cathedral of San Martino
, features a facade in relief that merits a lengthy exploration, including a close look at Nicola Pisano's Journey of the Magi and Deposition. Inside San Martino you'll find works by Ghirlandaio, Tintoretto, Fra Bartolomeo, and the masterpiece in marble sculpture, Jacopo della Quercia's Tomb of Ilaria Carretto.
Lucca's perfectly intact, four-kilometer-long city walls once provided the city with much-needed defense against enemies; today they make for lovely explorations on foot or bicycle, and provide an excellent site for picnics. The tree-lined promenade offers some of the best views of the city.
Bikes
can be rented throughout the city to explore the walls from within and outside.
A lively and active cultural life thrives in Lucca: every summer the
Opera Theater of Lucca Festival
takes place in June and July; the Teatro Communale del Giglio season of operas and concerts runs from September through May; and the
Palio della Balestra
, a crossbow tournament and medieval festival in honor of Lucca's patron saint, San Paolino, takes place every July. Each of these events brings an added boost of energy to an already fascinating town. The recent addition of the annual
Lucca Film Festival
, held every fall, has served to further enrich and complement Lucca's seasonal cultural programs.
Lucca's surroundings are no less beautiful and striking. Visit
Borgo a Mozzano
, known for its
Ponte della Maddalena
(also called the Ponte del Diavolo), or
Bagni di Lucca
, renowned for its thermal baths since Roman times and visited by Percy Shelley and Lord Byron. Montecarlo is also worth a visit, known for its excellent wines, and Altopascio, renowned for its bread, and was once a passageway for the
Via Francigena
in the Lucca area.
Nature lovers won't miss out on history in the Lucca area. Surrounded by the green hills and country palaces built by rich 15th century Lucca merchants. The most famous include Villa Olivia, Villa Grabau, Villa Reale, Villa Torrigiani and Villa Mansi.
For more information:
www.luccatourist.it
You might also be interested in