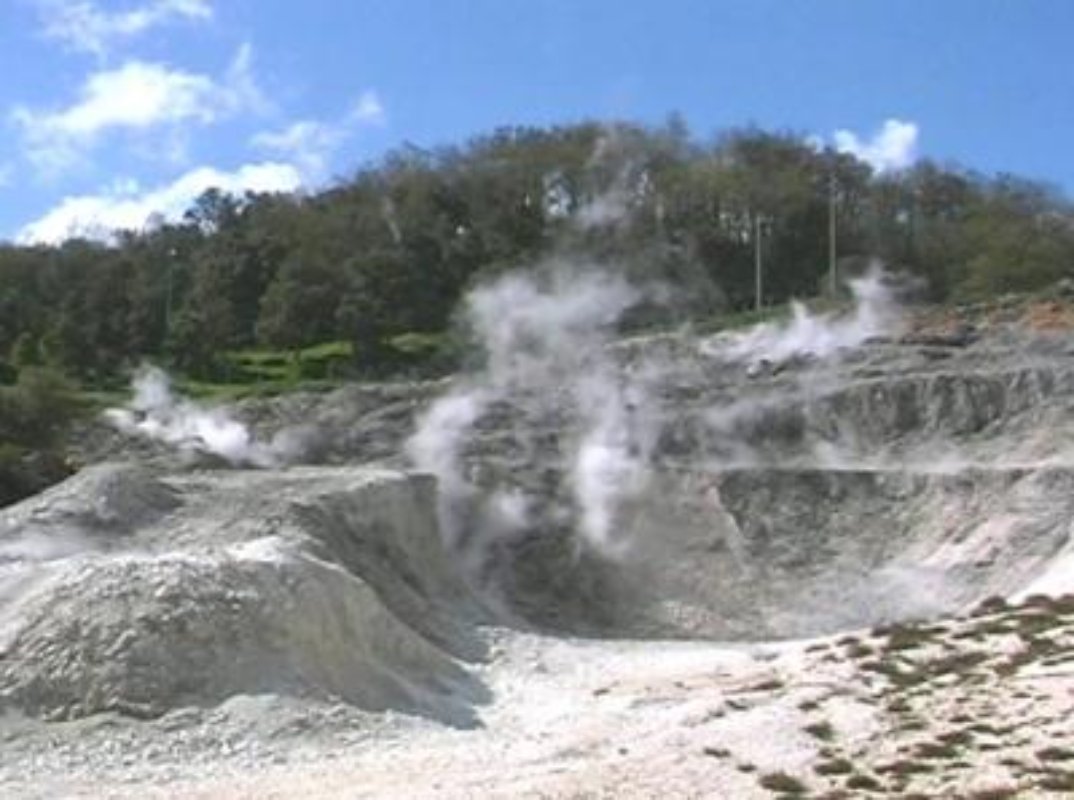 'Le Biancane' Nature Park
Discovering the delights of Monterotondo Marittimo
'Le Biancane' Nature Park is a symbol of the relationship between Monterotondo Marittimo and the energy that lies in the entrails of the earth. The term 'geothermic' comes from Greek and it means 'heat of the earth'. This heat exists as a fluid under the earth's crust. The 'Biancane' area is extraordinary due to the vapor emissions that rise from the ground; these gases have distinctly modified its natural habitat and produced stunning colors throughout the Metallifere Hills. Enjoy surprising hues like intense red, luminous white or okra yellow. As the white vapor rises from the ground, mud boils and whitish spots dot the landscape giving the environment a unique feel.

The Municipality of Monterotondo Marittimo and Enel Green Power have banned together to give additional value to this natural landscape creating trails that spotlight the most fascinating geothermic phenomenon in the area and the historical-industrial realities that have always characterized it. This magical trail takes its name from 'Le Biancane' located a few hundred meters west of the historical center of Monterotondo Marittimo. The park can be visited free of charge year-round. 'La Porta del Parco' association organizes guided visited throughout the year.

The trail
Adventurers can take off just steps from Monterotondo's historical center in the Lagone district at the place called 'Vecchio Vascone' or 'Large Old Tub'. In 1777, boric acid was discovered in the 'Cerchiaio Lake' for the first time. Opposite the lake, you can still see the octagonal stones that once served as a laundry. The vats, built in the 1930s, were fed by natural hot water. This area currently hosts a heating plant that serves all of Monterotondo's houses and public offices. To the right, you'll find a narrow road leading to the old ENEL plant. Follow the terraced landscape to find the 'Di Chiorba' spring where the water flows at a 40 degree angle.

Once it loses its high temperature and incrusting agents, the water is made to flow through a plumbing system to irrigate nearby fields. If you go over the hydraulic overpass, you'll find a terrace hosting a large 'Lake' which created a creator covered with gray mud that's similar to volcanic soil. From 'Lagone Cerchiaio' you can take the paved road and reach the town of "Le Pianacce" by car. From there, you'll arrive at 'Le Biancane'. During the second part of the journey, visitors can follow a ring-trail for an interesting hike that lasts anywhere from 20 to 40 minutes. Enjoy panoramic views of the coast stretching from Piombinio to Punta Ala or catch a glimpse of the valley's lovely forests and countryside.

How to get there:
From Massa Marittima take the SS439 (13.6 km); turn left on the SS398 and then left again on the SP136 continuing along until you reach Monterotondo Marittimo.