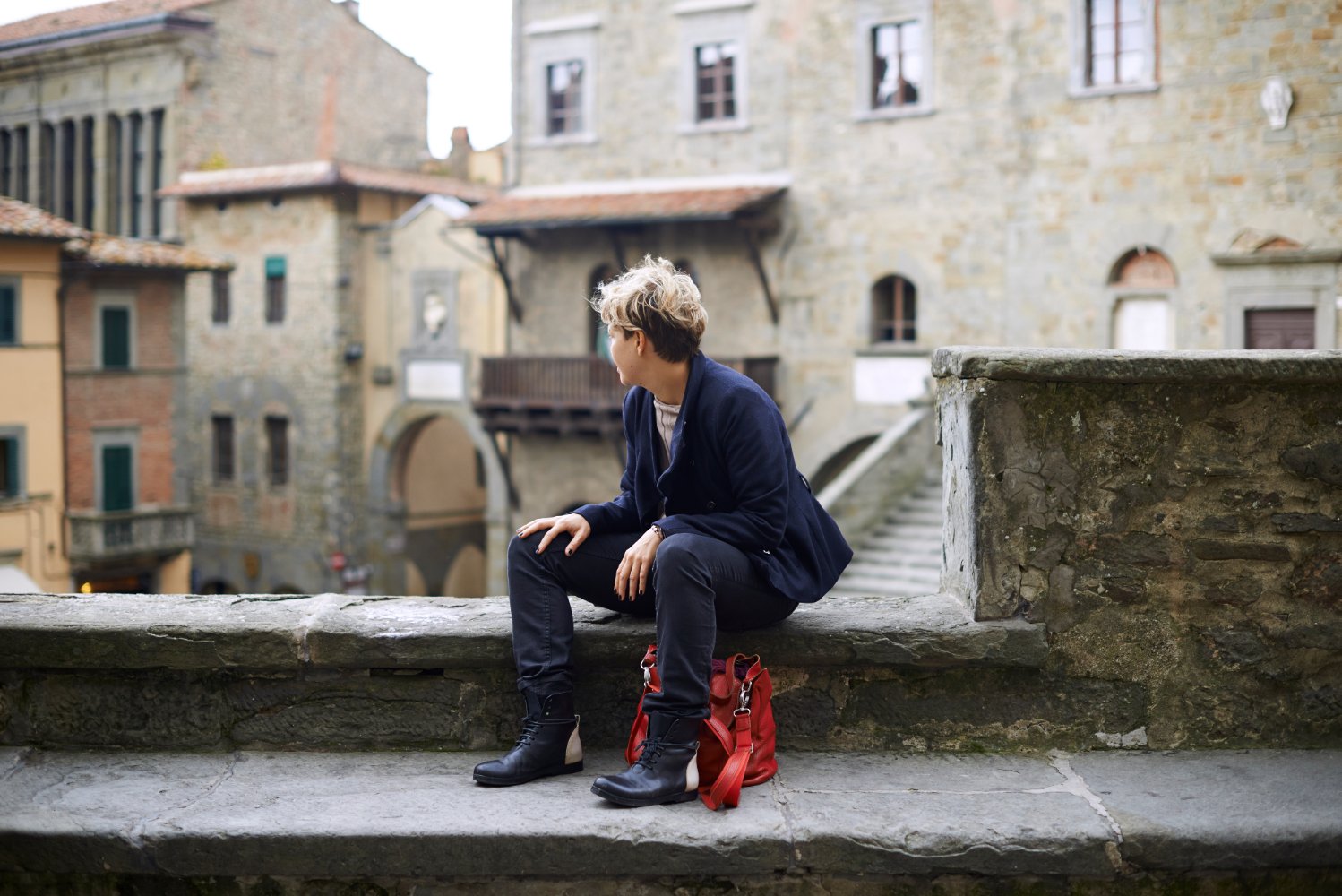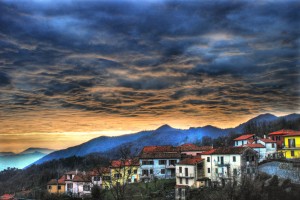 While researching to write a post about going to see the Giro d'Italia in Tuscany, I found out that James of Wandering Italy, a blogger I much admire for his keen eye and sense of humour, is a big fan, and in fact for the second year in a row has made a map of his own for the giro. I asked him just a few questions and he went above and beyond the call of duty to write this excellent GUEST POST for us. In sum: watch the racers go uphill (it lasts longer), visit cute towns, eat local food. Read on for details.
Now that it's springtime in the Lunigiana, we see fit riders in sleek cycling gear nearly every day on our nasty and narrow roads. It's not just the young bucks showing off their snazzy Lycra; my retired neighbor Enrico is an avid cyclist to this day, often pedaling 100 kilometers or more daily on his excursions. In his garb with sunglasses and hat, you can't tell him from a 20 year old cyclist. Yes,
Italians are passionate about cycling.
You can catch some of that excitement by attending a stage at the Giro d'Italia in May. I'll be watching the Lunigiana stage, tappa 6, which runs from Fidenza to marble town Carrara, in large part following the medieval Via Francigena pilgrimage route running from Canterbury England to Rome. The racers will scream down from the Cisa pass to Pontremoli, then pass Villafranca in Lunigiana on their way to Aulla, our main market town in the Lunigiana.
Why do I watch the Giro?
Well, it's the spectacle of the thing. It's not just the fact that very fit men are pedaling unimaginably long distances at high rates of speed, it's the crowd energy that permeates the air wherever you stand. People scream wildly at their favorites, pumping their fists and jumping up and down as if they could become at one with their heroes by matching their elevated heart rates. In villages you're likely to find a carnival atmosphere. There will be things to buy, of course, and at the start and finish of a stage you are likely to witness another Italian passion: costumed young women shaking their almost-synchronized booties to songs blasting distortedly from enormous loudspeakers. To escape from this atmosphere, plenty of folks rise early in the day to climb the hills in order to
see the racers on the ascent
, where they stand on the pedals and push like mad. You get to see the pack for a longer time when they're going up a mountain, the speeds having slowed enough to give you confidence that the crappy little camera in your cell phone can stop the action long enough so that a decent picture emerges of your favorite racer straining like crazy to reach the summit before everyone else. There are no big mountains stages in tappa 6, so I'd prefer to watch as the multicolored snake weaves its way through a village. It's the wimp's way to watch a Giro. In town you'll likely pass bars and restaurants with the race on television, You can settle in with a beverage of your choice and watch the peloton head toward your view spot. Here's a big tip though: some of the action you see on the television is delayed, so don't wait too long before heading out to the route based on the location of television action alone; you could miss it! Ask the folks around you if you're in doubt. They'll know.
Lunigiana villages
Here are some of my
suggested view spots in Lunigiana villages
. They're all pretty flat, but there can be parking problems near race times. Get there early and have a good map, because they close the main road often hours in advance of the race.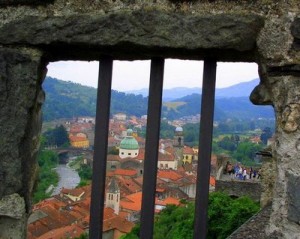 Pontremoli
is probably one of the prettiest towns in the Lunigiana, and you'll find some great food here as well. Before the racers arrive, head up the hill to the restored
Castello del Piagnaro and look at the Stele Statues in the museum
. They're pretty unique to the area. They've just come down from the pass, so they'll be rested and that means they'll whip by pretty darn quickly. (Between the Cisa pass and Pontremoli there are quite a few isolated bars right alongside the road that cater, in part, to weekend cyclists; I'd bet these would be fine places to watch from.)
Villafranca in Lunigiana
is another picturesque village, at least in the medieval center. While you're waiting, I recommend a visit to the ethnographic museum, housed in a restored mill. You'll discover how life in the recent past was lived in this unique corner of Tuscany.
Aulla isn't so picturesque
. Americans bombed it to the ground during the war. One of the bombs didn't explode however. They found it in the apse of the church at the Abbazia di San Caprasio while archaeologists were putting the final touches on an excavation that uncovered Saint Caprasio's 9th century tomb. The bomb had to be carted off and destroyed, but you can see the exploded bits of it and get some idea of what medieval pilgrimage was like in the new museum attached to the Abbbazia. While you're in Aulla, you must stop in at
Ristaurante Pasquino
and have
Panigacci
, a flat bread made to order on a flaming grill and served with cold cuts, soft cheese, and, if you ask, pesto. It's a
food custom unique to the towns of Aulla and Podenzana
, so you are unlikely to find it anywhere else. And remember:
keep an eye out for the racer in the pink jersey
. He's the overall leader. Why pink, I hear you ask incredulously? It's the color of paper upon which the major sports daily is printed. La Gazzetta dello Sport sponsors the race. I tifosi, Italian fans, are ok with that.
Read more from James Martin
: Wandering Italy:
http://wanderingitaly.com/
Wandering Italy Blog:
http://wanderingitaly.com/blog/
The Professional Vagabond:
http://provagabond.com/
Twitter:
http://twitter.com/wanderingitaly
Read more about the Giro on the allthingstuscany blog network
:
You might also be interested in