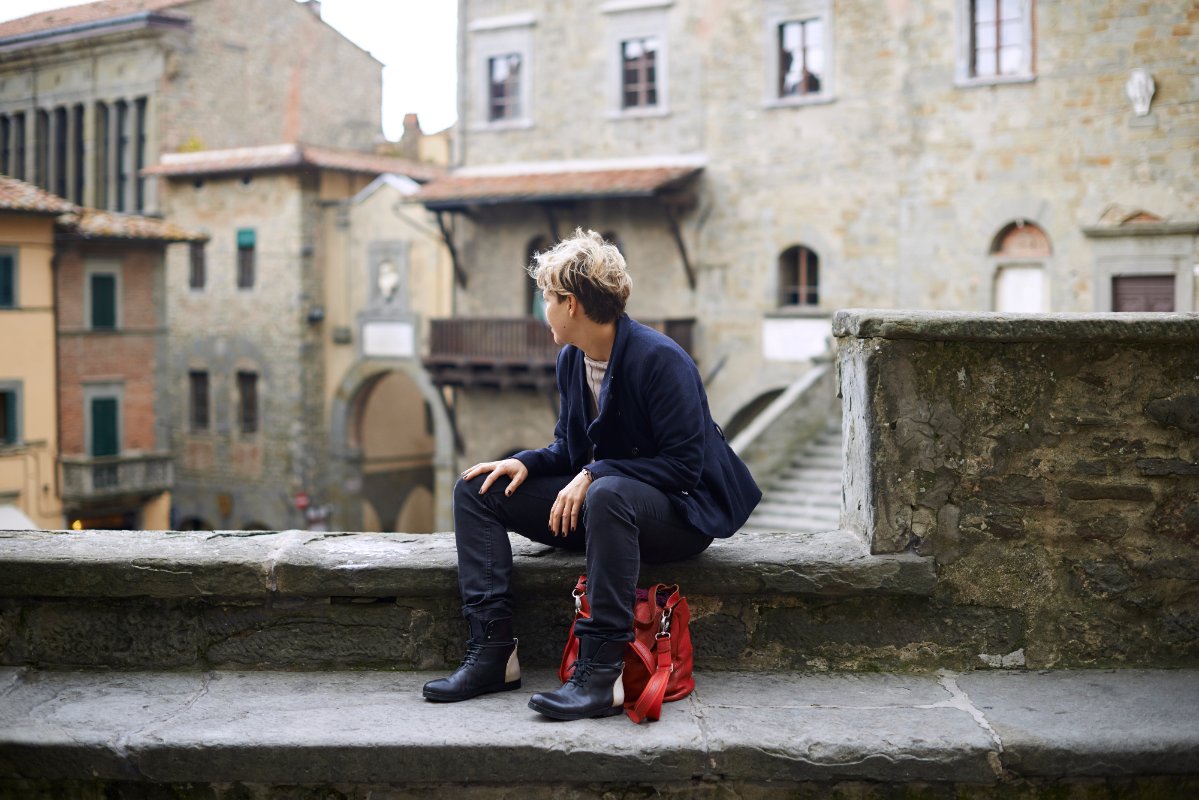 Itinerary: Art from Lunigiana to Chiusi with the Giro d'Italia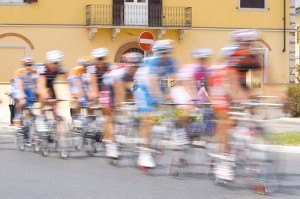 It's almost time for the
Giro D'Italia
(May 8-30 2010) and we're
gearing up
(ha ha, pun intended) for the part that will come through Tuscany. A lot of people will be going out to
support the riders in various picturesque locations
in this region.
Giro riders will come through Tuscany in stages 6-8
which happens to fall over a lovely weekend, May 14th to 16th. The photo on the left represents just how quickly they will ride through (in this case the town of Pietrasanta in Tuscany), so you'll need something else to do to make a day out of this! But
how will you pick where to stake out your spot to see the athletes? If you're interested in art and culture, here's a starters' guide for you
. This
itinerary
takes you from North Tuscany (lunigiana) to its border with Umbria (Chiusi), a lovely off the beaten path trip that you could easily take over a few days or a week. The offering of what to see is varied but there is one common thread (other than the beautiful Tuscan countryside):
you will be tracing the steps of two ancient populaces
: Lunigiana takes its name from the prehistoric Luni populace, of which rather little is known; Volterra and Chiusi on the other hand were important Etruscan cities around which there is a fair amount of mystery. For the full list of towns in Tuscany in each stage of the Giro d'Italia and other information, see the post "
Giro d'Italia 2010 in tuscany
" on Around Tuscany. Here is a list of select towns and things to see along the way - I've picked the ones I think would be most interesting.
View Larger Map
Friday, May 14 2010 in Northern Tuscany
Villafranca in Lunigiana
: For all things Lunigiana area, my job is made easy by James Martin of 
Wandering Italy
, because he lives in this area writes a blog that is both entertaining and informative. To tell you the truth, this is not an area I know well, so I'm going to trust James when he says that it's nice to go
trekking or hiking in the Lunigiana
, where the trails are dotted with country churches and castles. James also is a cycling fan and has a
Giro D'Italia map
and commentary of his own! Of particular interest are the
prehistoric stele statues
found in Lunigiana, which can be seen at the
Museo delle Statue Stele di Pontremoli
.
Carrara
: known as the city of marble,
Michelangelo
came here personally to excavate blocks for his major works. The marble quarries are highly scenographic - enough for them to be the location for the
high speed chase that opens the Bond film Quantum of Solace
... Here it's worth booking a marble quarry tour. The outsides of many quarries can be simply visited with your own car though you can also book a personal guide and 4x4 vehicle for a more adventurous approach. The
Museo Civico del Marmo
(Viale XX Settembre Carrara) has an informative display to learn about types of marble and the tools for its extraction over the years.
Saturday, May 15 2010 down the coast and inland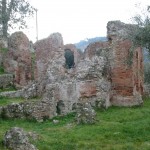 Forte dei Marmi, Viareggio
: If the weather is good, this is a good place to stop and watch the race, and then to catch some rays on the beach. As it's still a bit too cold to swim (unless you're really brave), head over to the archaeological area of the
Roman Villa in Massaciuccoli
, which has suggestive views over the land and ocean.
Pisa
needs rather little introduction. If you've never been to Pisa the first place to visit is without question the entire Duomo complex - not just the Cathedral but also the Baptistery and the Camposanto or historical cemetary. There is an extra charge for the leaning tower. To go beyond the obvious tourist locations, I suggest taking a look at the blog
At Home in Tuscany
, written by Gloria (@casinadirosa on twitter).
Volterra
: heading into the hills now and into Etruscan territory, Volterra is a city rich in minerals and famous for alabaster. There is lot of good information available from the APT (visit their
website
or simply go in person, they're extra friendly!). The etruscan museum and the pinacoteca (paintings museum) are certainly worth a visit. If you're a fan of New Moon I suggest taking the
official New Moon tour
which visits the most important buildings of the city in light of the presence of the Volturi in the city.
Sunday, May 16 2010 leaving Tuscany for Tuscumbria
Chianciano Terme
: famous for its thermal baths that the Romans and Etruscans appreciated. This is one of the most relaxing places you can go for a warm dip, any time of the year. Close to Chiusi and probably part of the same settlement in Etruscan times, both can be visited together in a day.
Chiusi
: this is a very small town but it has a great Etruscan museum - read more about the
Etruscan museum of Chiusi
here. The Giro route then moves into the province of
Tuscumbria
!
Read more about the giro on the allthingstuscany blog network:
You might also be interested in