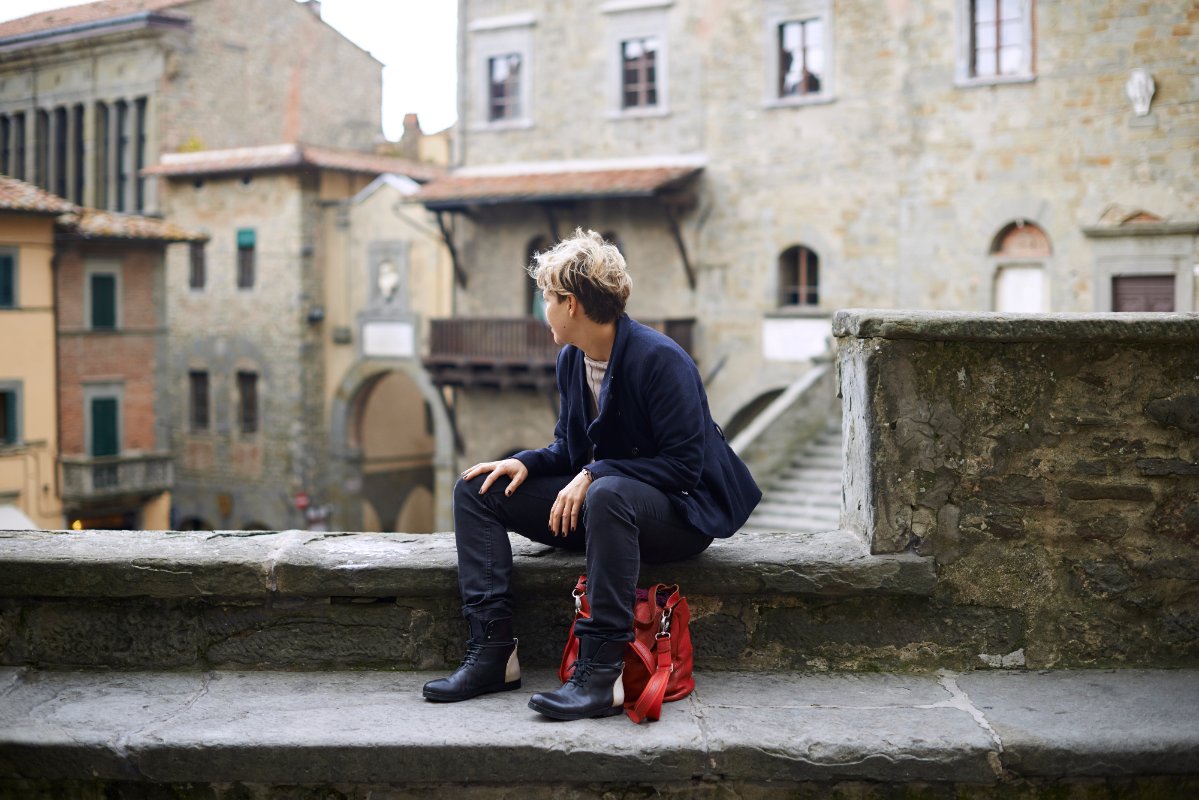 Italian Legendary Tour: the winner of Wintoscana
Who is the winner of the contest Italian Legendary Tour of Wintoscana? How was her/his experience? Are you curious? We have asked many questions to the lucky Nicoletta Battaglia. Here it goes: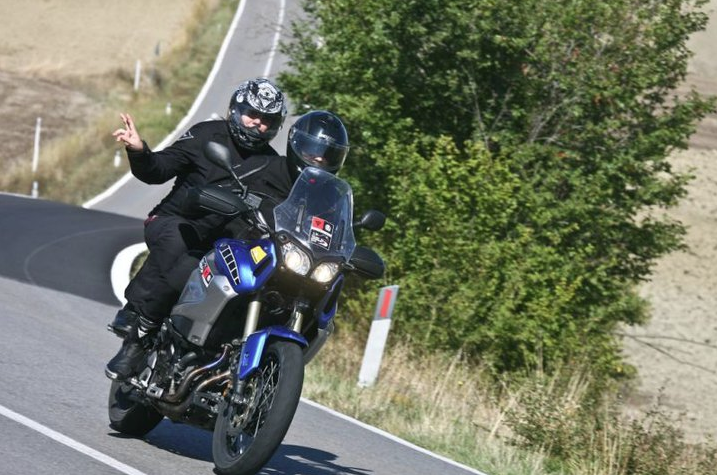 1. What was your reaction when you realized you won the Wintoscana - Italian Legendary Tour?
We didn't win the prize in the first place, we received it as a gift from a friend that played at
Wintoscana
. He did it for us. When he told us he was the winner and that he was giving his prize to us we couldn't believe it! Besides the whole trip, there was also free motorcycle clothing for two people from Dainese and a photo camera. Some days after that we received a call from the Wintoscana staff giving us information about our trip and the phone numbers of Dainese for the clothing (we were helped by the kind Matteo Molon).
2. Are you a motorcycle lover?
The passion for motorcycle belongs, most of all, to my brother Oliviero. He accompanied me - in fact he snuck into this adventure. I had only heard the name of the 3 guest champions and I never thought I would really meet them live, shake their hands, take a picture together or talk to them while my brother as a real motorcycle lover has never lost a single race of MotoGP.
3. What was the easiest part: going for a motorcycle ride or doing the live blogging?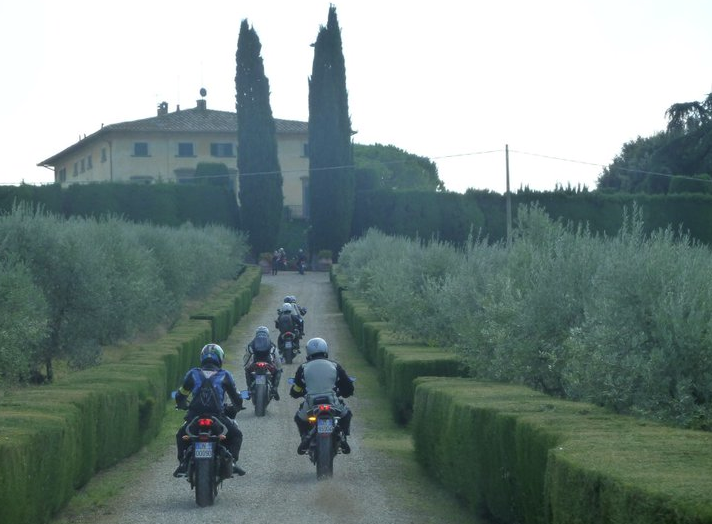 Certainly the easiest part was going on a motorcycle ride because I didn't even drive it. ;) I took some pictures and wrote on the Facebook wall.
4. About the trip in Tuscany: have you ever done anything similar to the Italian Legendary Tour before?
I can not compare this experience to anything I have ever done before. I had already been in Tuscany before but I have never imagined I could live it so deeply. It was literally an adventure, but a fantastic adventure!
5. What were the best moments of the tour?
The best moments were the motorcycle parade in the center of Florence  with a police escort and the final stop in Piazzale Michelangelo with the panoramic view of
Florence
. It was also great the 2 laps in the Mugello circuit even if it was raining and dark, it was really exciting!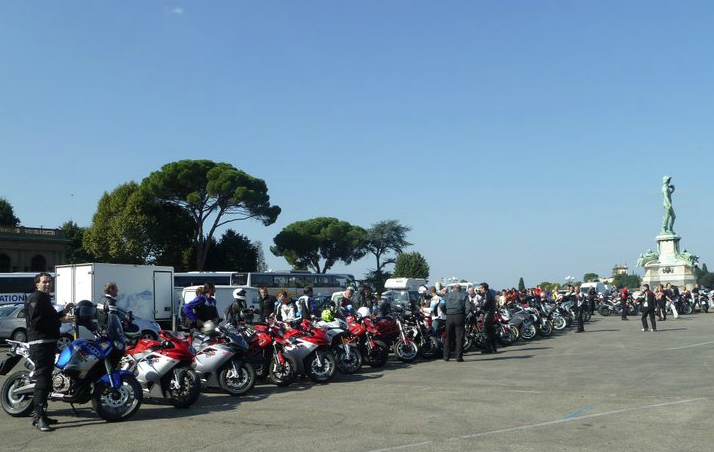 6. And the hardest?
The hardest part was to overcome Passo della Raticosa and Passo del Giogo. It was raining cats and dogs, there were areas of fog and it was really really cold.
7. Meeting champions like Valentino Rossi, Giacomo Agostini and Kevin Schwantz... how was it? Did you talk to them?
On the first day we met Valentino, he was always surrounded by many fans asking him to take pictures, autographs... I have never imagined to run a lap in the Mugello with him! In the second day we met Schwantz (he had breakfast in the table next to ours!), a very simple person, fair, cordial. The last champion we met was Agostini, a gentleman, friendly, kind person. He did the last part of the tour with our group. My brother was in the elevator with him and said he was soooo funny.
8. If you had to suggest 3 Tuscan towns to a friend, they would be...
This is a hard question because they are all very beautiful. In
Massa Marittima
, one of our stops for a happy hour was crowd, we received a warm welcome from people of all ages. They have given us a medal of their city as a souvenir.
Pitigliano
, a small town near Grosseto with narrow streets and an incredible panorama, was the place where we have tasted delicious local food (the buffet was simply fantastic!).
Monteriggioni
, where we couldn't stop this time (we were late with our schedule), but I've been there before and it's a great place.
9. What will you never forget?
In my memory it will remain a unique experience that I believe I will never be able to repeat again and it will be with me forever. We met so many people from different countries, maybe with someone we couldn't talk because of the language, but in our a group we had such a connection! We have also realized that courtesy, kindness, hospitality and beautiful people still exist! The team that have organized the tour was perfect in every single detail, from the Dainese guys, the crazy guys of Curve and Tornanti, the Tuscan Region, all the associations related (Agenzia per il turismo di Grosseto e Firenze, Fondazione Sistema Toscana, ....). They offered us an amazing trip with luxury hotels (4/5 stars) and luxury restaurants. Thanks again for giving us this unforgettable experience!
10. How can other people get in touch with you?
Here are my pictures:
http://www.facebook.com/profile.php?id=1562236192
And here are my brother's:
http://www.facebook.com/profile.php?id=1654560563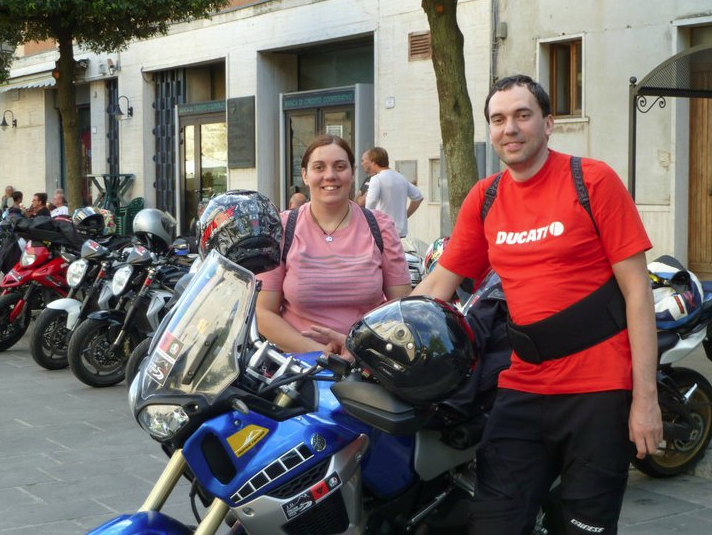 Read also:
You might also be interested in