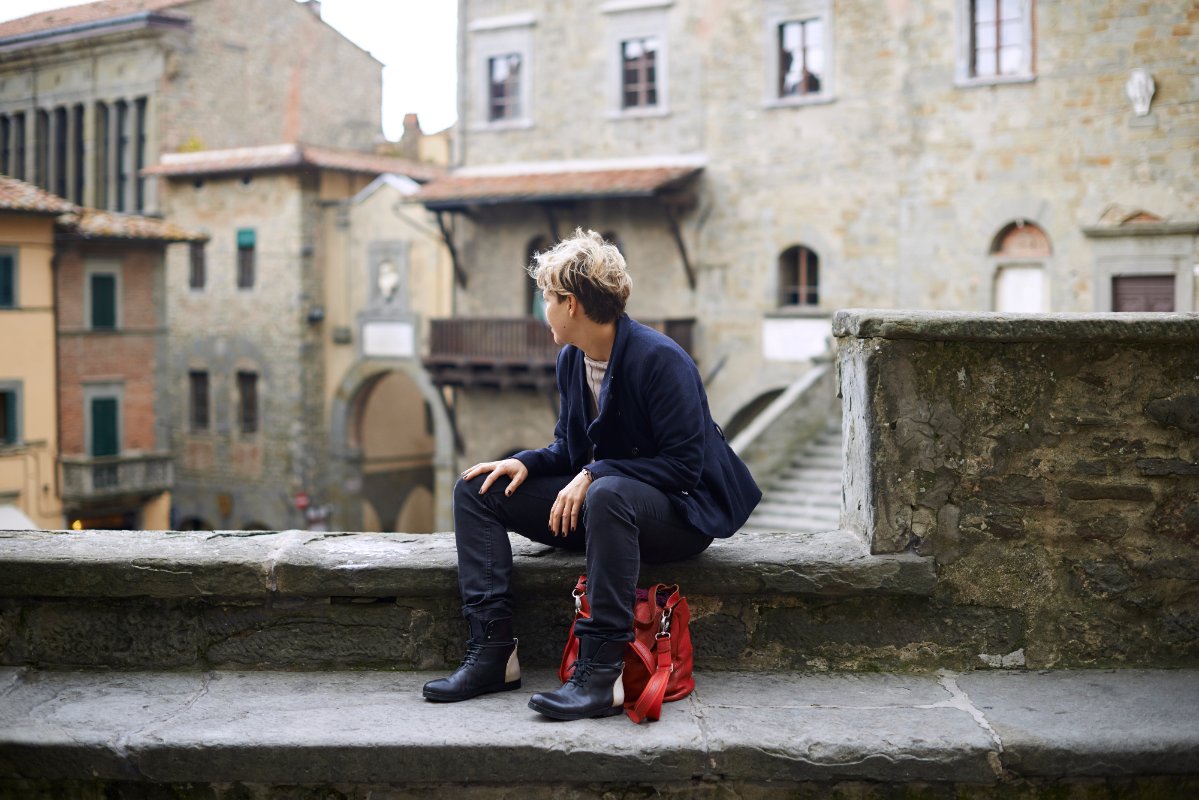 Inspired by the floors of Siena's Duomo: Interview with artist Christopher Ryan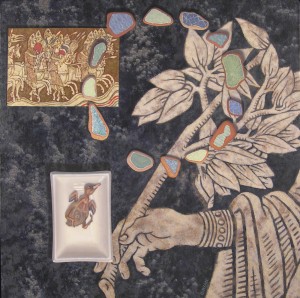 On Tuscany Arts facebook fan page, sometimes people point out artists or works that they think I might find interesting.
Christopher Ryan
is one of them: he is a realist painter whose work springs from a fascination with the flat planes of ancient mosaic and inlaid stone floors found throughout Italy.
I was excited to learn of an artist whose work so clearly is inspired by medieval and Renaissance Tuscan art so I sent him some interview questions to find out more.
You've written that years of living in Florence have had a profound impact on your artwork; in particular it seems that it is here that you found your greatest inspiration, floor mosaics and inlaid decoration. Tell us about the moment that you discovered these or started being interested in them.
As a recent MFA graduate teaching in Florence, I was investigating painters who worked with a degree of pictorial flatness: late 19
th
century artists like Cezanne, Gauguin, and Bonnard. I had also recently discovered the bold, simplified images of some of the Macchiaioli painters in the Palazzo Pitti modern gallery. In a more contemporary vein, some of the Japanese "superflat" artists (Takashi Murakami, and others) who were referencing pop culture and anime were making the rounds in the press and international exhibitions. So, I had all of these notions of flatness in mind. Then at some point while visiting the Siena Duomo, it dawned on me that the medieval floor designs were showing me the same thing: pictorial flatness while still maintaining some suggestion of three-dimensional spatial depth. I realized that the 2-D decorative nature of ancient and medieval floors were the ancestors of the pictorial flatness that characterizes so much of late 19
th
through early 21
st
century art.  Incorporating these floor designs became a way for me to pursue my interest in realist painting while still accessing the power of two-dimensional composition.
The floor plane also struck me as a powerful metaphor.  It is the "stage" upon which human "dramas" are carried out – whether those are grandiose or mundane.  While it is the surface that we have to navigate every day, it may also be something that we seldom notice.  The floor plane can be something that we tend to overlook, disregard, or even disrespect.
The floors of Siena's Duomo
In your painting series inspired by inlaid floors, I noticed that the floor of Siena's Duomo features prominently. Tell us about that floor and what it means for you.
The floor of the Siena Duomo was a revelation!  Beyond showing me the graphic power of shape and 2-D composition, it was the narrative quality of these floor images that fascinated me. Rather than basic geometric designs or single
emblemata
inserted into floor patterns, the Siena floor offers sophisticated compositional arrangements that convey complex story lines. As I researched more floor designs, I was struck by how many ancient or medieval floors contain iconography that tells stories: usually didactic tales derived from biblical texts, histories and legends, or folk culture. This was something I thought I could expand upon for my own purposes.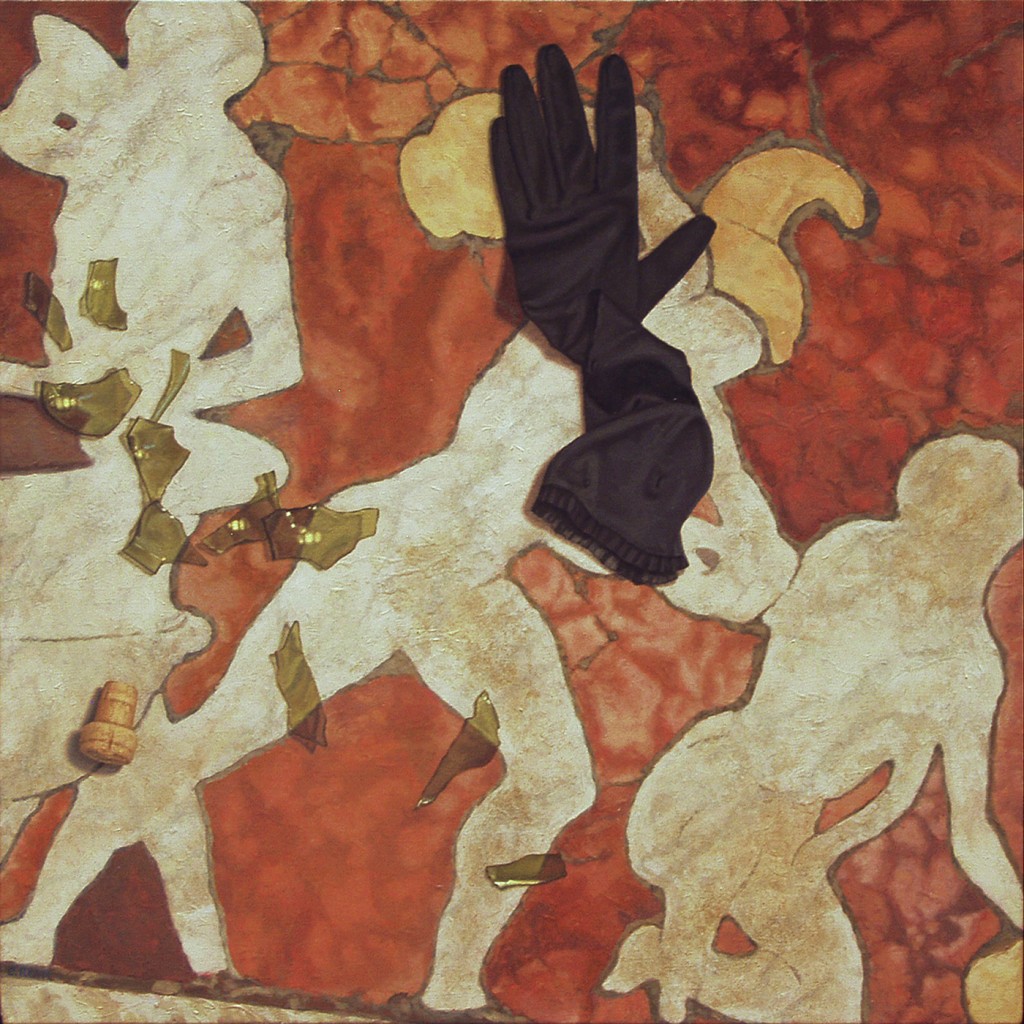 In my work, the imagery from ancient floors is juxtaposed with objects and debris from private, contemporary life, setting up a dialogue between contrasting elements, such as old and new, public and private, and sacred and profane. Some paintings suggest an event or activity recently transpired, or create visual relationships that can prompt new symbolic associations, references, or allegories that address themes both autobiographical and universal.
The visual contrasts in my work, along with the contrasts of ideas and issues that they suggest, echo the rich contrasts that one finds in the vibrant cities and towns of Tuscany. The great cities of Tuscany that cradle the artistic and architectural monuments of the past are also thriving contemporary cities that offer the riches of contemporary culture as well as face the "real world" challenges of the present day.   This ubiquitous, "living" contrast of ancient and modern is a quality that captivates me artistically, intellectually, and emotionally.
Finding Floors in Florence and beyond
Other than the Duomo of Siena, where else should people go in Tuscany to see... interesting floors!
Florence offers a number of great locations for interesting floor designs. Santa Croce is amazing for the floor tombs marked by family crests. Ognissanti and San Niccolo also contain some unique floor designs. Two locations in Florence that boast fascinating 13
th
century radial floor designs depicting the Zodiac are San Miniato al Monte and the Baptistry (both of which also have some striking geometric patterns). Outside of Florence, one can find some graphically powerful inlaid stone designs both in the interior and gracing the façade of San Martino in Lucca. A number of interesting floors have also been installed in the Etruscan museum in Volterra.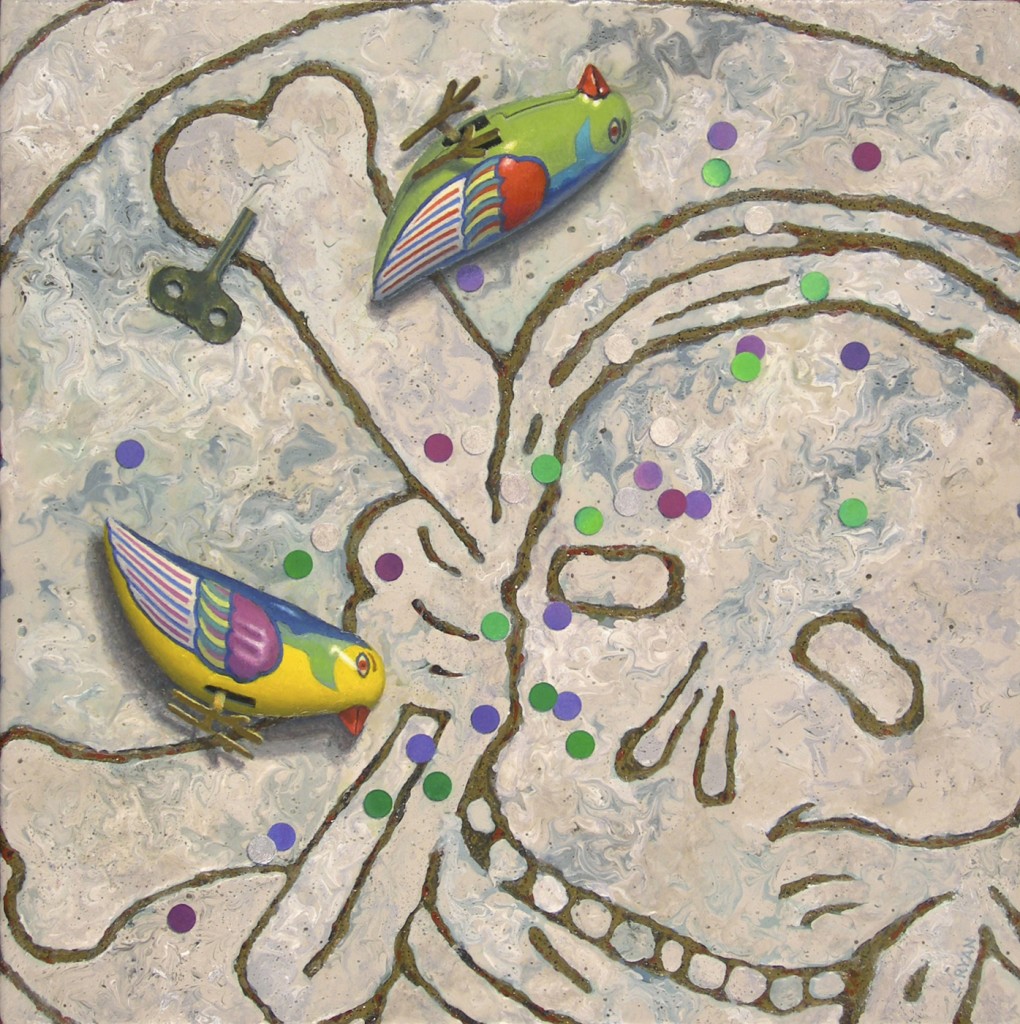 Of course, there are many other locations throughout Tuscany where interesting floor designs can be found.  The exciting thing for me is that an impromptu visit to a local church, palace, or civic building in any town or city can always hold the possibility of discovering an amazing floor.
Visual Archaeology
I find it interesting that you call this "uncovering" of floor imagery "visual archaeology". Can you expand on that a bit?
I think of my research as "low-impact visual archaeology" because many floor designs are literally covered.  They lay concealed under carpets or protective coverings, obscured by church pews or other furnishings, not to mention the shuffling feet of crowds. Or if located outdoors in archaeological sites, they may be deliberately buried under sand. In a more figurative sense, many of the floor designs that I've found are "hidden" in relative obscurity. Unlike the Siena Duomo, many are not particularly well-known, not mentioned in guide books, not reproduced in books or postcards, and not considered highlights on the tourist itinerary. Many that may not be literally buried or lost, are simply overlooked or forgotten; tucked out of sight in a side chapel or vestibule. Finding them usually takes a deliberate effort, and often a little serendipity.
Concluding Thoughts
Being in Tuscany, there is no shortage of artistic inspiration.  The influence of hundreds (even thousands) of years of artistic creation can be a heavy burden for a contemporary artist trying to find his or her own identity as an artist.  It seems to me that the challenge is to process this wealth of information and history, but to also keep one's eyes open so one doesn't miss "gems" that may not necessarily be heralded as world-renowned masterpieces.  Sometimes the more obscure things one finds around and "underfoot" can speak even more powerfully.  Investing in these "discoveries" and making them one's own can prove very rewarding.  For me, the rehabilitation of "lost" imagery allows me to find context and inspiration in the past, while allowing me express my own perceptions of the contemporary world. [gallery link="file"] All images courtesy and copyright of the artist. For more information about Christopher and his art, please see his website:
http://christopherryanart.com
You might also be interested in