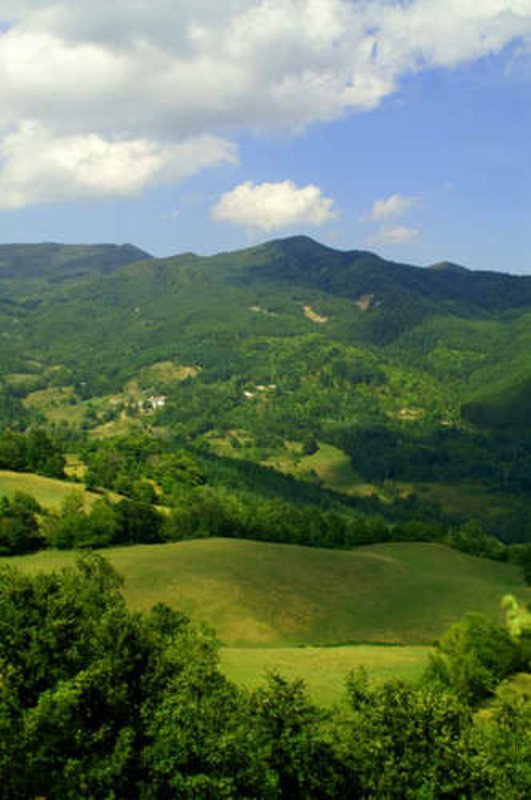 Il Casentino
Itinerario nell'alta valle dell'Arno
Il Casentino è l'alta valle dell'Arno, che il fiume percorre dal Monte Falterona fin nei pressi di Arezzo, dove lascia la stretta dell'Appennino per sgorgare in pianura e fluire con più tranquillo corso verso Firenze. Nato a poca distanza dal Tevere, l'Arno corre ad esso parallelo come a segnare un destino di comune grandezza e ne è separato soltanto da una stretta giogaia dall'alto della quale La Verna e Camaldoli sembrano vigilare sull'una e sull'altra valle. Ma l'alta valle dell'Arno fanciullo è più ridente di quella del Tevere: più verde, meno scabra, meravigliosamente equilibrata nelle sue linee dalla natura e dall'opera dell'uomo che, con intelligenza e semplicità l'ha popolata e coltivata.


La prima, che lo percorre interamente da Nord a Sud, serve a chi vi si dirige da Firenze o da Arezzo: valicando nel primo caso il Passo della Consuma e nel secondo imboccando più semplicemente la valle a Giovi. La seconda strada proviene dalla Romagna e vi sbocca attraverso il Passo dei Mandrioli. Per chi risalga l'Arno da Arezzo, la valle è sinuosa e poco ampia fin quasi a Bibbiena. Poi si allarga e tale rimane fin quasi a Pratovecchio, in un perfetto anfiteatro appena mosso da dolci colline e limitato a ponente dalla dorsale del Pratomagno, ed a levante da quella che scende dal Falterona e comprende Camaldoli, il monte della Verna e Catenaia.

La sua posizione di estremo lembo nord-orientale della Toscana ne ha sempre fatto una terra di possesso feudale più che di transito, una preda ambita per i Fiorentini che sempre lottarono per strapparla agli Aretini. I Guidi di Poppi eran signori di terre lavorate, e le guardavano coi loro Castelli che, ancor oggi, coronano le più forti e più belle posizioni: Romena, Porciano, Urbech, Castelleone, Castel San Niccolò, Borgo alla Collina, Montemignaio, Fronzola, son nomi conosciuti e in gran parte ricordati anche da Dante.

Dei bellicosi Tarlati e Ubertini di Arezzo erano Bibbiena ed altre terre. Il destino poi volle che poco a monte di Poppi, nel piano di Campaldino, si combattesse la sanguinosa battaglia che chiuse le secolari lotte tra guelfi e ghibellini (1289).

Ma questa posizione marginale e la sua mistica bellezza han sempre fatto del Casentino un luogo nel quale fu possibile ritirarsi in preghiera sulle vette ammantate di foreste, dove il fragore delle contese civili non giungeva che come un'eco di lontano mare in tempesta. San Francesco salì alla Verna come al luogo più caro della sua vita e sul "crudo sasso" ricevette le stigmate. San Romualdo gettò le basi del suo eremitaggio a Camaldoli dove la sola compagnia era il rombo del vento nella foresta. Ogni luogo è tra i più cari a Dante che vi fu prima come giovane cavaliere guelfo a Campaldino, e poi come ramingo proscritto. Acque fresche e limpide scrosciano da sempre verso l'Arno con nomi famosi come l'Archiano.
Nelle secolari foreste che coprono le montagne a nord della valle è stato costituito il Parco Nazionale delle Foreste Casentinesi.
Casentino
A land of forests and monuments to the Christian faith, of profound silences and soulful revolutions, Casentino inspires a spirit of meditation and reflection. Colors are everywhere, dominating the spiritual atmosphere of the forest. ...
Scopri Casentinokeyboard_backspace