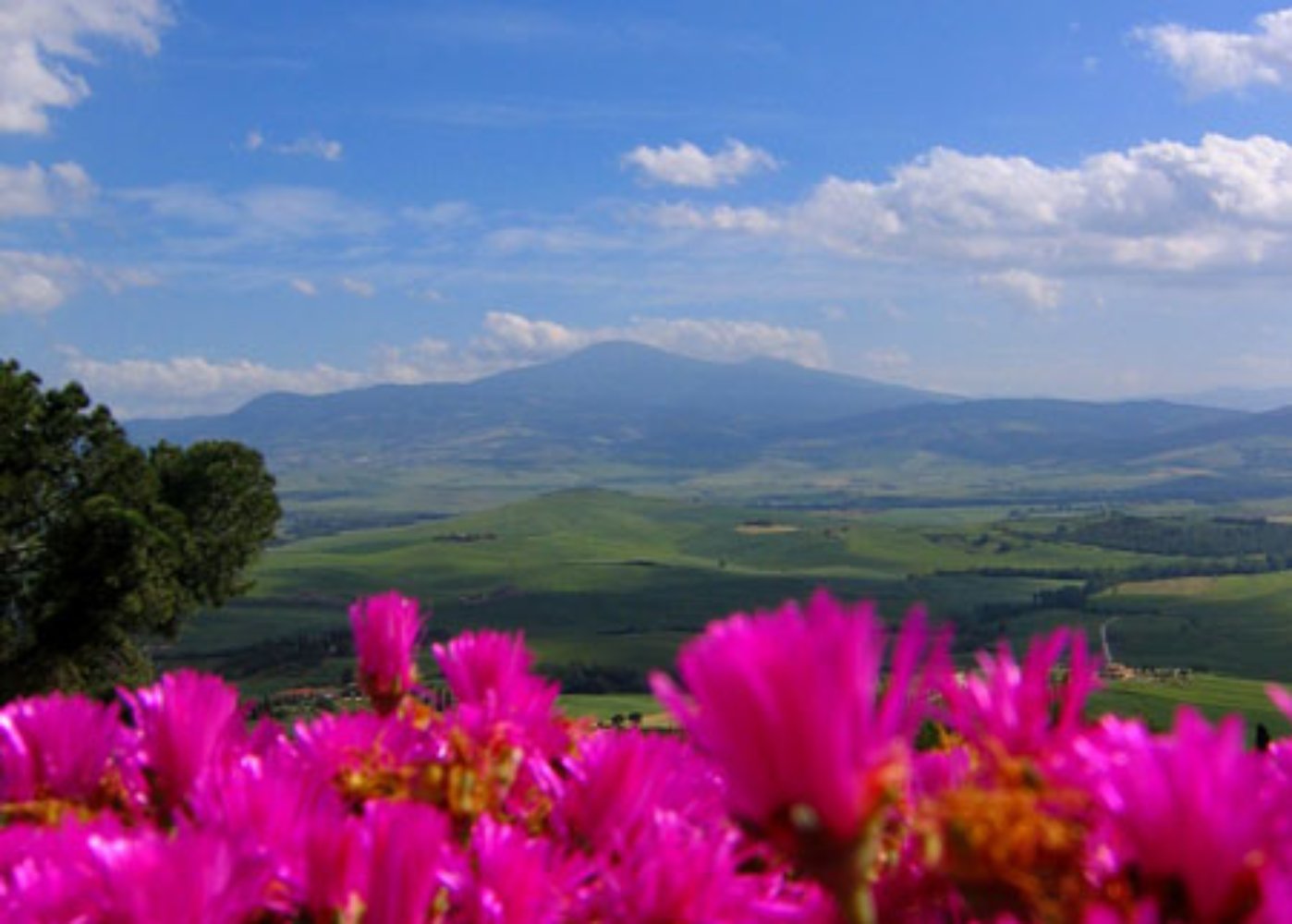 Hiking on Mount Amiata
Medieval villages, natural oases and the richness of the territory
Mount Amiata is an unmistakeable presence in the Maremma landscape: the only true mountain in southern Tuscany and, at 1736m, the highest extinct volcanoe in Italy. Known for its medieval towns, its food and wine and its ski slopes, it is covered in a magnificent forest which alternates from chestnut to firs and beech. Facing north east on the soft landscape of the Val d'Orcia, Mount Amiata closes the eastern side of the Maremma landscape and is near the Grosseto hills. Those interested in history can explore the historic centres of Arcidosso, Castel del Piano, Santa Fiora and Seggiano and numerous isolated monuments. The Provincial Nature Reserves of Monte Labbro and Monte Penna which surround the two important satellites of Mount Amiata and the WWF Oasis of the Rocconi Forest. The paths of the Amiata Animal Park, on the western side of Monte Labbro, offer the chance to see deer and wolves. A thick network of hiking itineraries cover both sides of the mountain.


From Roccalbegna to Rocchette di Fazio    
Horse, bike and foot trail - 10 km
This pleasant itinerary leads halfway along the solitary valley of the Albegna River, crossing many valleys to arrive at the picturesque village of Rocchette. The first two kilometres are on an asphalt road, the rest along a tranquil gravel road, arriving at Semproniano (another 3km).


From Roccalbegna to the WWF Oasis at Rocconi    
Horse, bike and foot trail - 16 km
Along the heights at the orographic right of Albegna, it reaches Fosso il Rigo and heads back up towards the forest and the farm house "dei Rocconi", at the heart of the eponymous WWF protected area.


From Arcidosso to Monte Labbro and Roccalbegna    
Horse, bike and foot trail -  13 km

The mountain crossing that flanks the south of Mount Amiata offers broad views of the landscape and a Giurisdavidian temple built at 1193m. Pass the Capanne estate and descend to the historic centre and lime towers of Roccalbegna.


From Santa Fiora to Selva    
Horse, bike and foot trail - 9 km

The first part of the mountain crossing from the summits of Amiata to Mount Civitella and Castell' Azzara includes long sections on asphalted roads. It descends to the valley of the Fiora River and rises again along the Scabbia River Valley before arriving at the Convent of Santissima Trinita.


From Arcidosso to Monte Labbro and Roccalbegna    
Horse, bike and foot trail -  11 km

Almost completely along a gravel road, it climbs Mount Labbro between fields on the eastern side with ample views of Mount Amiata. The descent is the same as the preceding itinerary.


From Selvena to Castell'Azzara    
Horse, bike and foot trail - 7 km
 
The mountain crossing of Monte Penna and Monte Civitella begins with a steep clim and continues past Poggio della Vecchia and the Fossatelle spring.


From Arcidosso to the Fonte alle Monache and Santa Fiora    
Horse, bike and foot trail - 14 km
 
One of the most interesting paths on Mount Amiata. It ascends through beautiful chestnut groves to reach the Mountain ring which it follows to Fonte delle Monache. The descent passes the Poggio Trauzzolo and Le Mura.


From Seggiano to Castel del Piano and Arcidosso    
Horse, bike and foot trail -  9 km

This comfortable itinerary connects the towns on the Grosseto side of Amiata descending to the Castle of Potentino and the Vivo River before heading back up to Castel del Piano and Arcidosso.


The Mountain Ring
Horse, bike and foot trail - 24 km

The longest and most famous trail on Amiata circumnavigates the mountain at 1000-1300m above sea level through woods of beech, fir, oak and chestnut. From the Grosseto side the ring can be reached by car parking at Fonte Capo Vetra, Prato delle Macinaie, Fonte alle Monache orMadonna del Camicione. On foot it is posisble to follow the paths that ascend from Castel del Piano, Arcidoss and Santa Fiora.


From Rocchette di Fazio to Semproniano and San Martino sul Fiora    
Horse, bike and foot trail -  14 km

This itinerary leads to the area of the Tufi di Sovana, Pitigliano and Sorano. After arriving at the capital it continues south towards Catabbio and San Martino.


From Selva to Selvena    
Horse, bike and foot trail - 1 km
 
The crossing continues down into the Valley of the Scabbia River, crossing Poggigo Fontenassa and passing the houses of Poggio Montone. From Selvena it is possible to continue south (4km roundtrip) to the ruins at Rocca Silvana.
You might also be interested in