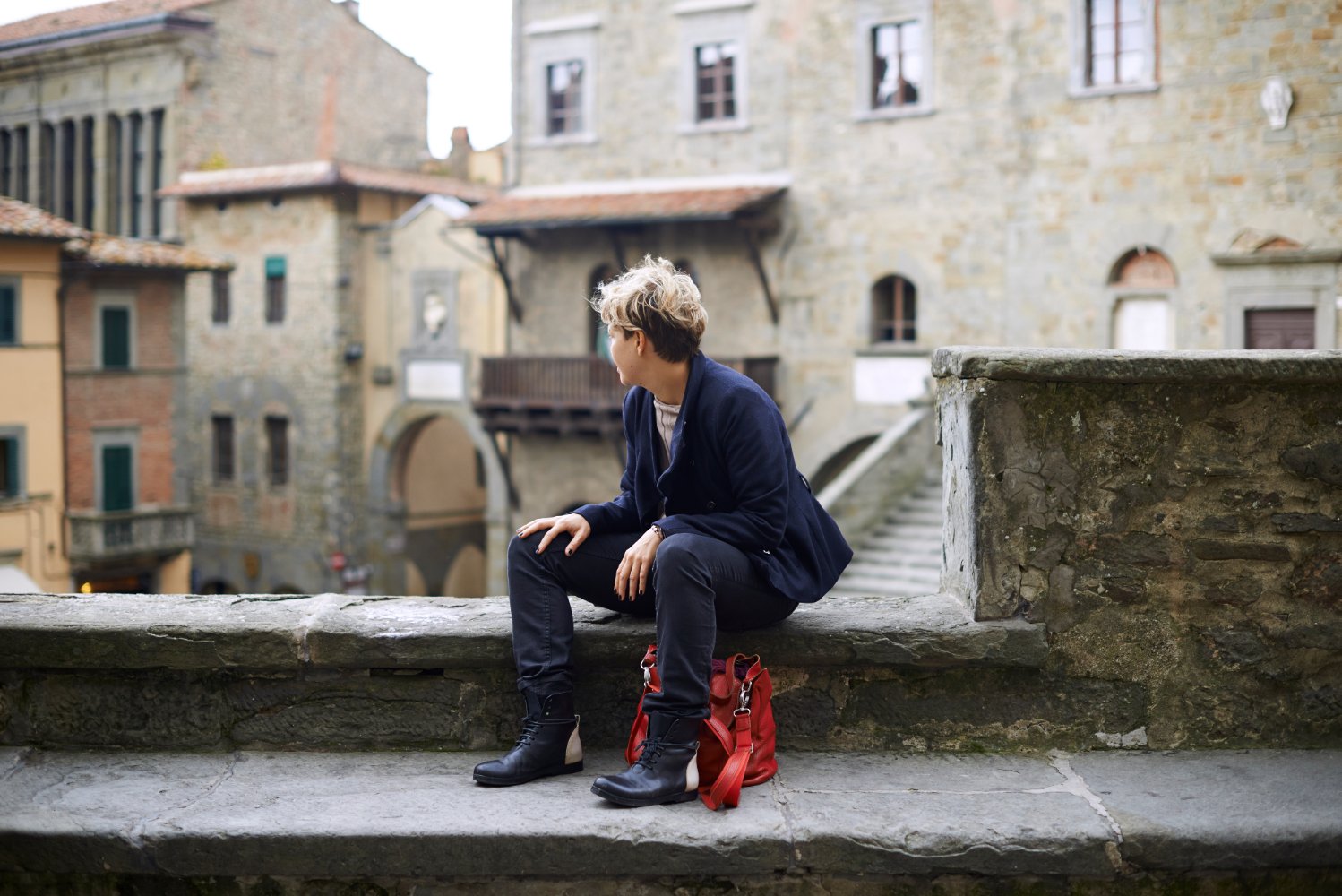 Good honest home cooking: summer lunch menu
When we travel we often wonder what life is like for locals. While we walk contemplating the ancient palaces of
Florence
we try to figure out what it would be like to live every day between those walls. We often have a long list of good things to taste but we are always thinking, what do local people really prepare at home?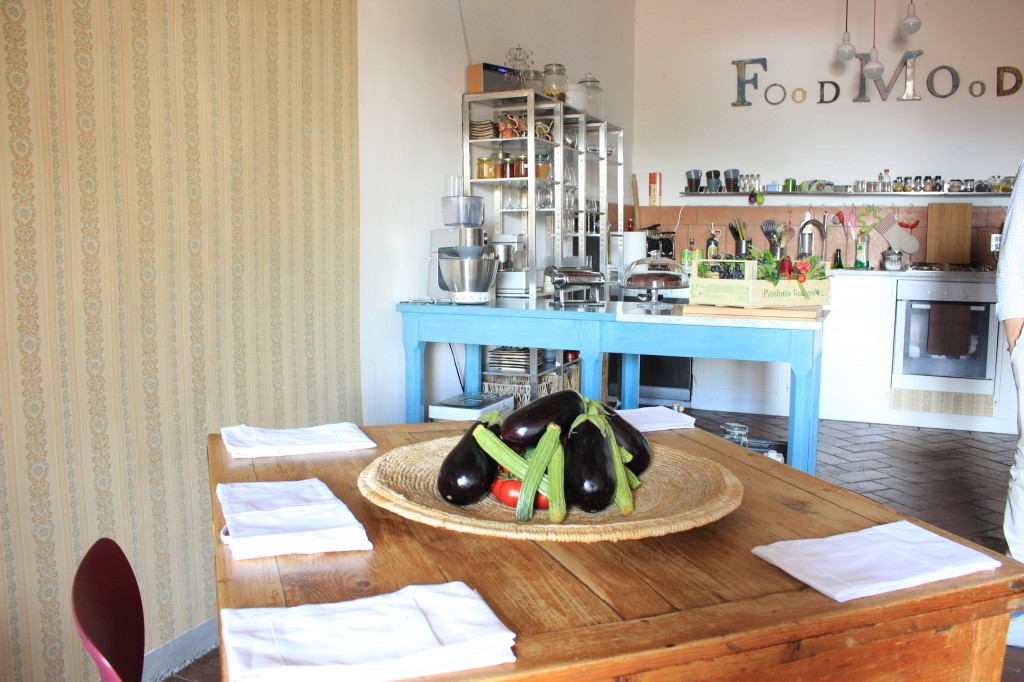 Claudia
is a young opera singer who lives with her family in a Renaissance building along the beautiful
Via de Servi
, between Santissima Annunziata and the Duomo. She decided to open the doors of her apartment and her life to travellers. With her husband, she organizes exclusive
craft and food tours
around Florence and a cooking session (with lunch).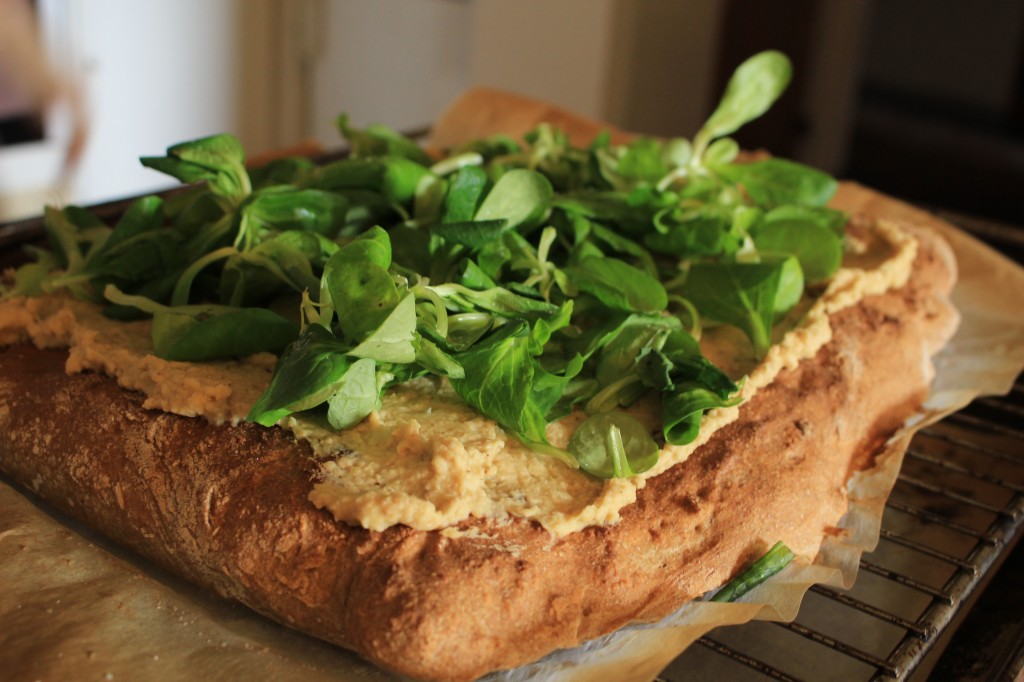 After a summer morning visiting two of the coolest Florentine workshops we went to her home for a
vegetarian cooking lesson with seasonal produce
. "I hold very successful sustainable cooking classes in some prestigious venues of Florence. My cuisine is mostly vegetarian and free from products of animal origin. Actually this is a global trend, but for me is simply part of a sustainable style of life".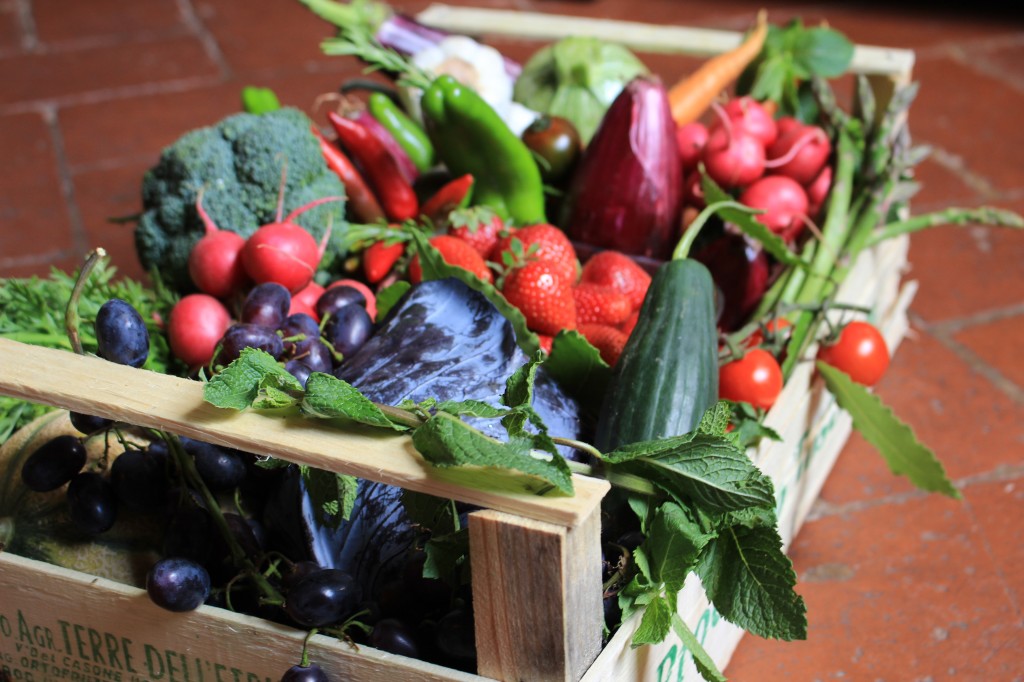 There are two things that Tuscans do not give up even in summer:
pasta
and
fried food!
Here are two of Claudia's simple recipes to prepare during the summer: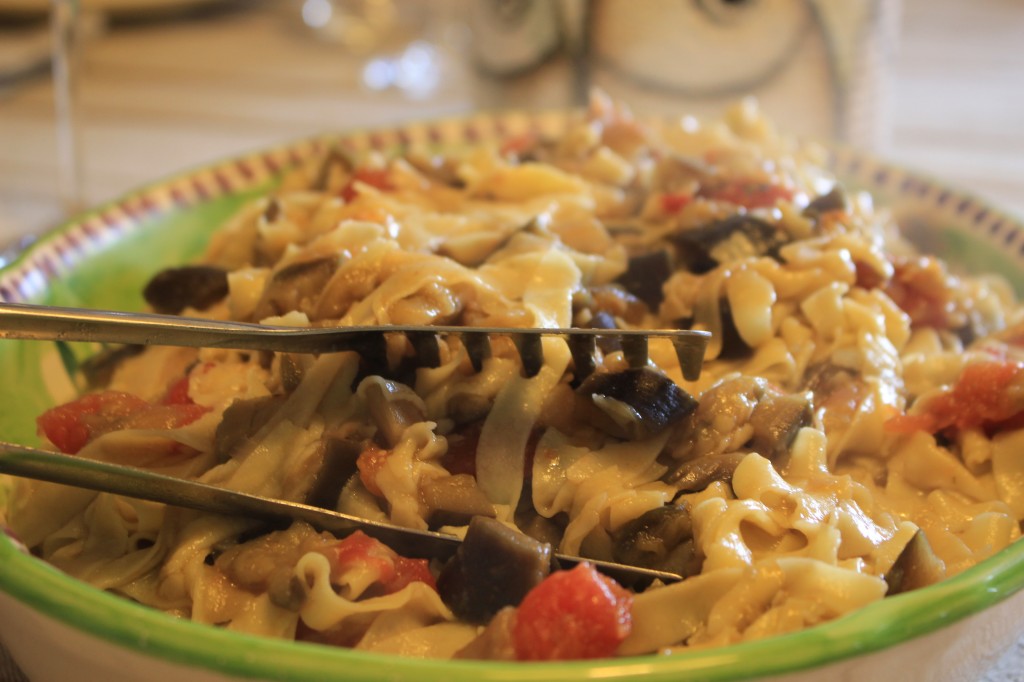 Homemade tagliatelle with aubergines
Homemade pasta is not only something that grandmas make. In the countryside and in the city you will find plenty of young people who really love to make it. They are always well equipped to knead, roll out and cut pasta.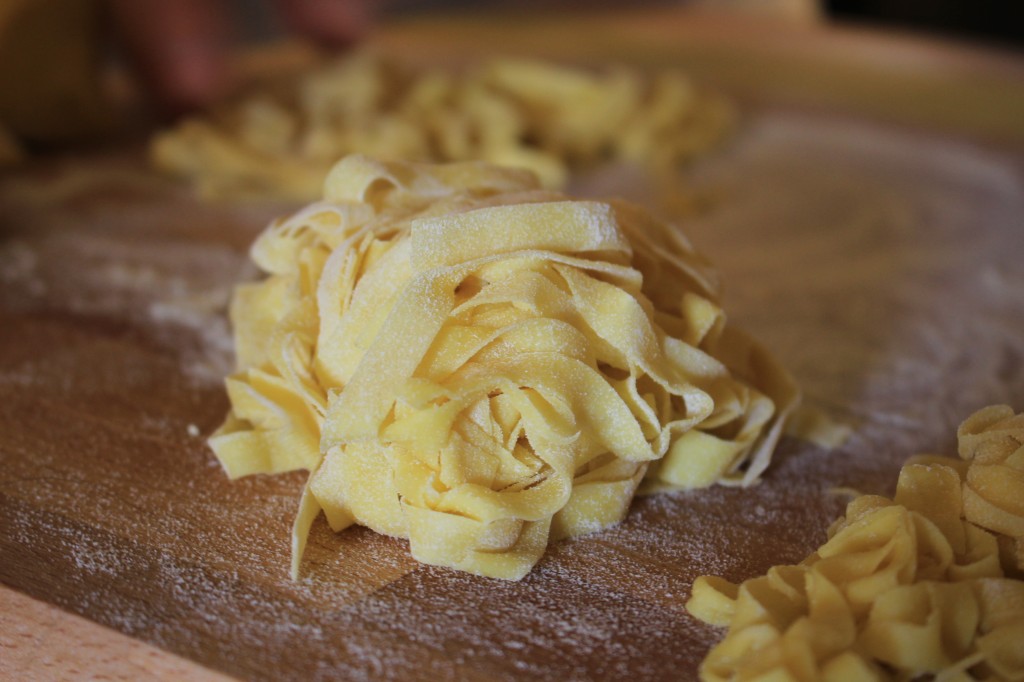 Ingredients
For the dough (serves 7) - 500 g of semolina flour - 5 eggs For the sauce - Eggplants 3 (about 300 g) - Onion 1 - Garlic, 2 cloves - Peeled tomatoes 350 g - Oregano - Salt - Extra virgin olive oil
Method
- Place the flour on a large wood board or just on a flat surface - Break the eggs and after you have created a sort of crater in the flour, drop the egg (both the yolk and the white) into the centre. Add a pinch of salt. - Begin kneading inwards to outwards. When the dough is soft yet firm and elastic give it a round shape. - Cover and leave it to rest at room temperature for about 30 minutes. - To make thin pasta sheets you can use a rolling pin or a pasta machine. - Cut the fresh onions into julienne strips - Cut the aubergines into small cubes - Fry lightly the onions and the cloves of garlic in extra-virgin olive oil - Add the aubergines and season with salt * - Add some hot water or broth and cook slowly - When aubergines are almost soft, add some peeled tomatoes, oregano and cook everything for about 10 minutes - Serve with your fresh tagliatelle * for a better result salt the eggplant before cooking. Cut the aubergines into small cubes, place them in a colander, sprinkle generously with salt and let them sit for about half an hour, then squeeze well before using.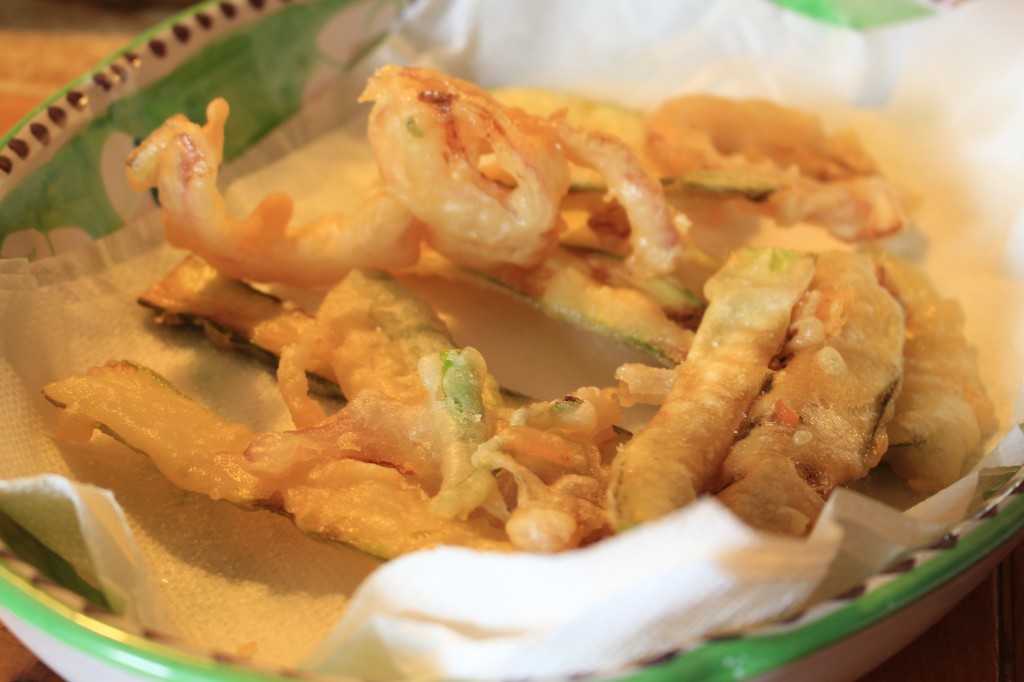 Fried zucchini and fresh onions
Zucchini is the queen of summer in Tuscany (after the tomato!). You can use it in many recipes but one of the best ways to have them is in a fried batter. Claudia says that if you want to prepare a good batter for your vegetables you need to use beer instead of water. Ingredients - Zucchini - Fresh onions - All purpose flour 100 g - Rice flour 100 g - Very cold Beer (about 25 ml) - Sunflower oil - Salt Preparation - Cut the onions into rings and the zucchini into thin slices, - Place the flour and a pinch of salt in a bowl and slowly begin adding some beer, use a whisk and beat, - Make sure no lumps have formed. The mixture should be thick, not too much fluid, - Dip your vegetables into the batter and fry them lightly, - Season with salt and enjoy hot.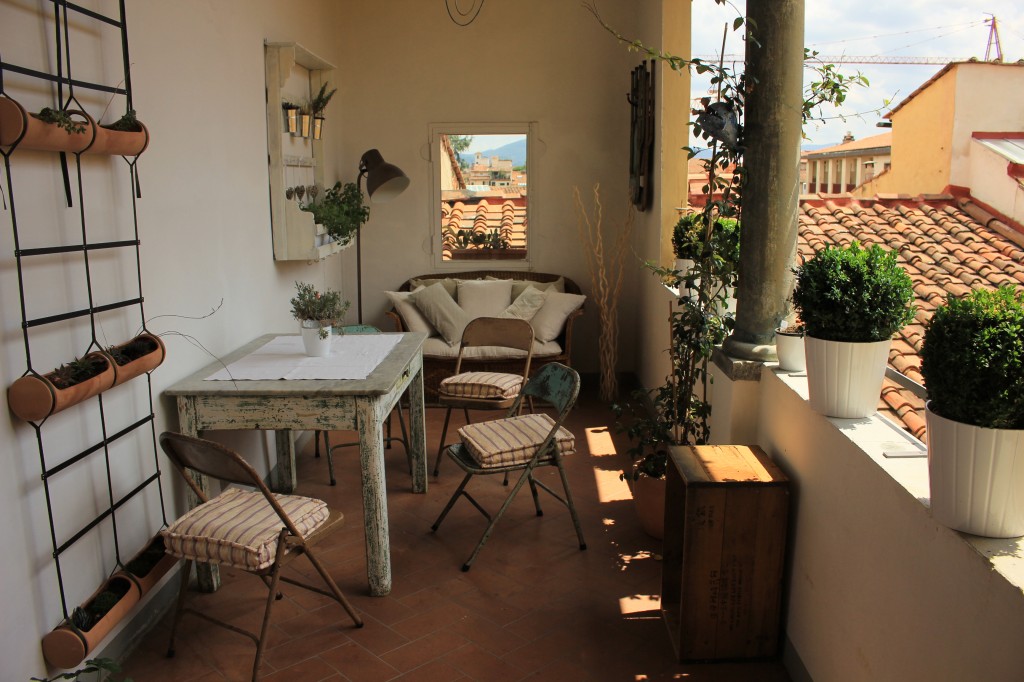 [Photo credits: Flavia Cori, Tuscany Social Media Team]
You might also be interested in