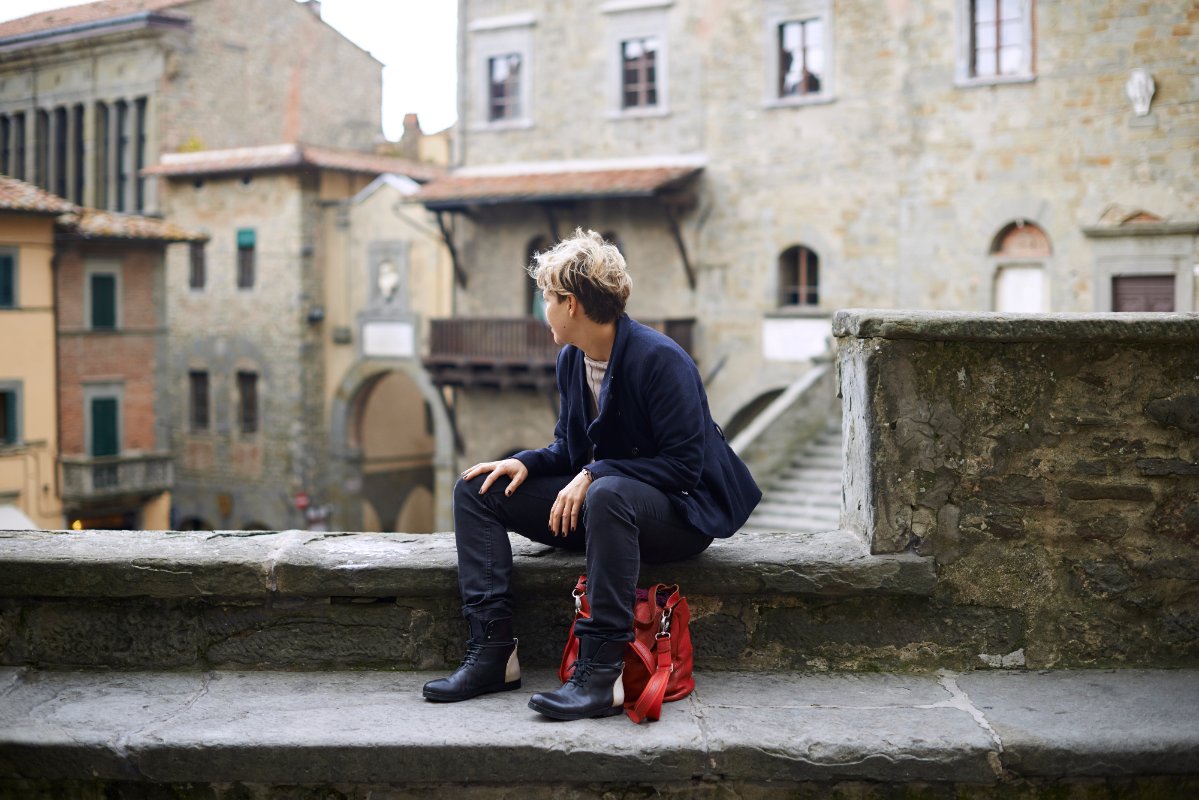 Gianni Pettena, Italian architect at Centro Pecci Prato
Who is Gianni Pettena? What is "architettura radicale"? An exhibit at the Centro Pecci in Prato introduced me to the 60s radical architect Gianni Pettena; from March 20 to June 20, 2010, the museum in Prato has their recent acquisitions of his work on display. For this occasion, Pecci has also issued a limited edition fascimile reprint of Pettena's 1973 book "Ritratto dell'anarchitetto da giovane" - loosely translated as "Portrait of the an-architect as a young man" - whose title, of course, recalls James Joyce, and the word-play calls up "anarchism". Born in Bolzano in 1940, Pettena has for a long time lived and worked in Fiesole (a town just outside of Florence, easily reached by local bus). Florence was often an important base for him and for members of his movement including Archizoom and Superstudio who were active there.
Going to the exhibit without much context, I was intrigued by some of the amusing "tricks" and performances by Pettena, who must have led a very interesting life during the 1960s and 70s. For example, I love this photo of a performance/ object called "Wearable Chairs" put on by Pettena with students from the Minneapolis College of Art and Design in 1971. His 1967 film "The Pig/ Caroselli italiano) also has glimpses of what it must have been like to be at the center of the artistic movements of the time, from weird improv acting to political protest.
Since I had never heard of the Italian radical architecture movement (architettura radicale), I did a little research after the fact. There's not a whole lot in English and wikipedia (eng) is no help. In an interview of Massimiliano Fuksas I learned:
...the notoriously polarised Italian architectural world ... in the 1950s. At one extreme was 'Gio Ponti [who] was completely out of politics, bourgeois and a dandy, the opposite of Ernesto Rogers [who] was a Communist, politically engaged, and edited the radical magazine Casabella which was fighting for modern architecture in Italy'.
There is no question that Pettena was part of the latter. He is still anti-regulation; at the opening of his show in Prato the other week he smoked a cigar inside the gallery. Nobody dared tell him not to. The artist, on his own website explains what was happening in Europe at that time, in comparison to in the United States:
In Europe... the early experiments moved on from the initial utopian vision to a progressive maturation, to the point where they were able to accept irony and allow their own visionary outlook to be used as a means of questioning the canons of the profession. Thus European architecture saw the emergence of an experimental attitude that was wholly independent of previous legacies but influenced instead, and developed in concord with, the climate of linguistic and experimental renewal of the other creative disciplines and the changes that were taking place in culture and lifestyle on the urban scene.
The disjunction from the past; the connection to other disciplines of the present. This explains in part what I saw in the gallery (the 1960s actors, the multiple media represented), though is in contrast with another, namely Pettena's installation in San Giovanni Valdarno called "Dialogue with Arnolfo" [del Cambio] of 1968 that involved draping areas of the late-medieval building in a way that was intended to highlight the structure's shape and design. This to me is not "wholly independent of previous legacies"; rather it builds on one. Can an artist EVER truly produce in a cultural vacuum, with no nod to the past? Especially in Italy, to me it's impossible. And in a "reactionary" movement that is anti-something, it's even more impossible. Resources:
This blog on architettura radicale is by Emmanuele Piccardo who, since 2005, has been researching this movement in the decade 1963-73. In Italian.
A review in italian on the blog "siamo donne"
You might also be interested in