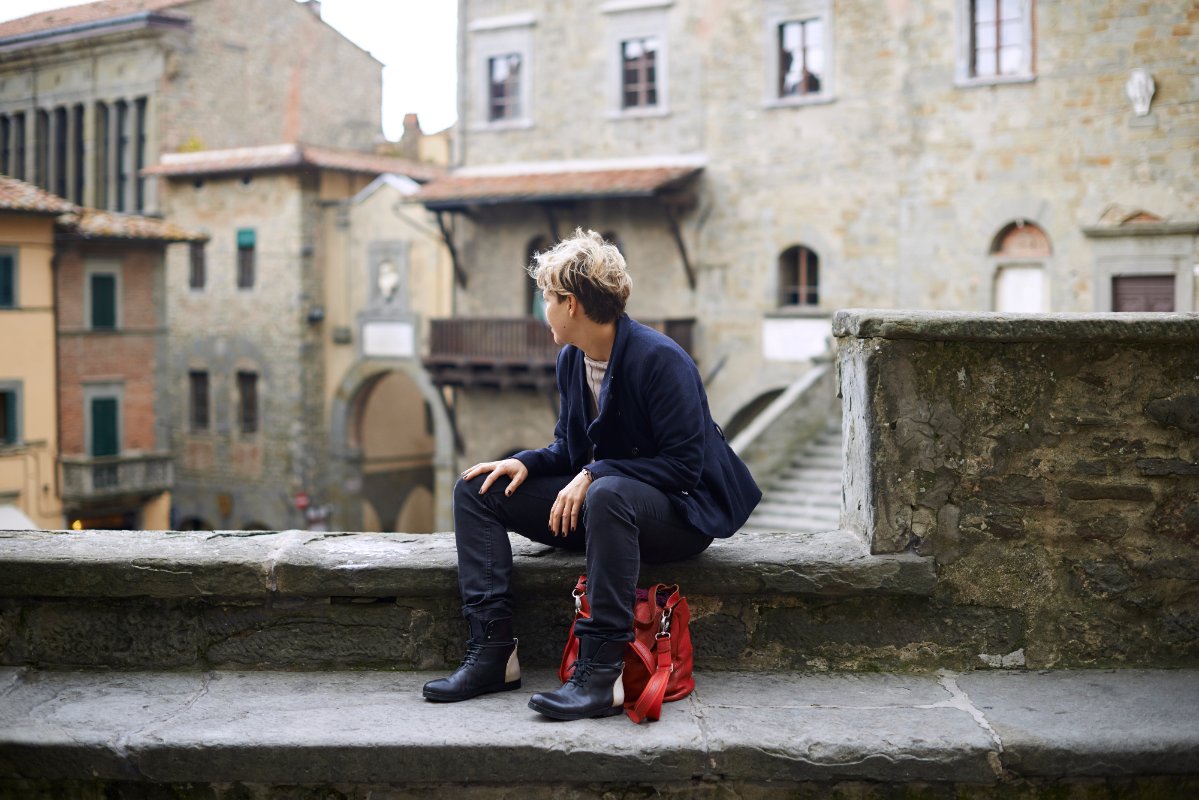 Gerhard Richter and the Disappearance of the Image in Contemporary Art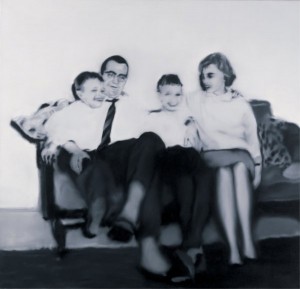 You enter the Strozzina contemporary gallery by going down a set of stairs from the main courtyard of the Renaissance Palazzo Strozzi and you find yourself in a different world, one that is refreshing in the context of Florence's often staid cultural offering. I went to see
Gerhard Richter and the Disappearance of the Image in Contemporary Art
on a Thursday night, when the gallery is FREE from 6pm and open late, until 11pm! There was a lecture taking place in the gallery, and it was quite full of young people and 30-something couples like us - I dragged my husband, a colleague, and the colleague's girlfriend there, of course.
It was a nice evening, it cost nothing at all, and we had a few good laughs.
Maybe we should have considered more seriously the themes treated by the artists, which are certainly important, but I think there's nothing wrong with cracking a few jokes while discussing paintings and trying to relate them to our own experience or knowledge. The exhibition space at the Strozzina morphs for every show; the order of rooms this time is different than for
Manipulating Reality
, and we decided amongst ourselves
that the layout is significant
. You enter first into the largest room, in which you learn about Gerhard Richter from a wall text and by looking at some of his most representative paintings, like the blurred
Schmidt Family Portrait
of 1964 and the black and white
Decke
of 1988, not to mention the image that is used on the exhibitions posters,
Portrait of Liz Kertelge
of 1966. The wall text also addresses the other works by Richter that are placed in rooms at either extremity of the exhibit. In this way,
Richter is at the center of the show
- with mini-solo-exhibits by seven contemporary artists radiating out from him -
but Richter also parenthetically closes the story told in this space
.
A History of the Blurred Image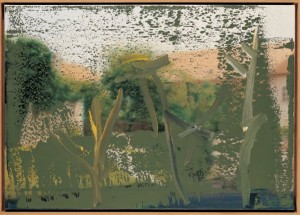 In the 1960s, what Richter was doing was considered very innovative - we get this sense from the very retro educational video that you can watch in a little room in the museum.
His paintings start with a photograph
that he takes himself; he projects it onto a blank canvas, traces its outlines, blocks out the colours and areas, and then proceeds to blur it with a large brush.The effect is an image that both contains and hides information. Later, in the 1980s, he painted on top of things (like in
Krems
in the photo here), or abstracted them completely. The
catalogue article by Wolfgang Ullrich
is an interesting reflection on the blurred image and what it means to us. He points out that many of the iconic images of recent years are blurred - he mentions Lady Di in the revolving door of the Ritz in Paris, but you might think of anything published from a surveillance camera or by the paparazzi, not to mention amateur films and photos sent into newspapers or posted on youtube. Ullrich contends that the blurred image thus is credited with authenticity and spontaneity, an observation I find interesting but perhaps on its way out with the improvement of digital cameras that help make everyone a better photographer. In film the blurred image may be associated with memory, spirits, or motion. Meanwhile, the figures of speech "faded memory" or "blurred recollection" imply that our inner eye needs glasses ;-) In an interview of 1966, Richter said something that pretty much explains why he took up the blurred photo technique in his works:
A painted murder is completely devoid of interest, a photographed one shocks everybody. We must introduce something like this in painting.
Richter's blurred paintings attempt to "eschew the appearance of painting" by removing the brush stroke. However, I have to say that this fails somewhat, but in a positive way: I'd seen reproductions of his works, but they in person they are much more interesting because you can really see the medium. I saw a brush hair imprisoned in the face of the Liz Kertelge. I can see the texture of the canvas (and I'd have liked to see more closely, but the curators put up a white block in front of the canvas that I assume was so that I didn't step on it and leave shoe marks).
The influence of Richter on contemporary art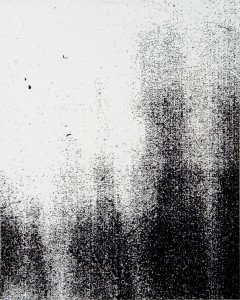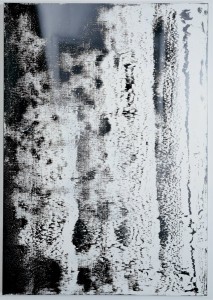 The CCCS has invited seven contemporary artists whose techniques or themes have something in common with  Richter's work. Each artist has his own space in the gallery ("his", as they really are all men!). My favourite is
Scott Short
's (b.1964) conceptual work which is based on photocopying a blank sheet of paper hundreds of times until incidental marks create an accidental image which then becomes a painting. You can see how the work "Untitled" of 2009 can be considered related to Richter's
Decke
, although the process of each is very different - in
Decke
, Richter painted over something initially representative. The reproduction does not do Short justice; what is fascinating is that if you look at this work up close, there's the point where black and white meet that makes you wonder which he put down first - the black or the white paint - this is clear in the painting's extremities, but a technical challenge in the center. I like its precision, which is at once mechanical and the result of human logic and creativity.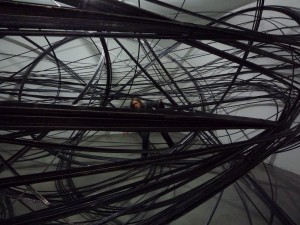 One room has been filled with spirals of aluminium tube from floor to ceiling by Antony Gormley
(b.1950) whose site-specific installations apparently "develop his research for a new social art where the interplay between abstraction and figuration is the result of a process of dissolution of the human figure". I'm not sure my body felt dissolved when I entered his artwork, but it sure does make me feel rather anxious, as I carefully picked my way into it and then realized I would have to spend just as long getting out. Not for anyone claustrophobic. I thought it would have been funny (but hardly "accessible") to make this the actual entry point of the gallery. This work is fun because you can, and are supposed to, touch it and engage with it. Xie Nanxing (b.1970) uses video and photography as intermediate media for his reflections on painting and the human condition; Lorenzi Banci (b.1974) investigates the boundaries between representation and abstraction by painting dissolving shapes in which mere light is the object; while Roger Hiorns (b.1975), one of the four artists shortlisted for the 2009 Turner Prize, works with chemical components and choreographs planned incidents to create his sculptural work - in this case machines that make a rather solid-looking white foam that grows up above a sculptural base. Marc Breslin (b.1983) scratches signs and graffiti into layers of paint as a metaphor for mental processes, memory, and oblivion; the pieces in this exhibit are photographs of those paintings, divided up into many small frames that further dissolve the image. Wolfgang Tillmans (b.1968) works directly with light on large sheets of photographic paper as canvas to create abstract images.
Location, opening hours, information
CCCS (Centro di Cultura Contemporanea Strozzina), Palazzo Strozzi, Florence February 20 to Sunday 25 April 2010. Opening Times: Daily: 10.00 to 20.00; Free on Thursday nights! 18.00 to 23.00, Closed Monday website:
www.strozzina.org
Free guided tours in Italian every saturday and sunday at 4:30pm Free lectures every Thursday evening (with free entry to the gallery) - see
schedule of lectures
. [Per chi vuole leggere un'ottima recensione in Italiano vi consiglio quello di
Mario su posthuman.it
]
You might also be interested in