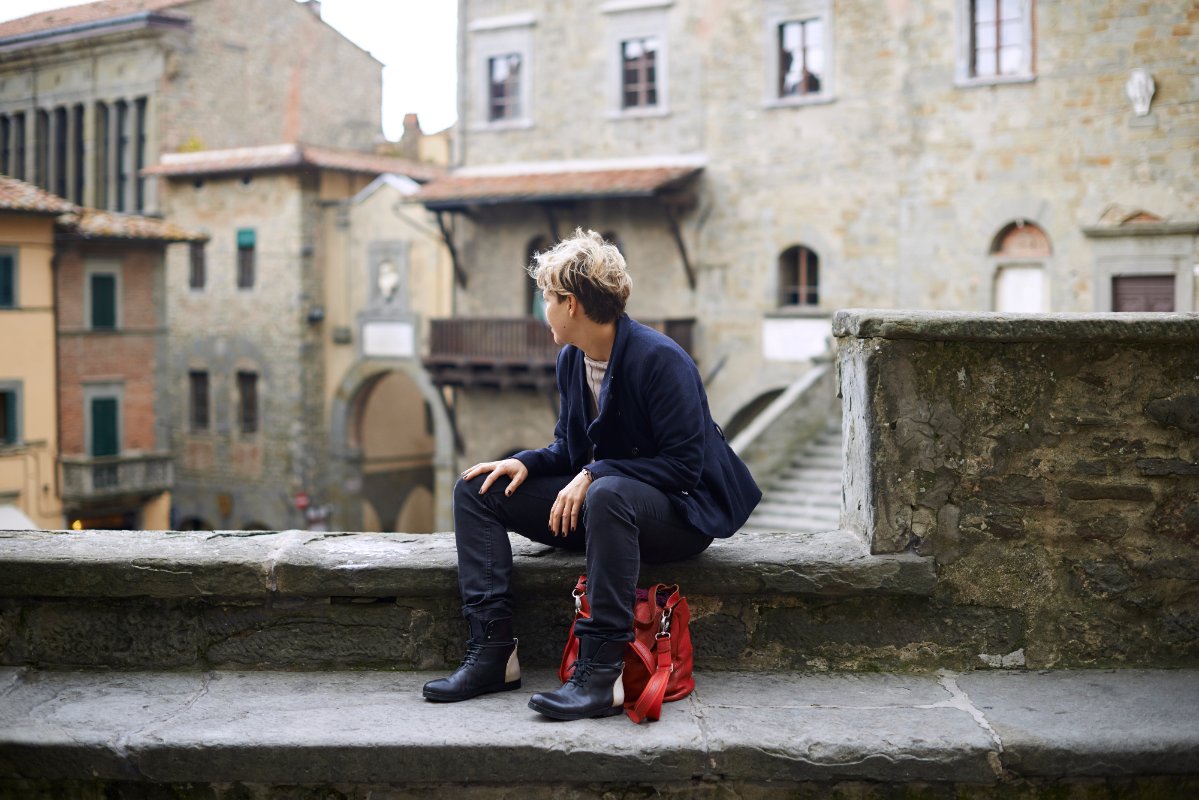 Fritz Hagl: a history of art, nature and love
Over 40 years. Over 40 years of wild nature, sea, rocks, sand, trees, colors and painting. Over 40 years of "splendid isolation" in a corner of paradise, on the Island of Elba. Is this the life that German painter
Fritz Hagl
chose for himself back in the mid-1950s, when Hagl and his future wife Nicole made a cultural journey through Italy and stopped here:
the promontory of Capo Perla, Elba Island
. Here they decided to remain and live. And here, in three years, Hagl built - with his own hands – their house,
"Casamacchia"
, and the large garden that hides it. For him, this was the realization of a childhood dream, according to a Chinese proverb:
"Build a house, plant a tree, make a family".
While achieving his dream, he used the same hands that he used every day to paint and lay on the canvas the unique colors, shapes and textures that he found around him, integrating more and more the untouched nature of Elba into his work: the green of the maquis, the red hues of the Elba's minerals, the dark blue of the sea, the forms of the rocks, the nervatures of the leaves or the structure of a feather.
"I found that the world consists entirely of details, which already carry the large whole within themselves."
For 40 years, Fritz Hagl lived dedicating his mornings to the house and garden and his afternoons to his painting, having several canvases going simultaneously and working on them according to the moment, the feeling, the inspiration.
After his death, in 2002, his family had decided to open "Casamacchia" and the 
"Fritz Hagl's Atelier"
, to give everyone the possibility to get to know him better: the man, the artist, his painting, his history, his world. From his earlier works back in Germany, mainly portraits, to his later ones "soaked" with colors and textures. A fascinating journey. 
An exceptional story of life, art, freedom and love between a man and a place, a constant source of inspiration, a never ending one.
And while visiting the 
Fritz Hagl's Atelier
, while talking with his daughter Dominique and his wife Nicole, while looking at his unique paintings, you can almost see him, still there, still in his studio, painting and listening to jazz or African music, still working and living in his own little corner of paradise. INFO Fritz Hagl's Atelier Casamacchia, Loc. San Francesco 166 Capo Perla - Capoliveri -Elba Phone:   +39.0565.968240 Opening hours: Sunday and Thursday, from 5pm to 8pm.
www.casamacchia.com
[geo_mashup_map]
You might also be interested in