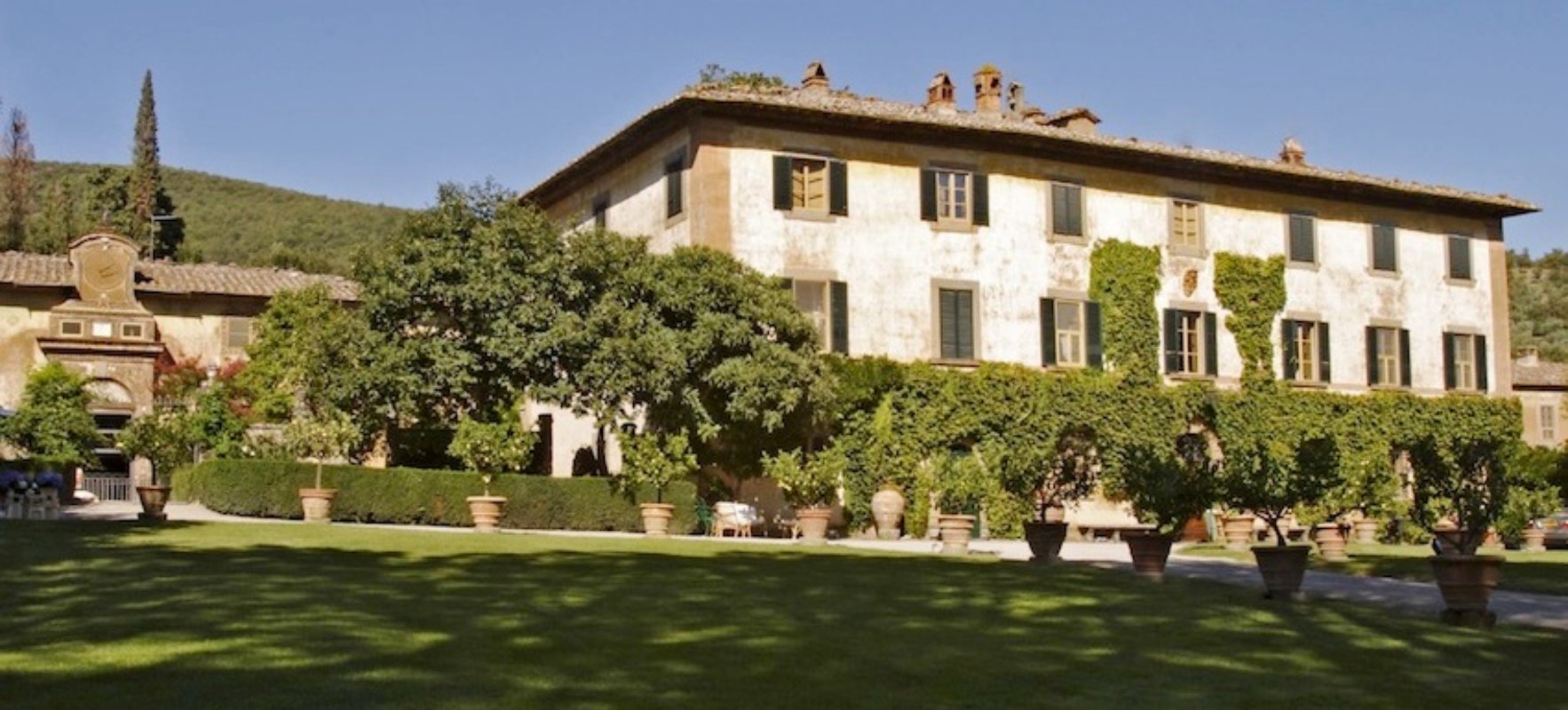 Flowers and gardens in Cortona's Villas
An itinerary along Arezzo's 'flower roads'
Arsia - Regione Toscana

Centuries ago, the area of Cortona was the preferred holiday destination for many noble and wealthy families from inland Tuscany because of its mild climate, view of lake Trasimeno and flowery countryside. Many of nearby parks of Cortona's most beautiful villas are still in great condition. Many villas, with thier gardens and cultivated land plots, continue to give Cortona and the Val d'Esse the nickname of 'ornate farm'.

The Passerini Gardens in Pergo (can visited by contacting the Garden Club di Firenze, tel. 055/282245) can be considered a large rural park, with a Granducal landscape thanks to the fruit trees and vines which are part of the formal garden of the villa: functional agricultural elements like how the water-collection basin, which is part of the irrigation system, becomes part of the garden, no equal ground to the fruit trees which are located in the formal garden and floral and ornamental elements, like the roads of lime trees or the large and monumental sycamore of the garden. The formal garden still boasts its ancient 'spider's web', named this way for the ancient practice of stringing nets between trees. The formal garden, closed off from the scenography of the lemon-house, continues geometric hedges and magnolias; another magnolia provides shade for the camellia gardens.

Near the Camucia are two more very interesting gardens. Tommasi Aliotti Park (reservations only: tel. 0575.603394), which belongs to the 18th century villa by the same name, was created in the 1800s and contains numerous coniferous trees: among these are gigantic sequoias, fir trees of various origins, incense cedars, pines and more. It also has large cypress-lined roads that cross the countryside. Here, there is also a large basin and a flower garden, full of peonies and a 'cerchiata' or latticework gallery (made of tree trunks and large archways made of iron) of centuries-old holm-oaks.

In Villa Sandrelli, located in the centre of Camucia (reservations required: tel. 0575/603128), there is a garden that reunites all of the elements of a Baroque garden, with a few modifications in the 1800s and 1900s: there is an 'ornamental' garden next to the villa, which has functional hedges and other more utilitarian spaces. There is also a 'pomario' or a fruit and vegetable garden and a 'spider's web' or system of nets used years ago to capture fruit-eating birds. Scenographic and useful elements are the lemon-house and the decorated retaining walls with niche, statues and terracotta vases. Recent floral additions to the garden include thuya, cherry and plum trees, forsythia.
You might also be interested in