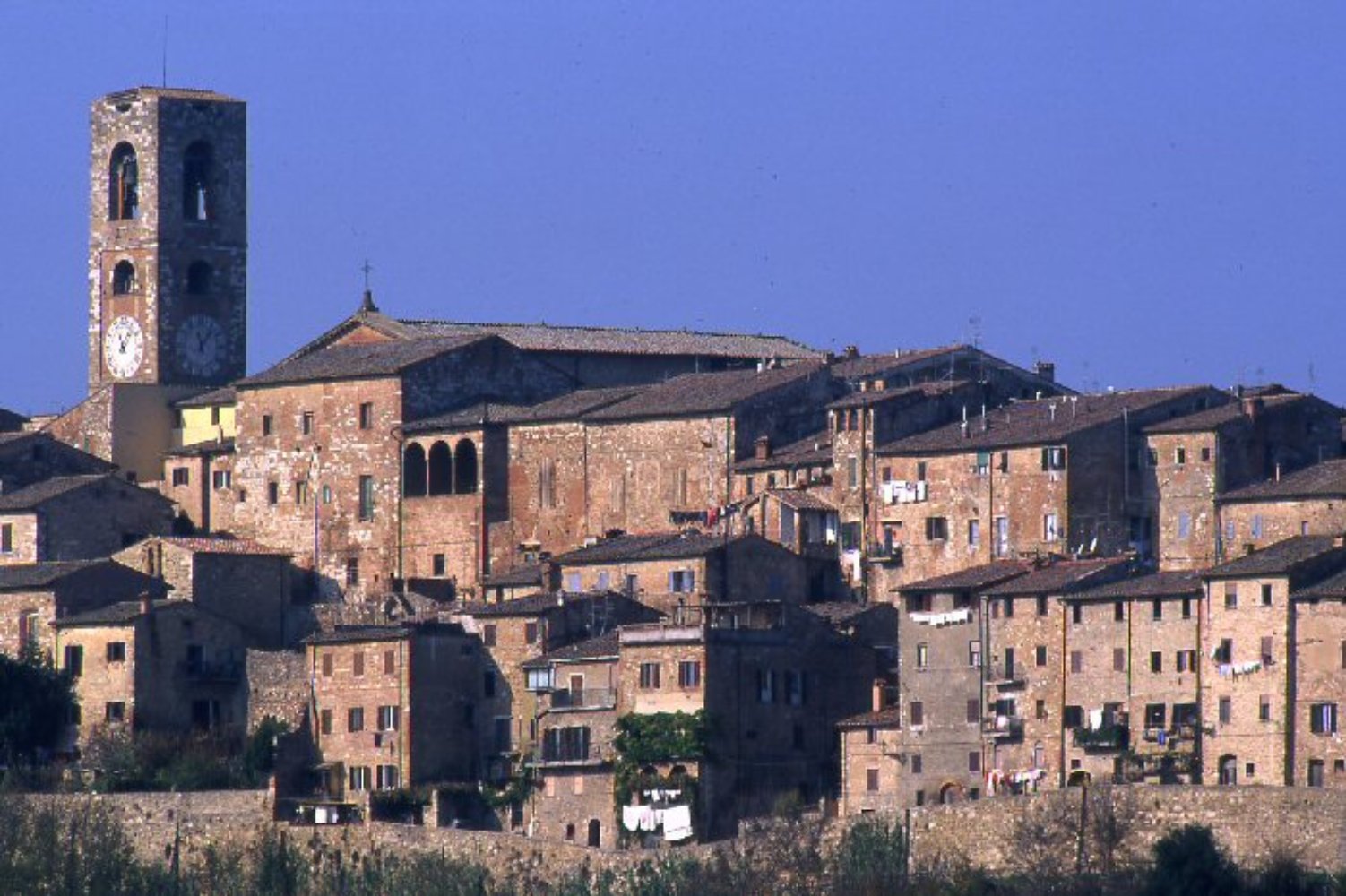 Fairytale castles and fortresses in Val d'Elsa
In ancient times pilgrims would follow the routes going from Volterra to Colle Val dell'Elsa
The construction represents the central role played by Colle Val dell'Elsa during the war between Florence and Siena. Once through the main doorway, Via Gracco del Secco, lined with palaces and hotels, crosses the ancient village. Under the late 17th century yellow plaster facade, created by Pietro Leopoldo of Tuscany, the ex-hospital of San Lorenzo and the ex-conservatory of San Pietro stand in front of one another with the annexed church alongside. Both these constructions were built by the powerful Usimbardi family, from which the first bishop of Colle Val dell'Elsa also descended. The ex-hospital of San Lorenzo built in 1635, shows evident signs of Leopoldine modifications made by the Engineer Bernardino Fantastici; whilst the ex-conservatory of San Pietro completed in 1606, was designed by Giorgio Vasari the Younger, and is now a museum. This exhibition complex offers temporary show space plus the Civic and Diocese Sacred Art Museum, with works ranging from the Medieval era to the 20th century.

Whilst crossing Santa Caterina, numerous remaining merchants' houses with the original tower-house shape (dating from the 13th to the 16th centuries) can be admired. Other Medieval tower structures in Via dell'Amore and Via del Refo Nero can be seen from the spacious Piazza Biaos. Little remains today of the ancient Porta Vecchia, apart from the huge Renaissance tower which was used as a water reservoir, from where the waterways for the Colle Val dell'Elsa wells stemmed. Continue along the road until reaching the 14th century church of Santa Caterina d'Alessandria, flanked by the Filippini and Compagnia della Croce oratories. On the facing square Aonio Paleario's house can be seen, he was a humanist and Lutheran theologian, burnt at the stake in Rome in 1570.

A well-earned rest can be taken in the shade whilst admiring the evocative Tuscan country views and the church of San Francesco built on a hilltop opposite the castle. The church can be reached via a 13th century arched bridge constructed for the purpose of connecting the monastery with Santa Caterina. Going from Piazza Santa Caterina along the main road, Renieri-Portigiani Palace, now the Town Hall, can be seen. The Palace was constructed by Bernardino Renieri who was Engineer to the French court of Charles IX and later nominated "Guelf architect" whilst serving Francesco I dei Medici.

You might also be interested in
Val D'Elsa
The landscape in the Val d'Elsa and the Etruria Volterrana are begging to be captured on film, as if it were the only way to absorb its beauty. ...
Scopri Val D'Elsakeyboard_backspace