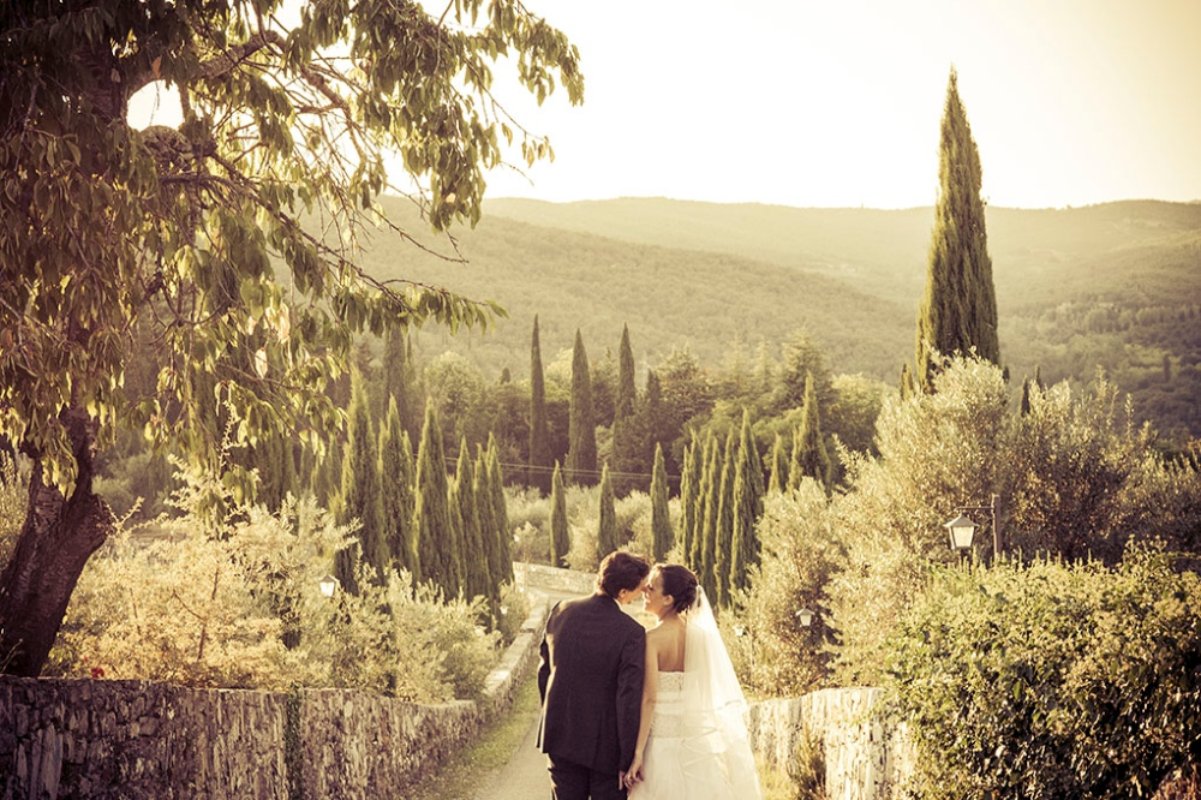 Fairy-tale weddings in Tuscany
Ideas for saying 'I do'
Looking for a fairy-tale way to tie the knot?
Take a trip to Tuscany for a wedding that's out of this world.

Why not chose Tuscany as the perfect place to celebrate the most important day of your life? Whether you chose a hamlet or castle in the hills, one of the area's splendid art capitals or a lovely beach along the crystalline waters of the Tuscan archipelago—the region offers tons of romantic options when it comes to celebrating your big day. Whatever location you chose for saying 'I do', we'll organize a top-notch banquet featuring delicious regional specialties and plan a wonderful reception, complete with music and a DJ for dancing. Catholic or Protestant celebrations are available, in addition to civil ceremonies.
Here are just a few ideas:

Florence - In what is rightfully known as one of the most beautiful cities in the world, guests can celebrate in a central basilica or protestant church or in the city's Jewish synagogue, as well as in ancient villas or their lovely gardens.

Siena – The city's Palazzo Pubblico, which hosts civil weddings, is located on the Piazza del Campo, Siena's most famed square. With its wonderful monuments and typical Tuscan restaurants, it proves a magical city for celebrating a truly memorable event.

Arezzo – For maximum comfort, complete with traditional Tuscan style, think about the town of Arezzo, where you can admire the valley surrounding the Valdichiana countryside and perhaps take a dip in the pool at the Relais. Its courthouse, located in the central piazza near the Duomo, is a perfect place to tie the knot.

Chianti – the countryside surrounding Siena is sure to offer unique settings for an unforgettable wedding day. How about a ceremony in the medieval fortress of Castellina in Chianti followed by a typical Tuscan reception? Or a romantic castle in Greve in Chianti with a private chapel for a princess-style event? Those who want it all may opt for Giaole in Chianti, where you can chose between a Renaissance castle, a medieval monastery or a XVI century villa equipped with frescoed suites and fantastic wine cellars.

The territory of Siena – Either Pienza or San Gimignano make great choices for those who are looking for a wedding with romantic small-town flair, where the bride and groom and all their guests can experiences the tiny squares and majestic cathedrals that spotlight the history of Tuscany.

Certaldo – Certaldo hosts a noteworthy ancient Roman church, in addition to a courthouse, and the area is famous for its medieval restaurants offering fabulous cuisine.