San Gimignano food and wine itinerary
Along the wine road of Vernaccia di San Gimignano
San Gimignano and its skyline are known throughout the world - some, even compare the towers to skyscrapers and the Tuscan town to Manhattan. While you're in Tuscany it's one of towns you can't miss - you should spend at least one day in San Gimignano!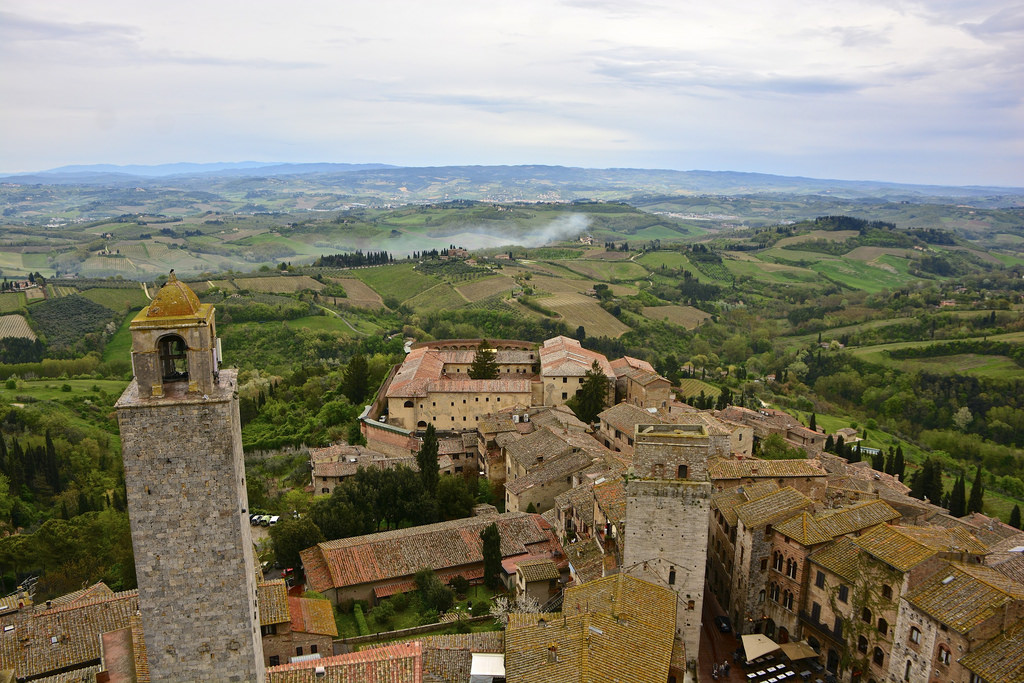 However, this is a foodie-centered post - so here are a couple of suggestions on what you can't miss food and wine-wise.
Once you're done with the sightseeing take a trip down the wine road of "Vernaccia di San Gimignano" and discover this amazing white DOCG wine. There are signs along the road that indicate the area is covered by vineyards producing Vernaccia. The sign will say "Strada del Vino – Vernaccia di San Gimignano", if you ride along these roads you'll find cellars that offer their wines – you can taste and buy!
This wine of ancient origins was even mentioned by Dante in his 'Divine Comedy' as far back as 1276. Vernaccia is the name of this very common grape cultivated across Italy, in Liguria and Sardinia but also in the more central region, Marche. It is however true that the Vernaccia produced in the countryside around San Gimignano in the Siena area, has found an ideal place to fully develop its characteristics as a variety and reveal a notable capacity for aging.
The result, a dry white wine with a lovely straw-colored hue with a fine, penetrating scent and a dry, harmonious taste. The Vernaccia di San Gimignano represents one of the milestones of Tuscan wine-making, the first national wine to be conferred the Denominazione di Origine Controllata, (Appellation of Controlled Origin) in 1966 and in the summer of 1993 became a DOCG (read above).
Excellent as an aperitif, it is outstanding with starters—mostly seafood. This wine is an exquisite match to all fish and seafood plates, in addition to being perfect with white meat dishes such as chicken or rabbit. However, the best match in my opinion, is with an aged bite of pecorino from the area around Siena. It should be served cool at a temperature that varies from 11-12 degrees C.
With a pleasant floral and slightly fruity scent and a bitterish aftertaste which is to a certain extent the distinctive sign of this variety of vine.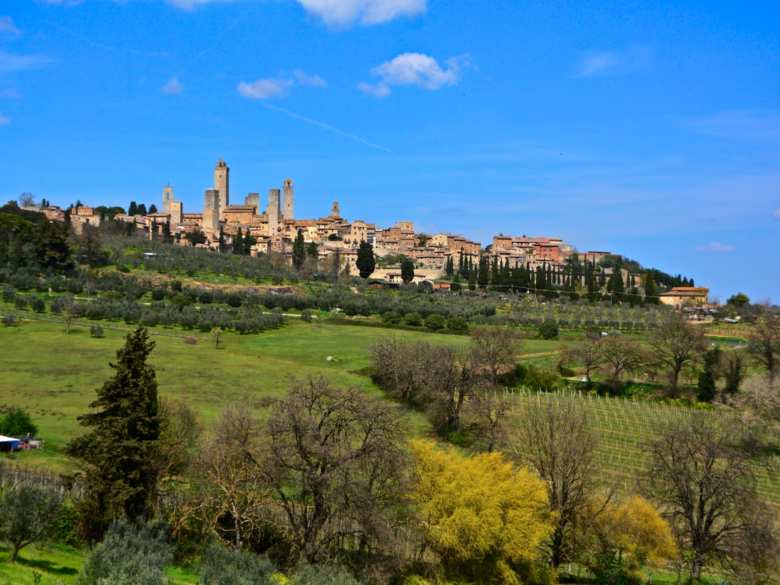 As you wander down the Wine Road of Vernaccia di San Gimignano, be sure to notice the area's lovely fields, cultivated with Savitus Crocus, also known as zafferano in italian or saffron in english. You will quickly notice that saffron is included in many recipes - the result is surprising how this zafferano is always balanced and never covers other flavors. San Gimignano's saffron is delicate and its aroma almost addicting. Its quality has been recognised and for this reason it received the IGP designation.
You might also be interested in