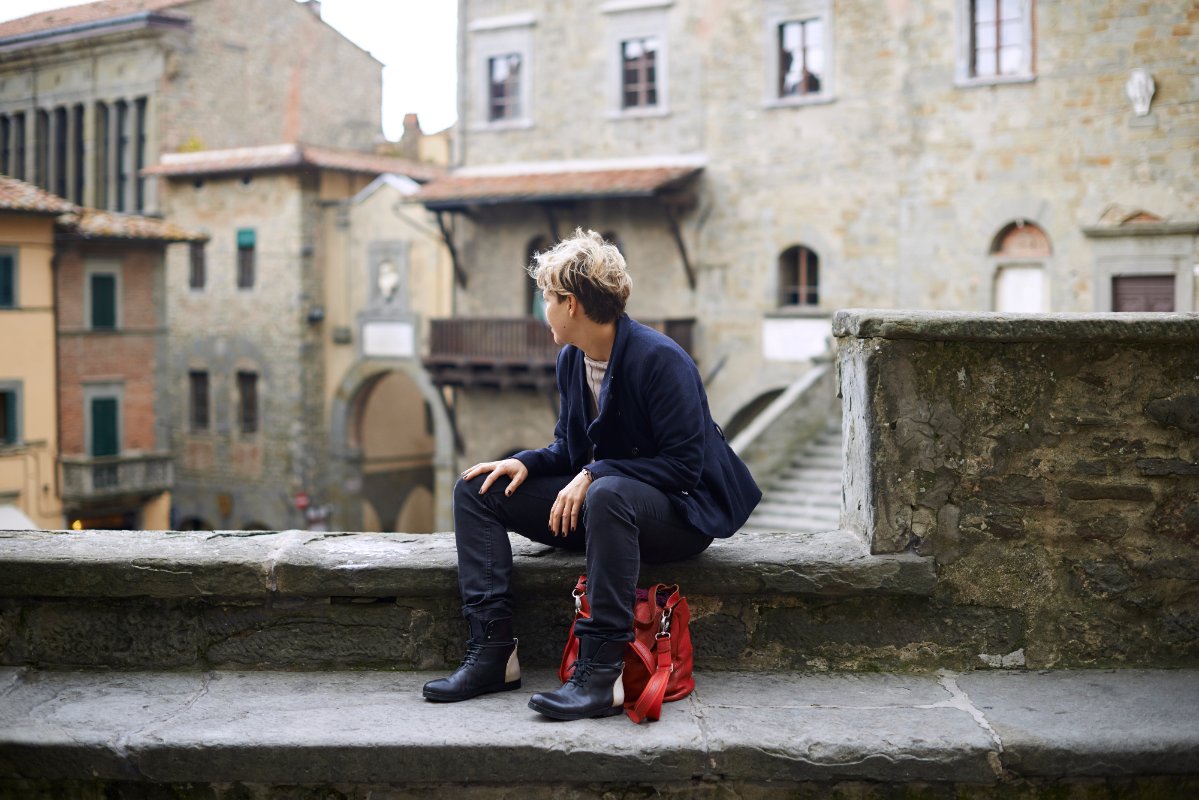 EX3 contemporary art in Florence: choose your own adventure
Review of the double personal by Eva Marisaldi; and by the swiss duo Onorato & Krebs at EX3 Centro per l'Arte Contemporanea di Firenze
Here is your opportunity to explore a
brand new exhibition space in one of Florence's residential areas
just beyond the historical center. EX3 opened in summer 2009 and this is the second installation in the purpose-built space right next to a Coop supermarket – get your food shopping and your art dealt with at the same time. But seriously, at the opening, what English I heard spoken seemed to be by visiting foreign artists and a few expat residents; this is art intended for residents, but why should tourists miss out? I am a strong believer in the need for the two currents – art for tourists and for residents – to overlap. There are three artists involved in this installation – a two-man team and a single artist. Their works are all installations that, as far as I can tell, do not have a linking theme amongst them, though this does not detract from the experience.
The
installation by Eva Marisaldi
, "non linear grey", takes up the whole main room, a large space with a concrete floor that she has employed to make a kind of "choose your own adventure" floor map. The phrases on the ground are written in Italian, though a translation is available at the front desk. Despite my relative mastery of the Italian language, there must be some cultural references that made me unable to fully grasp the meanings of many phrases, some of which appear to be quotes. Or maybe I am not meant to understand it. There are 64 sentences and 16 drawings in circles on the floor – and one nice drawing on the wall that seems to represent a girl jumping out of the art. In one corner of the big room there's an audio system that whispers random words. The art-consumer (I hesitate to use the word "viewer" here) interacts with this exhibit by following a chosen route along the floor and by attempting to recompose and reconsile the audio with the video.
Taiyo Onorato and Nico Krebs
' "Everything Included"
includes
four separate displays that integrate photography and sculpture. The young artists (born 1973) have been working together since 2003 and currently reside in Berlin.
The first of the four installations, "Caravan", is the only one that I did not really like. A number of black and white photographs are grouped together on walls, and to me they did not seem to be technically up to par nor iconographically fascinating. However, some of my underwhelmed feeling might be explained by their technical choice; the press release says that the photos are a result of direct exposure to the paper (i.e. not via negative), and that this produces the contrasty and blurry effect similar to early surrealist experiments. I suppose that the effect is an excusable result in this case.
I did really like the "Growhomes"
that one reaches through a hallway with a progressively lower ceiling. You enter into a room in which you are hit by the odour of plants… plants that are growing out of houses on stilts. As you move in you see that the houses are constructed out of wood and pasted-on photographs of houses and businesses in the USA. A lamp above circles and simulates the fast rise and fall of the sun and moon. You have to wonder if they plan on replacing the plants as they die in this room without natural light; the press release says that the plants are intended to "grow freely, occupying more and more of the surrounding space", but to me half the plants already seemed in dire shape, and
I wonder if their progressive death and decomposition might change the meaning of the work of art
. What does it mean when a dying ivy trails down the back of the Bass Pro Shop or the Waffle House? Ushered into a further space, we see a black and white projection and start to notice that things are moving. What is it? It's an old static 3M projector that is projecting a glass box of worms and bugs onto the wall. Yuck.
What does it mean?
And will these insects die too, like the plants in the other room? Why are we watching them, transfixed? In black and white they are rather more attractive than in their buggy brown real life. Is this a comment on the value of BW photography? Finally we get into the "Psycho room" that has been wallpapered in black and white photographs and objects covered by those same photos. It's eerie and clever at the same time. [youtube]http://www.youtube.com/watch?v=p30vZFCgrH4[/youtube] All in all,
I quite liked this exhibition
. Perhaps there is much deeper meaning to it that I am unable to grasp, but I felt that it was rather light and easygoing and I had a pleasant evening there. View all TuscanyArts' photos of
contemporary art in Florence on Flickr
.
What to eat
(if you haven't been grossed out by the worms): there is a "contemporary café" at the gallery, or venture out into the neighbourhood… Next door, explore the BIG modern Coop supermarket and marvel and what Italians eat on a daily basis. This is a great place to pick up Baci chocolates or other things you need to bring home as gifts for prices lower than you'll get downtown. The coop has good pizza and schiacchiata (oily salty flat bread) too. Or cross the street and go over to
Convivium
, the renowned caterer and gastronomia (fancy prepared foods); you can order delicacies and great wines to eat here in their little self-serve restaurant area. It's not cheap but it is really very nice. EVA MARISALDI -
grigio nonlineare
and TAIYO ONORATO & NICO KREBS -
tutto incluso
curated by: Lorenzo Giusti e Arabella Natalini 12 feb -  11 april 2010. Open wed thru Sunday, 11-19, entrance free. Cafeteria open too!
www.ex3.it
- Viale Giannotti 81 – bus #31 from downtown stops right out front [geo_mashup_map]
You might also be interested in