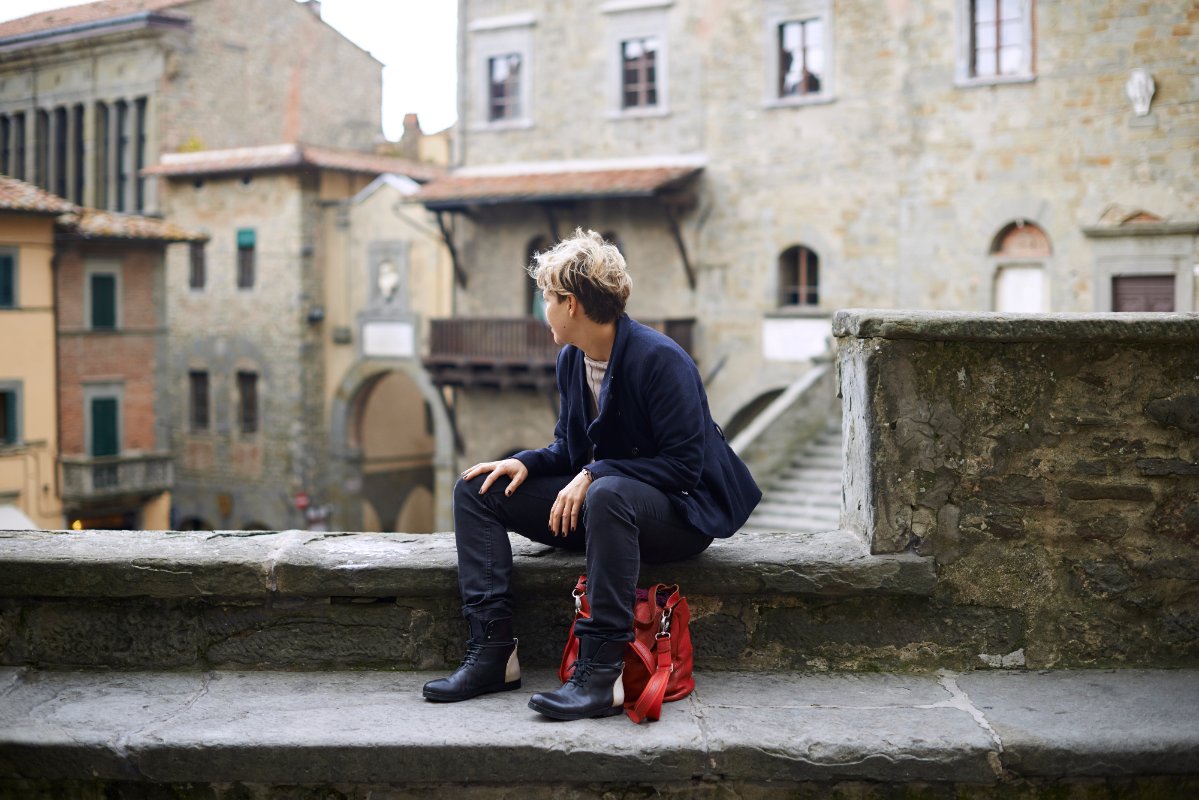 Tuscumbria: re-writing the Map of Tuscany and Umbria
Is Assisi in Tuscany? What about Perugia, Todi, Orvieto, or Gubbio? No, Assisi, Perugia, Orvieto, Gubbio, and Todi are not in Tuscany, they are in Umbria. But they have a lot of the excellencies of Tuscan towns, so we have decided to adopt them and call the new province "Tuscumbria"; we also highly recommend that you visit the new Umbrian/Tuscan towns during your trip to the better known Tuscan areas like Florence, Siena, Chianti, etc. Here is the resulting new map of Tuscany.
The towns in Umbria that have been added to the province of Tuscumbria are as follows.
Assisi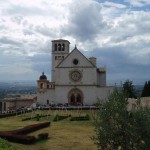 We noticed that a lot of people search "
Assisi + Tuscany
" on Google and also on turismo.intoscana. It's pretty clear to me why people would think that Assisi is in Tuscany:
it's because of the art
. Assisi is best known for the large double
Church of Saint Francis of Assisi
that boasts important frescoes on the walls of both the upper and lower churches. Some of these frescoes have been attributed to
Giotto
, the great Tuscan master who is responsible for the
Bardi and Peruzzi Chapels at Florence's Church of Santa Croce
- which is, not by coincidence, also a Franciscan church. In fact, all the best artists from the Tuscan areas of Siena and Florence, as well as from Lazio and Rome, were called to contribute to the extensive fresco programme of the church in Assisi.
Being the birthplace of Saint Francis, Assisi is the heart of Franciscan devotion that is also diffused in much of Umbria's territory. The Franciscans roamed beyond today's artificial borders and up into Tuscany; the saint himself established a hermitage just outside of Cortona and another at La Verna. Both these sanctuaries are worth a visit if you're in the area that borders Tuscany and Umbria (aka "Tuscumbria").
Perugia
It's a bit more of a stretch to me why Perugia might seem Tuscan, but we had to include it in our map since it's on the way to Assisi (along the Betolle-Perugia superstrada). Like many towns in this area, Perugia has Etruscan roots - and from Etruscan we get the term Tuscan - though the current form of the town is mostly medieval.
When we come to the Renaissance, the style of painting that developed in Perugia was indebted to the artist Perugino (named for this city although he was born elsewhere in Umbria; his real name was Pietro Vannucci). Perugino was Raphael's teacher (Raphael was born in Urbino); Perugino probably also taught Pintoricchio, another artist born in Perugia. The works of the three at a certain point can be easily mistaken for each other. This style is distinctly local but was influential on the development of the High Renaissance in the rest of the Italian penninsula thanks to Raphael's mobility.
Orvieto
Orvieto - yet another Etruscan city - owes its cathedral, wealth, and much of its fame to a miracle that actually happened elsewhere, in the year 1263. The miracle of the Mass at Bolsena took place, you guessed it, at Bolsena which is 23 km away, but the resulting relic was brought to Pope Urban IV who was in Orvieto at the time (the city was often a papal residence). Thanks to an increase in pilgrimage and hence in funding due to the presence of this relic, the renovation of Orvieto's cathedral began in 1290 (before that it was a church in ruins). Although the cathedral's mosaic facade is unique to Central Italy, its black and white marble striped side is not: it's so similar to the Duomo of Siena, it's hard to tell them apart in a photo. (I wrote more about the cathedral of Orvieto here.)
Gubbio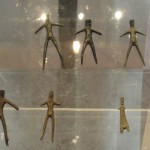 Gubbio is a pleasant town to visit but frankly there is very little Tuscan about it! It boasts a lovely Roman ampitheatre and a good local museum that displays various media (painting, ceramics, little etruscan bronzes) alongside each other. The photo here is of some typical Etruscan figures that inspired me to start drawing again last year (I figured my stuff also looks like it was done my a 5-year-old). The town's greatest treasure is the Eugubine Tablets, a kind of Rosetta stone for the lost Umbrian language of pre-Roman times. In the Renaissance, Gubbio was famous for its high quality maiolica (glazed terracotta) works.
Todi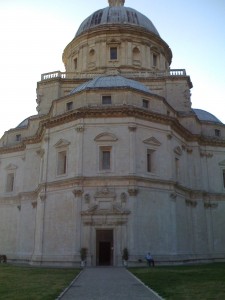 Another Etruscan-founded town that has maintained its Medieval feel. For this reason it's a nice, quiet place to just explore, without any particular monuments that one needs to see. For this reason, when I visited I had a very, very long lunch at a Slow Food restaurant, and then headed to the famous circular church just beyond the town itself. The church of Santa Maria della Consolazione is a harmonious example of early 16th-century architecture based on intersections of squares and circles. Do make sure you visit this if you're in the area as the architecture is a form of revelation that is easier to experience than to recount in words.
But Umbria is not Tuscany
But seriously folks: Umbria is in fact quite different from Tuscany. Nicknamed "the green heart of Italy", it's a mountainous region with a distinctive landscape, artistic style, and cuisine. It's a perfect combination with a trip to Tuscany. I suggest that you go beyond Assisi and the better known towns to explore places like Spoleto, Spello, or Bevagna where you are sure to encounter good hospitality, food, and few crowds.
The unquestionably best resource for exploring Umbria like a local is the Umbria Lovers Blog by Federica and Gabriele. For itineraries and ideas that combine Tuscany and Umbria, the website (in Italian only) Umbria e Toscana is nicely produced.
You might also be interested in