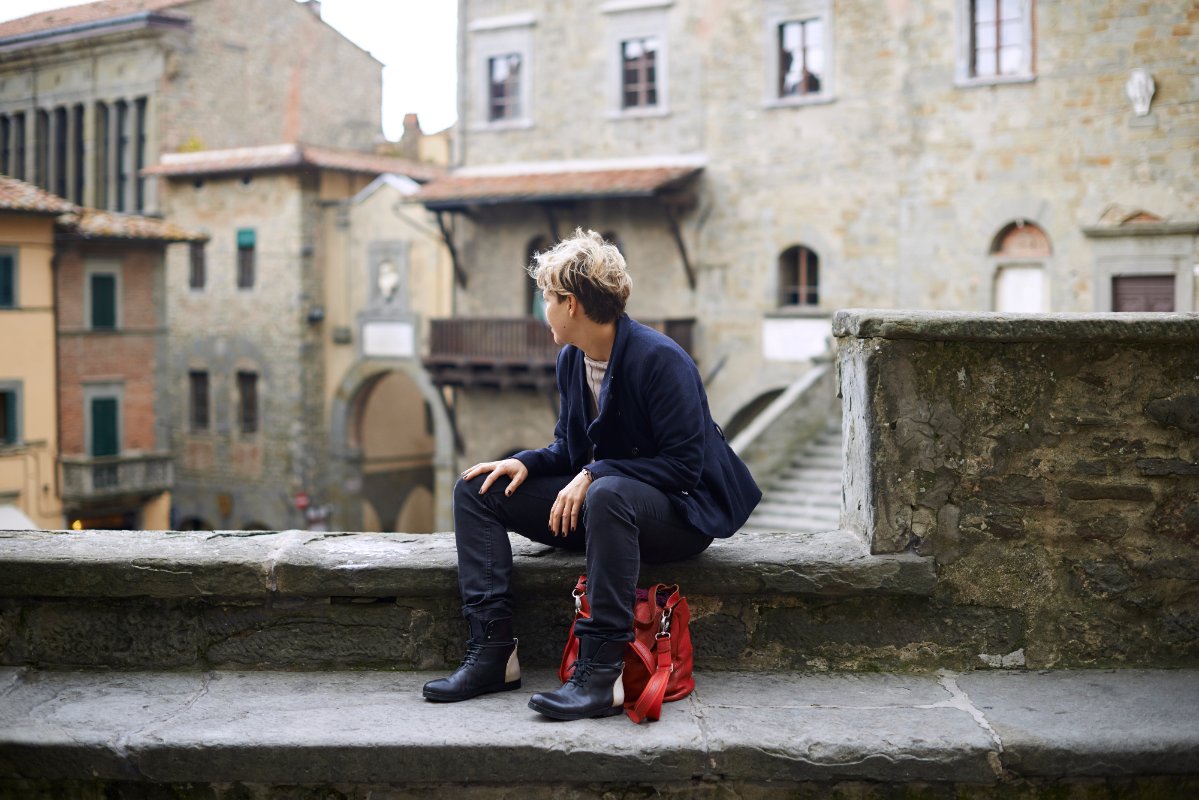 Contemporary meets past in Florence: a reflection
"All art has been contemporary", the neon sign on the Uffizi proclaims.
With an elipses... "once", or "at one time".... And it's true. What was contemporary to Giorgio Vasari in the 16th century, when he said that things were "alla maniera di oggi" - in today's style - was indeed in the style most popular at that moment. Why, then, has Florence struggled in the heritage of Vasari and of the late Renaissance to create anything truly contemporary?
Or has it?
The exhibit currently on display in various locations in Florence, curated by Marco Bazzini for the Centro Pecci in Prato, takes as its premise this supposed
ominous presence of the Renaissance
that has stunted the production of the contemporary in Florence - a pressure that, some have argued, also caused the Mannerist movement in the late 16th-century. And to a certain extent, it's true that in an economy based on tourism that wants a Renaissance Disneyland, there is little place for the contemporary. On the other hand,
a series of recent initiatives are helping rebuild the arts scene in Tuscany and Florence
. To name a few, the
Strozzina
contemporary gallery at Palazzo Strozzi puts on exhibits on an international level; the "Toscana in Contemporanea" initiative offers studio visits;
Le Murate
is soon to open up as a center of contemporary art; the
Pecci
in Prato has always had a great offering... On the level of smaller, personal contributions,
Private Flat
organizes public art and performances in peoples' homes, and the folks at
Libreria Brac
have recently opened up a sleek contemporary art bookstore/café. The exhibit "alla maniera di oggi" comes in this climate of
contemporary revival
- an oxymoron if there ever was one. Eight contemporary artists have created and installed site-specific works in historic spaces. It's a pleasant surprise to encounter these pieces that are at times in harmony with and at times break from their surroundings.
At the
Convent of San Marco
, the Quattrocento courtyard by Michelozzo has been enhanced by the placement of luminous plexiglass disks on the ground by artist
Paolo Masi
. What appears upon first glance to be electrically lit is actually just a clever harnessing of natural light provided by the sky above, reflecting on mirrored surfaces, sometimes pushing through coloured disks. These are effective even on a rather dark and rainy day! The curves of the disks harmoniously reflect (pun intended) the curves of the arches between the columns that are one of the hallmarks of Renaissance architecture.
Upstairs, in the monumental library of the same building, a light installation by Mario Airò runs down the center of the room - a green laser oval, neon circles, and suspended metal sculptures. This is a nice "decoration" of the architectural space, though does not really relate to the space, its function, or the display that it contains. In Piazza Duomo, the column of San Zanobi has been encircled by a heavy metal wire. This column marks the location of a 5th-century miracle that took place when Saint Zanobi's relics brushed against a tree in this location; the tree bloomed in January. Remo Salvadori's metal cable sculpture entitled "Continuous infinite present" re-marks this location. There are other works in other locations including a sound-installation sculpture in the church of San Miniato, that I was unable to go see. Each place has its own opening hours (except for piazza Duomo and the Uffizi which are out of doors) so it's like going on a contemporary art treasure hunt. Below is the list of locations and their opening hours. More photos on
TuscanyArts Flickr page dedicated to Contemporary Art in Tuscany
. EXHIBIT Alla Maniera di Oggi:
February 3rd – April 11th, 2010
Locations:
Colonna di S. Zanobi - Piazza S. Giovanni 24/7
Galleria degli Uffizi - Lungarno Anna Maria Luisa de' Medici 24/7
Basilica di San Miniato al Monte – Via del Monte alle Croci - mo - sat 8-12 am and 2-7 pm, sun 8-9 am FREE
Chiostro dello Scalzo - Via Cavour 69 - mon and thu 8,15 am – 1,50 pm FREE
Cenacolo d'Ognissanti – Borgo Ognissanti 42 - mon and tue 9-12 am FREE
Galleria dell'Accademia - Via Ricasoli 60 - tue-sun 8,15 am – 6,50 pm
Museo di San Marco: mo-fri 8,15 am – 1,50 pm; sat 8,15 am – 4,50 p; alternate sundays or mondays, see their official sitePalazzo Sacrati Strozzi: Piazza Duomo 10 (on back side of dome), mon-fri 9am – 8 pm; thu 9am – 11 pm
Museo di San Marco - Piazza San Marco 1
Salone delle Feste di Palazzo Sacrati Strozzi - Piazza Duomo 10
You might also be interested in