Contemporary art in Tuscany
Tuscany has a lot to offer when it comes to modern and contemporary art. Here is a quick guide and a few tips!
Need to add a bit of contemporary art to your holidays? Come to Tuscany. Yes! Because it's not all about the Renaissance! Visitors come from every corner of the world to Tuscany to know and see the amazing beauty of the Renaissance, with Florence world-famous as the "cradle of the Renaissance"! Once you're here, the amount of Renaissance treasures will almost overwhelm you. But it's not like we've stopped there! Tuscany has a lot to offer when it comes to modern and contemporary art: museums, large-scale outdoor installations, sculpture parks, photography exhibitions, street art, and so on. Here's a quick guide and a few tips.
The sun is shining and you're not too keen about spending a day at the museum. Don't worry, you can still enjoy contemporary art, while getting a suntan at the same time! Visit a sculpture park, take a picture in front of a large-scale installation or participate in a treasure hunt and try to spot some street art.
In summer, one of the most fascinating places to combine old and modern (and spectacular views) is undoubtedly Forte Belvedere in Florence: the terraces of this beautiful Renaissance fortress, built in 1590-95 by Grand Duke Ferdinando I de' Medici and designed by Bernardo Buontalenti, are the perfect location for large-scale sculpture exhibitions.
Tarot Garden – This is one of the most fascinating art parks in Tuscany and one of the most original and enjoyable attractions in the Maremma area. The creator is a world-renowned French artist, Catherine Marie-Agnès Fal de Saint Phalle (nicknamed "Niki"), who built this incredible two-hectare garden piece by piece, inspired by Gaudi's Parc Guell in Barcellona. Info: website (ITA)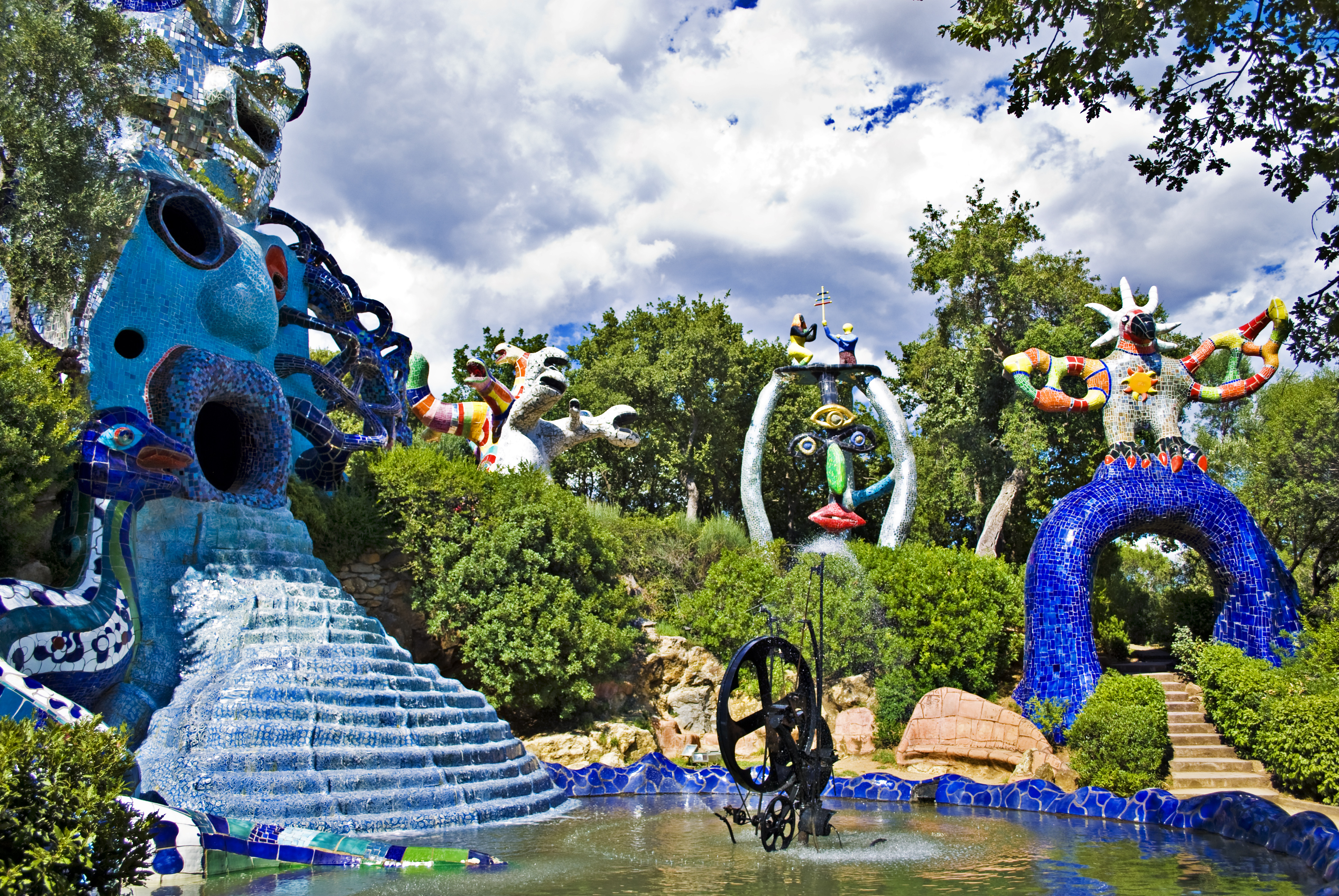 Chianti Sculpture Park – This incredible park is a permanent exhibition of sculptures and installations as well as a great example of how art and nature can coexist and create something magic and unique. Contemporary artists from all over the world have come here with their different cultures and backgrounds to create site-specific sculptures, playing with colors, sounds and lights. Along the paths, every step is a discovery: strange glass trees, multicolored cows, a giant blue falling leaf and a rainbow placed amongst the bushes. Info: website
Daniel Spoerri Sculpture Garden - A large and enchanting sculpture park created by Swiss artist Daniel Spoerri in Maremma, near the top of Monte Amiata.
Rose Garden – This quiet terraced garden, on a hillside overlooking Florence, just a few steps away from Piazzale Michelangelo, is home to a vast assortment of roses and countless other types of plants, and is also known for the permanent exhibit of sculptures by the Belgian artist Jean-Michel Folon.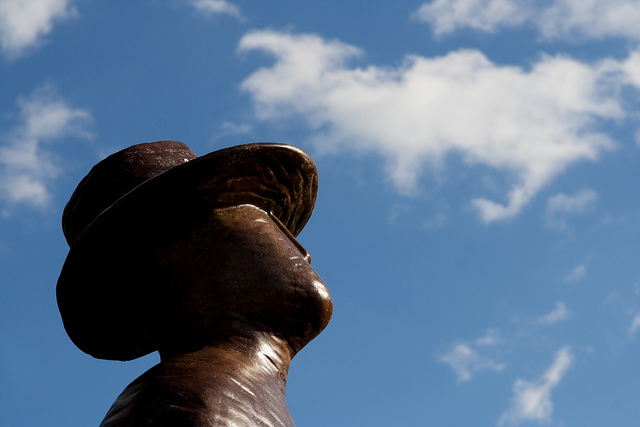 Selva di Sogno – A "Forest of Dream" in Chiusdino (Siena), in the woods surrounding the Osho Miasto center. The sculptures – by Deva Manfredo – are miniature buildings that could belong to any ancient civilization and, at the same time, they are reminiscent of children's games.
Fattoria di Celle – A farm on a hill overlooking the area between Florence and Pistoia, some international artists were invited by Giuliano Gori and his family to create installations in the picturesque open spaces, which are spread out over an area of about 45 acres and inside the historical buildings and various other rural structures. Today, Celle has about 70 installations.
Quinto Martini park museum - In Seano, near Carmignano (Prato), there's a public garden that feature a large group of bronze artworks donated (and arranged) by the artist Quinto Martini.
Open air museum of Luicciana (Cantagallo) – Painters, sculptors, graphic artists and potters have made Luicciana a curious gem of contemporary art: installations take shape between houses and gardens, including wall paintings on the facades of the houses.
Large-scale installations by Mario Staccioli can be found around the town of Volterra. Some of them literally frame the landscape! The streets of some Tuscan cities are increasingly starting to become a great place to spot some unusual, original and talented artists.
And yes, we love street art! Making headlines all over the world is Clet (Abraham), a French artist who has been living in Italy for over 25 years. He's the author of the artistic street signs that you can easily spot around Florence (as well as Livorno and other places). His guerrilla art has also produced some incredible, and much discussed, works during the last years.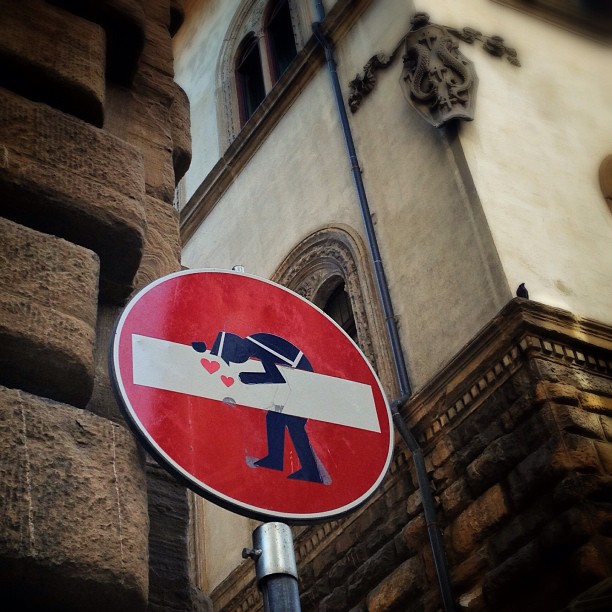 Not everyone knows that in Pisa there's a spectacular mural by Keith Haring, the famous American graffiti artist: Tuttomondo, 30 figures, painted like a puzzle, covering 180 square meters of wall of the convent of St. Anthony.
Since 2006, in Pontedera, there is the wall of Enrico Baj: 100 meters long and three meters high, it is probably the largest mosaic in Italy.
Festival, shows, exhibitions… countless events regarding contemporary art are organized all year round in Tuscany! Just to mention a few: The Screen The Screen of the Art Film Festival (Lo Schermo dell'Arte) explores, analyzes and promotes relations between contemporary art and cinema. It is a unique project in Italy, which came to light in Florence in 2008 and is now part of the "50 Days of International Film Festival". (Every year around mid-November).
The New Florence Biennale - an international multidisciplinary event established in 1997, held every two years within the exhibition spaces of the Fortezza da Basso, in Florence.
You might also be interested in