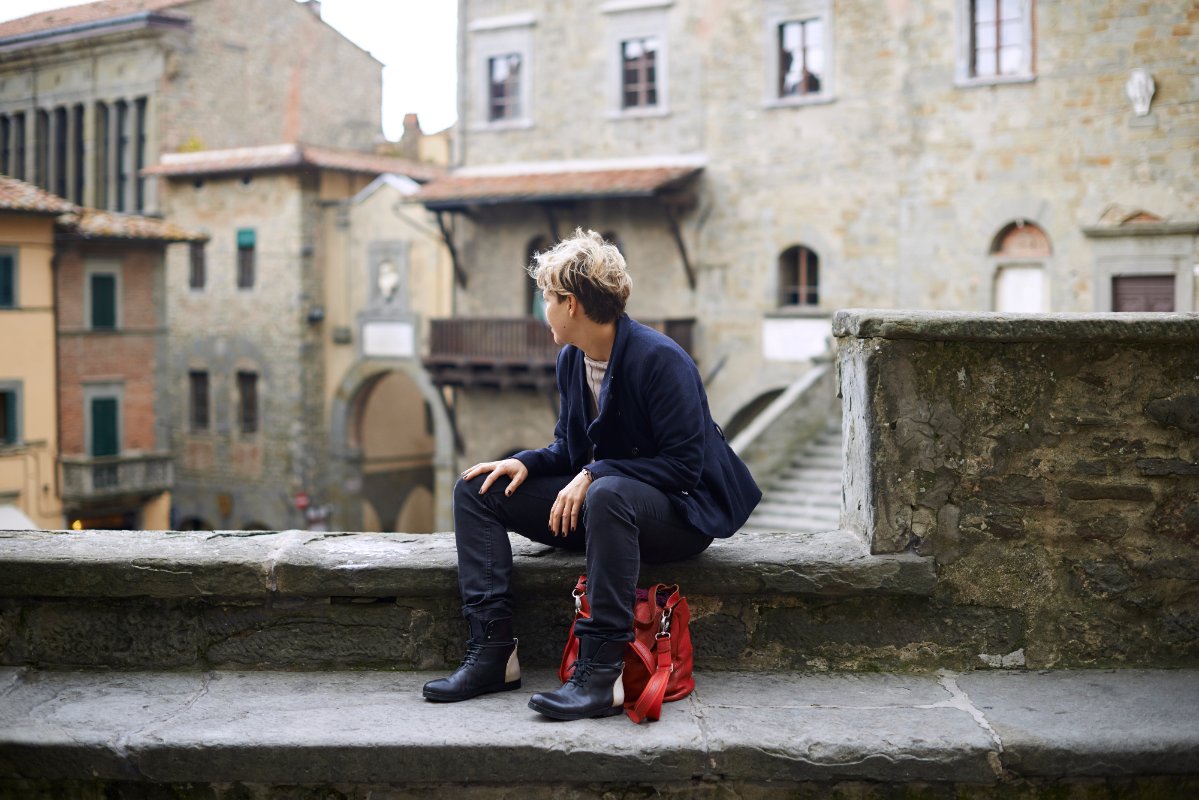 Contemporary art in Lucca - mostly bull?
The little town of Lucca is becoming a popular tourist destination
, though it is still considered somewhat off the beaten track. Lucca has a ton of churches (it's called the city of 100 churches although apparently there are many, but not a hundred), some great little stores, good local food, wine and oil, and as of late, some interesting contemporary art.
Lu.C.C.A. - Lucca Center of Contemporary Art
opened in 2009 as a permanent contemporary art space, café, and place for discussions and activities (
http://www.luccamuseum.com/
). Even the
bathrooms have been commissioned by artists
(see photo) and given the title "Bi-sogni d'artista" which is a play on words that mixes
sogni
(dreams) and
bisogni
(needs - another way to say you have to go). Add to this the
Biennale of contemporary art dedicted to paper, Cartasia
, and Lucca Digital Foto Fest, a photography show, and other events to make Lucca a vibrant city on the art radar.
This winter at the
Lu.C.C.A.
the focus is, apparently,
BULLS
. I went to see the show "Luci del Destino" by
Christian Balzano
, an artist born in 1969 in Livorno who has traveled widely in places like Mexico, Cuba, Tanzania, Thailand, etc. His installations, paintings, and sculpture are all thematically related and contain any combination of the following: bulls, beating hearts, corna siciliana (that red good-luck charm), budda, and Madonna (Saint, not singer). Most of these are not things I would want on my wall at home, but the exhibit is playful and interactive. We particularly liked the confessional entitled "Tell it to the bull" from which you extract a fortune on a piece of paper that you can then tie to a bull on the wall (see photo). The theme of the bull is intended to call up the idea of destiny (bulls being masters of their own); the exhibition apparently makes the viewer question whether or not we face up to our own destiny. The artist does not fail to see the humour in the theme though – there is
bullshit
for sale in small containers in the gift shop.
Is this a metaphor for all contemporary art?
Many would say yes... This show
closes Feb 14 2010.--- EXTENDED TO FEB 21
A shorter
exhibit by Olivia Fontana
"Arene. Luci e ombre della vittoria" runs
Jan 19 to 28, 2010
. This young Lucchese artist has worked for years in Madrid where she has developed works on the theme of the torero or matador. For her, the bullfight is a metaphor for life and a symbol of the struggle for survival.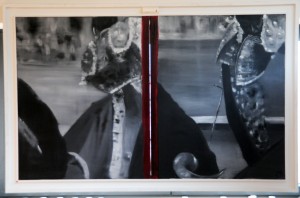 The organizers of the museum have thoughtfully organized a "
talk sho
w" that sees the two artists head-to-head, so to speak, on the cheery theme of the role of sacrificial victims ("
Arena, tori e toreri: vincitori e vinti nella
vita
") that will take place on
January 28th at 9p
m. The museum will be open until 11pm that night. Lu.C.C.C.A also has a kids area called Lab4Kids that offers Sunday hands on activities with parents; on Tuesday and Thursday afternoons there are labs for 4-11 year olds. Contact
info@luccamuseum.com
for information and reservation. This
summer
, the museum has yet to announce what show will coincide with the important Bienale of contemporary art, Cartasia, which takes place in July, but be sure to plan on lunch and an exhibit there while you are in town as something interesting will surely be on display.
Lucca is a town that is pretty easy to take in but has a lot to offer
. Don't miss experiencing the low, wide
Renaissance city walls
which have been made into a park ideal for cycling or walking (you can rent a bike by the hour and bike around the town, which is a lot of fun).
INFO
Lu.C.C.A. Lucca Center of Contemporary Art http://www.luccamuseum.com Via della Fratta, 36 55100 Lucca Open Tuesday through Sunday (closed Monday) 10.00 - 19.00 Entry: 5 euros (children under 6 free) Map:
[geo_mashup_map]
You might also be interested in