Cities in Tuscany for the blind and visually impaired
Accessible museums and services in Florence, Grosseto, Cortona, Pisa and Pistoia
In Tuscany, almost all museums are accessible by wheelchair, but some cities and monuments also offer specific tourist routes and hands-on exhibitions. Before listing the best monuments and cities for the visually impaired, we will share some practical information about accessible train travels in Tuscany.
Accessible train stations in Tuscany
The Italian railways assist disabled people during their train journeys. These services must be booked through the Sala Blu (Blue Room), an information point located in 14 main train stations in Italy. In Tuscany, the "Sala Blu" is only found in Florence's Santa Maria Novella Station, but in the smaller stations there's the PRM (Persons with Reduced Mobility) service which provides basic assistance. Through the Sala Blu you can gather information, book seats, and reserve a wheelchair, a guide and assistance with carrying one hand baggage.
We recommend making special arrangements at least 24 hours prior to travel for international travel and for e-mail requests. Arrangements should be made at least 12 hours in advance for travel between or with connections at Assistance Circuit stations. For travel from 08:00-22:00 between main Blue Hall stations, notification should be given at least 1 hour before departure. To request services, you can:
Send an e-mail to one of the Sala Blu (24 hours in advance or 48 hours for international trips)
Go directly to the Sala Blu (1 hour in advance if you are traveling between 7.45 am and 10.30 pm - 12 hours in advance if you are traveling at night or if you are traveling to a smaller station)
Call from 6:45 am to 9:30 pm every day, including holidays:

800 90 60 60 (toll-free number for landline)
99 30 30 60 (for mobile phones)
The Sala Blu of Florence is located in the Santa Maria Novella Station at platform 5 Opening hours: 6.45 am to 9.30 pm E-mail: salablu.firenze@rfi.it
Stations with PRM service:
Arezzo, Campiglia Marittima, Cecina, Chiusi-Chianciano Terme, Empoli Figline Valdarno, Firenze Campo di Marte (at night, service is limited to travelers who do not require a lift truck or wheelchair), Firenze Rifredi (at night, service is limited to travelers who do not require a lift truck or wheelchair). Firenze Santa Maria Novella (Sala Blu), Follonica, Grosseto, Livorno Centrale, Lucca, Massa Centro, Montecatini Centro, Piombino (Service is limited to travellers who do not require lift truck). Pisa Centrale, Pisa S. Rossore, Pistoia, Poggibonsi – San Gimignano, Pontassieve, Prato Centrale, S. Giovanni Valdarno (at night, service is limited to travellers who do not require a lift truck or wheelchair). Siena, Terontola – Cortona , Viareggio.
Now that you know what services are offered for those traveling by public transport, you can choose your destination! These are the cities, easy to reach by train, that offer more cultural opportunities for blind and visually impaired people: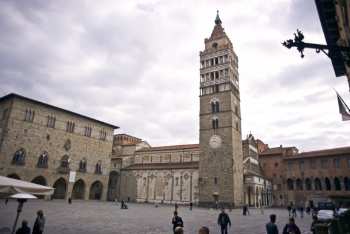 The Pistoia area was recognized by the European Commission as a "European Destination of Excellence EDEN 2013" for accessible tourism, for the availability of information and the quality of tourist services for people with special needs.
The Antico Palazzo dei Vescovi in Pistoia houses the Museo Tattile (Tactile Museum), a permanent exhibition conceived and designed to introduce the city to the visually impaired. There is a tactile map of Pistoia and some models of historical buildings such as the Town Hall, the Pistoia Cathedral, the Baptistery and the Basilica della Madonna dell'Umiltà (Our Lady of Humility ).
All these models are accompanied by a series of explanatory panels in Braille and samples of the materials used to build the monuments, such as terracotta, marble and stone.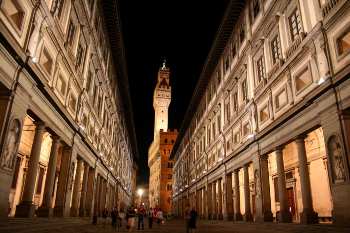 The Uffizi Gallery offers a special path called "The Uffizi by Touch": the blind and visually impaired can touch some real masterpieces and enjoy several reproductions, such as Botticelli's Venus. There are also Braille panels, in Italian and English, and the exhibition continues to grow with 13 more artworks and a Braille map you can use to find the exact location of the works in the museum. Thanks to the T-VedO project, sponsored by the Rotary Club of Florence, now you can touch a reproduction of the Pala of Santa Lucia de' Magnoli bas-relief by Domenico Veneziano (1445), one of the greatest masterpieces in the Florentine Gallery. The Uffizi by Touch is free and reservations are not required.
The Gallery of Modern Art, housed in the Pitti Palace, now has ten sculptures intended for tactile reading. This exhibition is also designed for children and is complete with audio guides, Braille descriptions and large print.
You can touch some works by Giovanni Dupré, Vincenzo Gemito and Adriano Cecioni to understand the development of sculptural art from the 19th to the early 20th century. In Florence there are many museums offering tactile paths or dedicated guided tours. Here is a list: Bargello National Museum, San Marco Museum, Davanzati Palace, Orsanmichele Church, Cenacolo of Andrea del Sarto and Villa Corsini (Castello).
Pisa is undoubtedly a must-see for anyone visiting Tuscany, with its spectacular Piazza del Duomo, a UNESCO World Heritage site. The itinerary through the Baptistery, the Cathedral, the famous Leaning Tower and the Monumental Cemetery is easy to access thanks to several ramps, wide sidewalks and platforms. This path allows you to discover, even by touch, the artistic and architectural masterpieces in the square. A scale model of the Piazza dei Miracoli, located in the information area of the Museum of Sinopie, is available for hands-on exploration.
In Grosseto, inside the Cathedral there is a tactile path for the visually impaired. There are three scale models which allow the blind to touch the main facade of the Duomo, the Vecchietta crucifix, placed above the altar on the right aisle, and the stained glass windows with the saints by Benvenuto Di Giovanni.
Cortona has two train stations, "Cortona Terontola" and "Cortona Camucia." Both are located down the hill, so you need to take a bus to get to Piazza Garibaldi, a minute's walk from Cortona's city centre. Unfortunately, Cortona train stations don't offer any PMR services, but if you are traveling with a companion, we suggest you visit Cortona and the Etruscan Museum MAEC. It offers a tactile route complete with explanatory panels in Braille and some reproductions that visitors can touch.
Article by Kinzica Sorrenti
You might also be interested in

accessible
Learn more
Accessible Tourism
From natural beauty, unbelievable art, libraries bursting with culture and knowledge and a spectacular variety of food and drink, Tuscany has the
continue...