Exploring canyons in Tuscany
Water adventures near Lucca, Prato and Massa Carrara
Tuscany is home to about 20 canyons that are equipped for water adventures (think a combination of walking, scrambling, climbing, jumping, abseiling and swimming). Concentrated in the north of the region, from Calvana to Lunigiana, the range of geological formations offers very different paths in terms of length, height and difficulty. Always go canyoning with an experienced guide.
Gorging in Garfagnana and Serchio Valley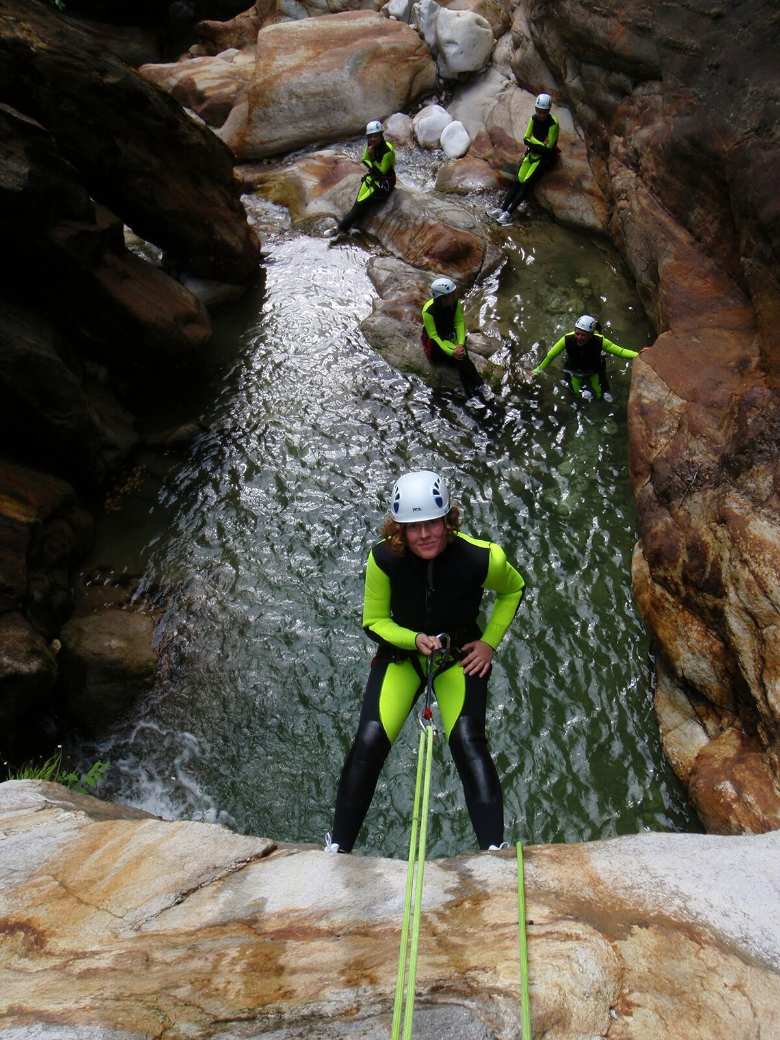 Explore your spiritual and adventurous sides in equal measure at Canyon Park, near Bagni di Lucca in the Val di Lima, as the experienced instructors lead you into the Scesta canyon for an experience that ranges from zip wires, natural slides and narrow passageways between the rocks. Continue the adventure in the wild Rio Selvano or dei Pilli, near Fabbriche di Vergemoli. This picturesque valley is perfect for natural water slides (known as "tobogon"), jumps and abseiling from June to September. Turrite di San Rocco, Levigliese and Pendolina all offer fun aquatic experiences locally. Orrido di Botri is the highlight in this area with its clear waters and stunning calcareous chasms. Guided tours are managed on certain dates throughout the summer by Lucca's biodiversity police department.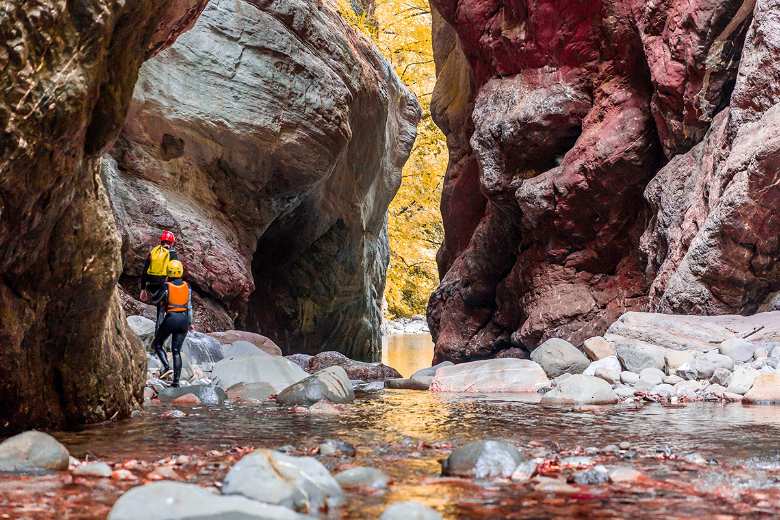 The Stretti di Giaredo have to be seen to be believed. This protected nature reserve stretches for two kilometres across the border of the Pontremoli and Zeri municipalities, walk in and out of the water as well as swimming through pristine pools hemmed in by naturally multicoloured rock faces. Head southeast and put on your wetsuit near the town of Bagnone for some simple canyoning adventures in the Acquetta stream, while experts prefer the Re di Valle creek with its icy cold pool after crossing the Vico Valle bridge. One more suggestion for experienced canyoneers: Canale del Pianone is hidden away in the isolation of the hills northeast of Massa, near Resceto. The upper part proves easy enough as the karst system keeps the descent dry, whereas the lower part becomes trickier with 15-metre drops and pools.
Flowing from the Calvana mountains, Rio Buti is a tributary of Prato's Bisenzio river, only 15 minutes by car from the textile town. Famous for its stalagmites and stalactites, it's the perfect place for beginners to experience canyoning. The route is one kilometre long and consists of nine easy obstacles: the last fun jump is a waterfall over a limestone vault. Cigno Bianco is located in the Alpe di Cavarzano mountains, near the Emilia-Romagna border. It doesn't resemble a canyon; the descent is down an open rock face surrounded by greenery. Experts will relish the long jumps and the continuation of the route along the Carigiola torrent.
For more information, see canyoningtoscana.it
You might also be interested in