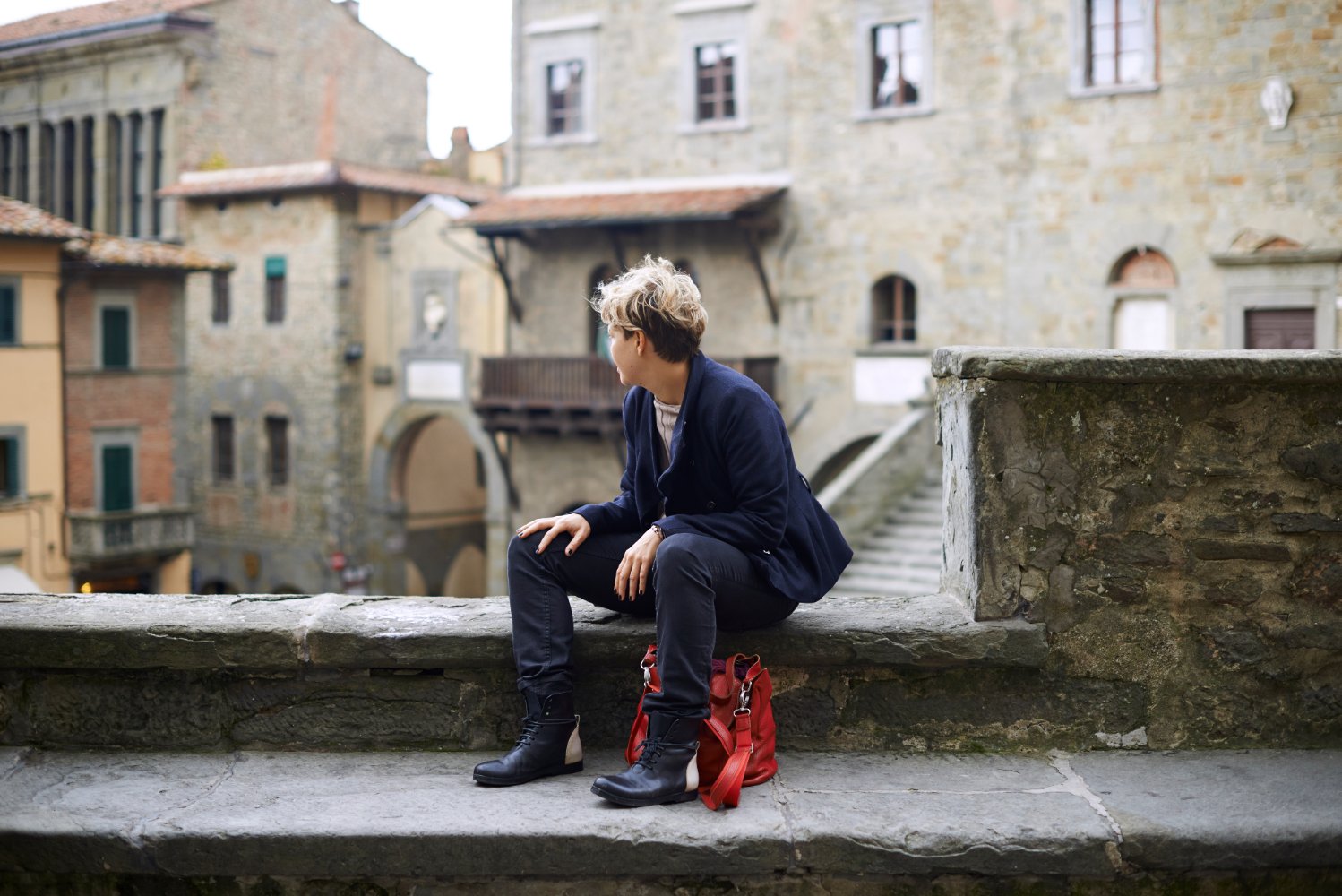 Bikes and kids in Tuscany
Tuscany is a great place for bicycle trips
. You can explore the countryside or the cities that are not too big, plus the main attractions are concentrated within short distances. Whether you want to see attractions or scenery, or just get some exercise,
Tuscany has a bike route that suits your needs
, but what happens if you want to travel with your kids? According to the OECD statistics (Organisation for Economic Cooperation and Development) for road traffic fatalities,
Italy's roads are relatively safe
. Cycling in Italy is probably no more dangerous than cycling in the UK or France. But the car still reigns supreme: Italy has the highest rate of car ownership in Europe, so if you come from the Netherlands or Germany then you may have a different opinion about
cycling in Italy
.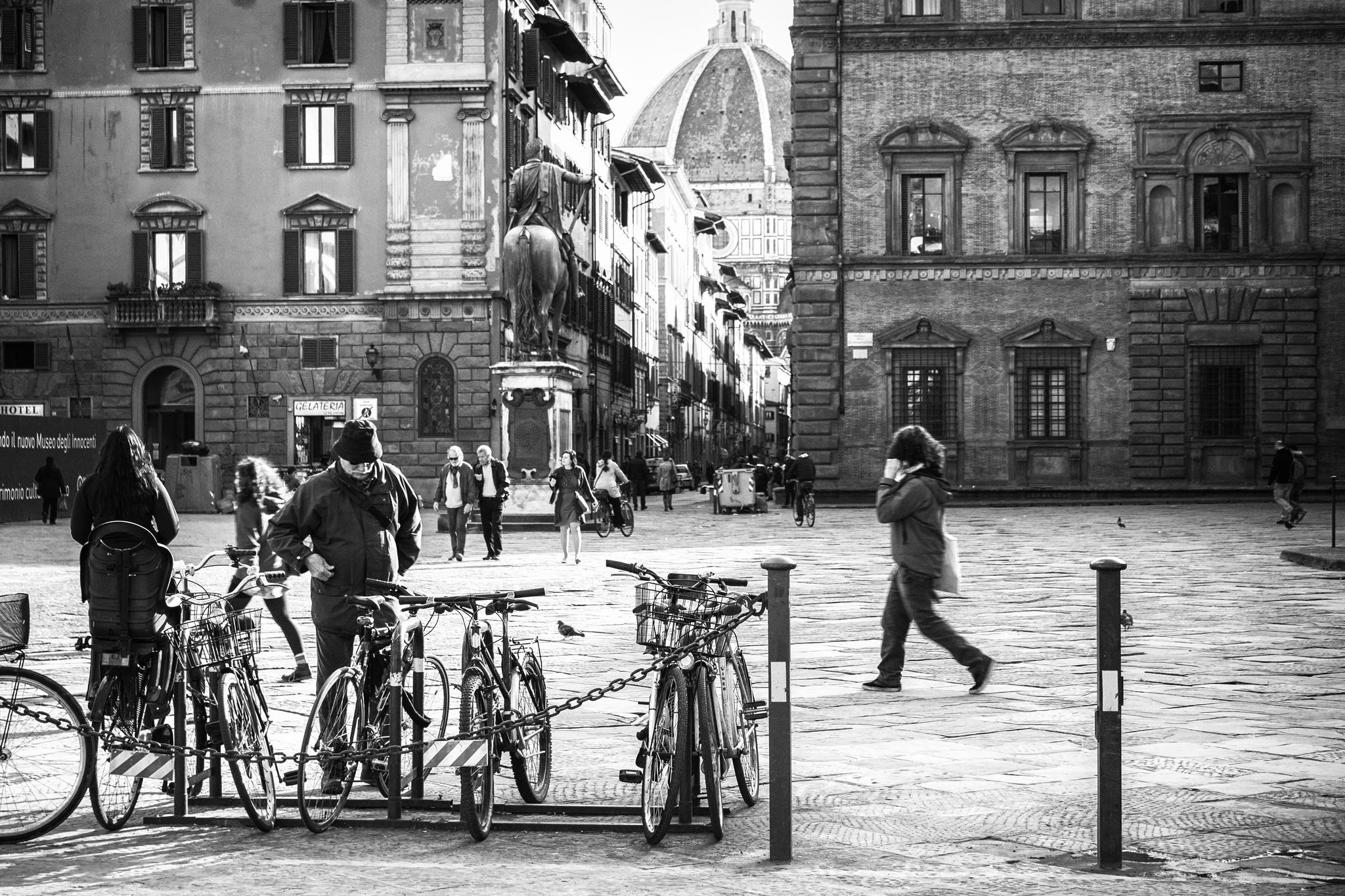 Usually, the
bike tours organized for private groups require a minimum age of 12
, but if you want to travel independently you just need to
contact the nearest bike rental shop
 to ask if they have
children's bikes
. Florencebybike, for example, offers children's bikes (different frame sizes are available) upon prior reservation, all equipped with helmets and locks. First of all, you need to know the
requirements for cyclists
. Regardless of the region you tour in Italy, there are cycling rules and laws that must be obeyed.
These are the bicycle safety rules in Italy
:
The bicycle's headlight must be white or yellow.
The bicycle must be equipped with a red rear light or reflector.
The pedals or sides of the vehicle will be the yellow reflectors on the sides.
The bicycle must be equipped with independent brakes and a bell audible at 30 meters.
Cyclists must not transport other people on their bikes, except where the bike is suitably designed and equipped. An adult may carry a child of up to 8 years of age.
Cyclists must ride in single file whenever traffic conditions require them to do so and never more than two abreast. When riding outside urban areas, cyclists must always ride in single file except when one of the riders is less than 10 years old and is riding on the right side of the other.
Cyclists riding outside urban area from half hour after sunset and half an hour before dawn or riding in tunnels (at any time of the day) must wear a retro-reflective high-visibility gilet or braces/suspenders. If you are traveling with children this should not affect you, because obviously you should avoid traveling at night outside cities.
In Italy it is not compulsory to wear a helmet
, even for children, but in any case it is advisable, especially for children. Another tip that may come in handy is that
in Tuscany you can carry your bike aboard all regional trains
. You need to buy a separate ticket (€ 3.50 if you travel between 7 am and 9 am or between 5 pm and 7 pm, € 1.50 off-peak) and the bikes are carried at the front or rear of the train in a storage compartment.
If you have a folding bike, you can carry it on the train for free
and you don't have to leave it in the storage compartment. Here are some suggestions about
where to go biking in Tuscany with kids
:
Parks and nature reserves
Tuscany is full of parks and national natural reserves and these places are the best option for a ride with your kids.
Check out our list of places particularly suitable for families with children
: • From the Leaning Tower to the San Rossore park (
map
) • Oasi of Massaciuccoli and surroundings (
map
) • Maremma natural reserve (
map
)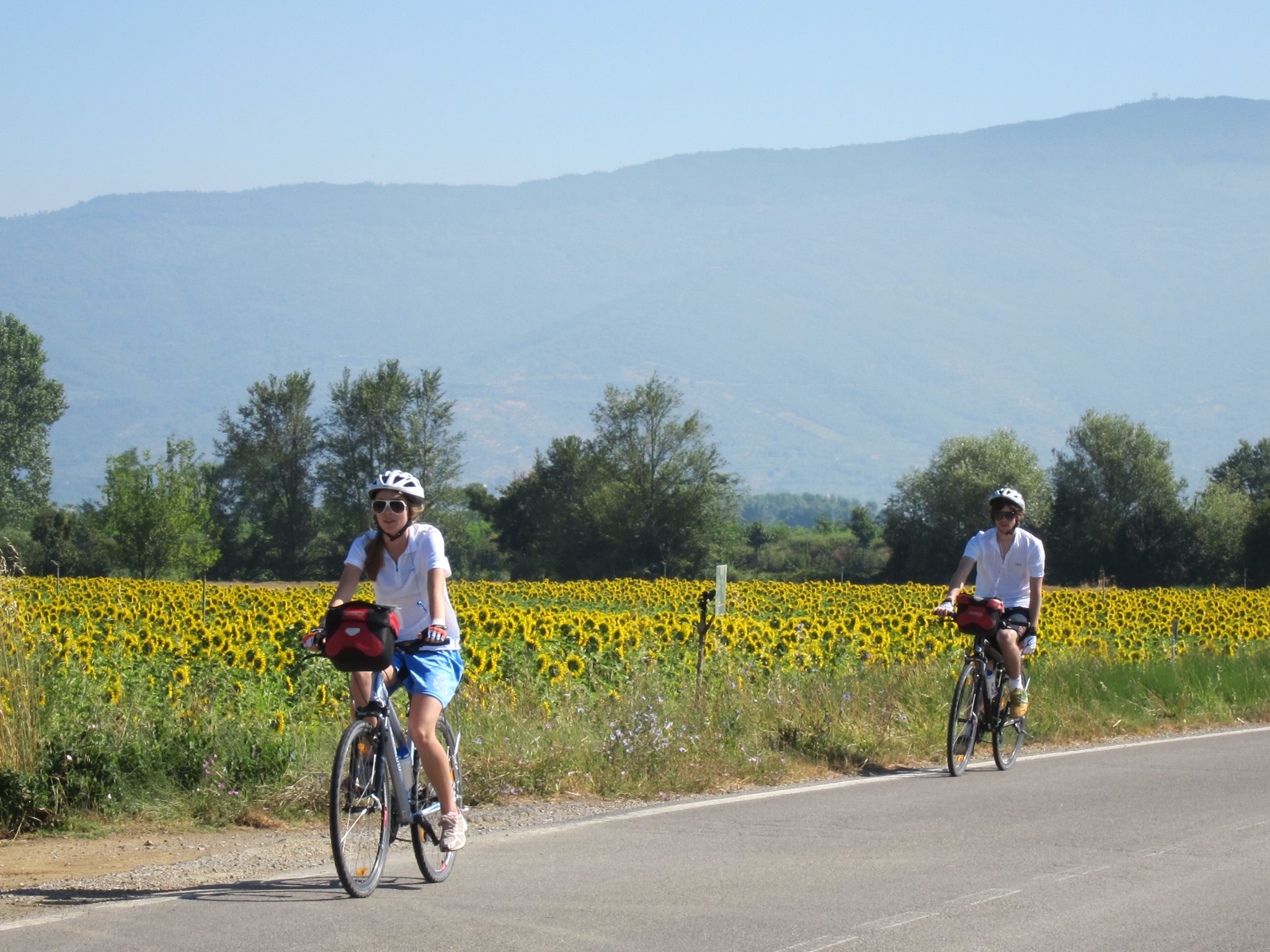 Easy "do-it-yourself " bike tours in & around the cities
• Cascine Park and the ride out to Renai (
map
) • Path along the left bank of the Bisenzio from the hamlet of Mezzana to the hamlet of Bridle (
map
) • Along the promenade of Livorno. Nearby is Livorno Aquarium, a must-see for kids! (
map
) • From Pistoia to Poggio a Caiano (
map
) • Lucca, within the city walls with a detour outside the city centre (
map 1
+
map 2
) • From Bozzano Massarosa train station to the Nassirja Park in Massarosa • Orbetello - around the eastern lagoon (
map
) • Merse Valley, Siena - the old railway line of the mine (
link
)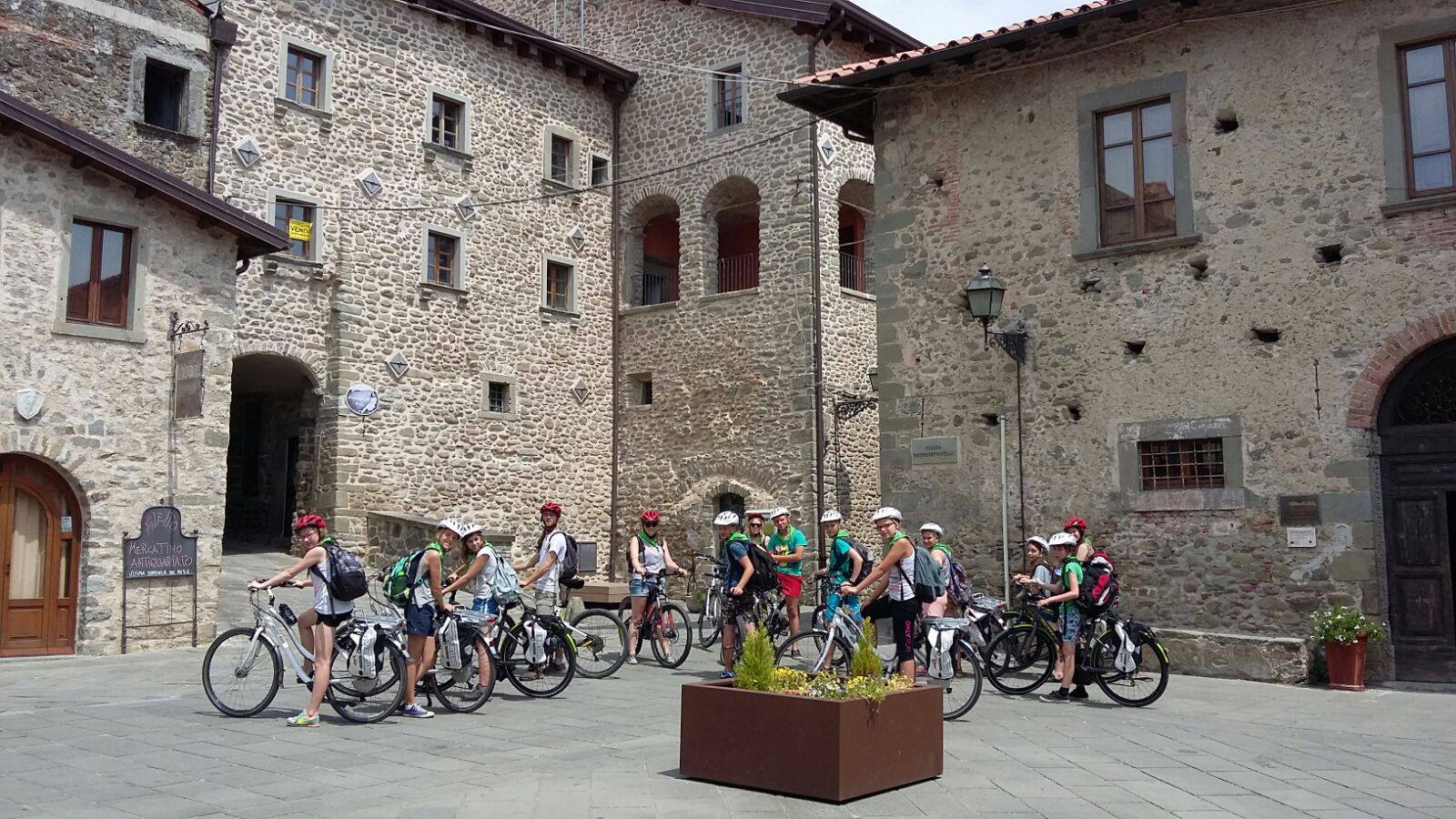 Bike or e-bike tours with companies specialized in guided bike excursions
One of the easiest ways to
explore Tuscany by bike with your family
is to rely on a specialized company. The advantages are: you can visit areas that are harder to reach, you can discover places off the beaten track, you can integrate different activities (for example, food tasting), there is no risk of getting lost and perhaps you can focus more on landscapes. Here are few examples that include an English-speaking tour leader, but
we are more than happy to integrate this short list with more kid-friendly bike tours
:
Gelato ride with Ibiketuscany.com
This super
kid-friendly bike ride
features everything you could dream of
Tuscany for your family
! From Florence you will be transferred by van to Castellina a wonderful medieval village in the heart of the Chianti. You'll enjoy the Tuscan countryside with olive trees and vineyards, and in Castellina you'll visit the laboratory of an artisan gelato maker followed by a gelato tasting. The day continues with a downhill in the Chianti Classico region and with a 2-hour visit of San Gimignano. Kids must be at least 12 years old. For more info write to: info@ibiketuscany.com
Ride & Taste with Farfalleincammino.org
Ride the e-bikes through the National Park of the Apennines among the villages, churches, forests and castles of the Lunigiana. Taste the rich local food and wine tasting menu at farms and restaurants of the Lunigiana.
Thanks to child seats, trailers, tag along and couplers, you can enjoy this experience with the whole family
. Get ready for a great ride up and down the hills of Lunigiana, for over 30 kilometres, together with your young bikers. For info write to: info@farfalleincammino.org
Fiesole & the countryside outside Florence with Fiesolebybike.it
You can explore this amazing area with your family
, even saving some money! If you travel with 4 people and a child under 16 years, you'll receive a 10% discount on any of their tours.
Young children (up to 47 lbs / 22 kg) travel for free with seats
! For info write to: info@fiesolebike.it

Have you tried a day tour or
bike rides in Tuscany
with your family? Tell us your experience and share your tips! If you are a company that offers
bike tours for children and families
, write to us and we'll be happy to add you to this list.
You might also be interested in