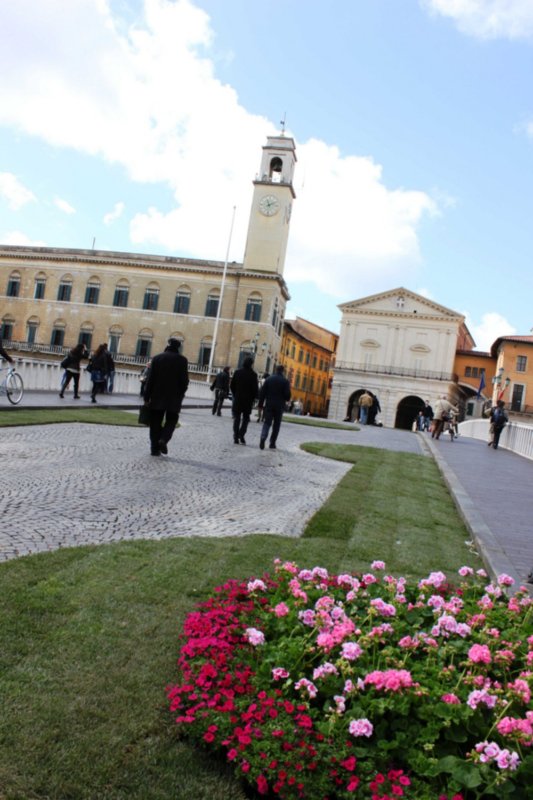 Beyond the Leaning Tower: a spring itinerary in Pisa
Exploring flowers and a rich history in Pisa
The event '
Fior di Città
' transforms Pisa into an enormous flower-filled garden during the first three days of spring, coinciding with the
Pisan New Year
. Discover hidden corners of this wonderful Tuscan city, and explore more than just the famous
piazza dei Miracoli
. The itinerary starts in
Porta Lucca
, one of the historic gates of the medieval city.
Beyond the gate you'll find
Nero's Baths
on your left, which date back to 180 B.C. Take via Oberdan and go past some old tower houses along Borgo Largo and Borgo Stretto, before passing the fifteenth century
Palazzo Tobler
.
Heading towards
piazza Garibaldi
you will pass by numerous busts depicting the Granddukes of the area which decorate the façades of the buildings. Before crossing the bridge make sure to get an ice cream from
De' Coltelli
and take a tour of the historic
cafè Ussero
, where the First Scientific Congress met.
Passing through the arch you'll come to
Vicolo del Tidi
where you can find
Lumière
, the oldest cinema in Italy, which now functions as a cultural centre. From here, cross the
Ponte di Mezzo
, the oldest bridge in the city and where the famous
Gioco del Ponte
takes place in June.
Continue along Pietro Toselli and you'll come to
Palazzo Blu
, named for its blue façade. The entrance is on Lungarno Gambacorti. Head towards
Giardino Scotto
, the heart of the flower trade show, along via San Martino. On the right you'll find
Palazzo Tizzoni
, with a statue of Kinzica on its façade, the young woman who gave the alarm when the Saracens arrived.
From here enter
Giardino Scotto
, located near the new Cittadella built by Florentines in 1468. Destroyed by Pisans, it was completely rebuilt using the designs of Giuliano da Sangallo. The itinerary ends with a walk along the river where the
Palio remiero sull'Arno
is celebrated every year, a competition between the four quarters of Pisa and one of the events held on Pisan New Year.
.
You might also be interested in