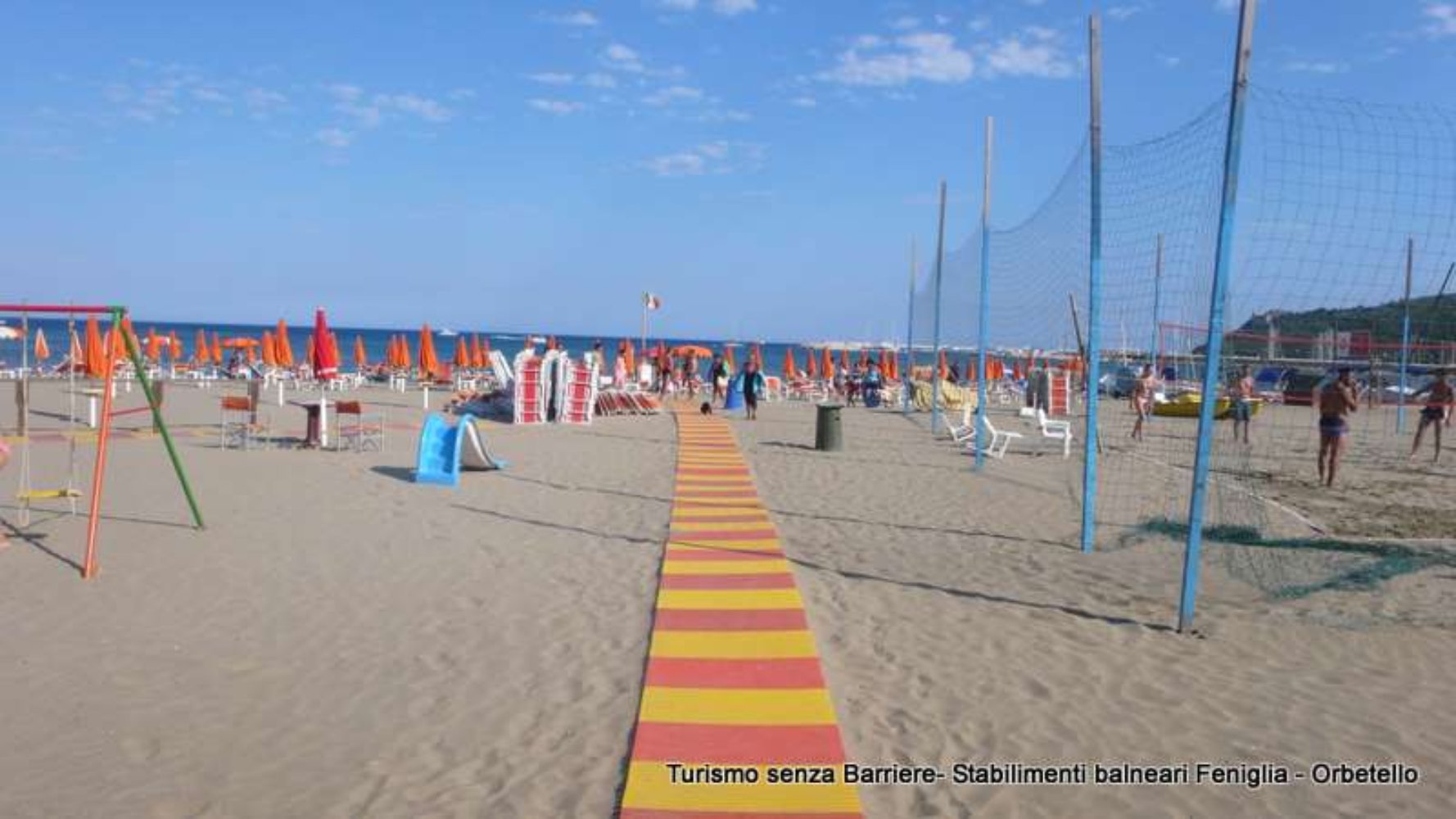 Beaches throughout the Livorno area
Experiencing the Tuscan seaside, an oasis of accessibility
The city's largest beach is located in Ardenza (Tre Ponti) which can be seen from the road and the seaside. Not far away, you'll find La Rotonda, a traditional red kiosk (only accessible from the outside) that offers fresh fish specialties. In Porticciolo and the surrounding pinewood area, you'll see the spot that hosts the annual 'Premio Rotonda', an exhibition featuring local painters. Along Viale Italia, culture lovers won't want to miss a glimpse of the historic Casini di Ardenza, Neo-classic buildings built in the 1800s which were once a resort for wealthy tourists. The buildings once served as a residence for Grand Duke Leopoldo and today, it hosts private homes. In Tre Ponti, you'll be able to enjoy the seaside in every season, making your way to Antignano where you can view the town's large square, a top spot for local events in the summertime. The square is accessible to physically-challenged people.

At the Tre Ponti beach resort, those with disabilities can take a dip in the water thanks to two especially equipped chairs. A perfect spot for everyone, from youngsters and families to the elderly and athletes. The beach hosts a gym facility, sauna and functional dressing rooms along with services and showers outfitted for those with physical handicaps. The resort is open year-round for those aiming to enjoy sports or simply relax. In Quercianella, Bagni Paolieri and Bagni Cala Bianca—three top resorts—you'll find facilitated access points for people with physical disabilities, as well as especially equipped toilets. The seaside is also accessible thanks to a slide and ladder equipped with a supporting structure.
You might also be interested in
The Livorno area is told through the sound of the waves breaking on the rocky coast. They listen carefully to the wind blowing through the nearby hills and nestled towns, like Collesalvetti, where the light arriving from the sea drenches the ...
Scopri keyboard_backspace