Ancient Palazzos in Bibbiena
The greatest buildings of this small town
The town of Bibbiena has very old origins considering the etruscan settlement and the roman villas found not far from the town center. Its fondation dates back 979 d.C. Also during medieval times Bibbiena had its great importance, even though today there are not many finds because of the many lootings dating back to the end of the XV century. However the old town's architecture of the several palazzos is mainly in Renaissance style. Here you can discover something more about the main palazzos' history in Bibbiena:
Palazzo Niccolini (Town Hall)
Right in the center of Via Berni, Palazzo Niccolini was built outside the Medieval city walls, in the first half of XVII century, likely in 1645. In the entranceway there are some notable ceiling paintings: two putti carrying a shield with silver chains up into the sky—an example of a painting from the Lorraine period. A wide stairway leads to the first floor where there is a big salon overlooking Via Berni. Inside you will find a fireplace, frescoed walls, smaller decorated rooms, and a chapel with a "rocaille" altar.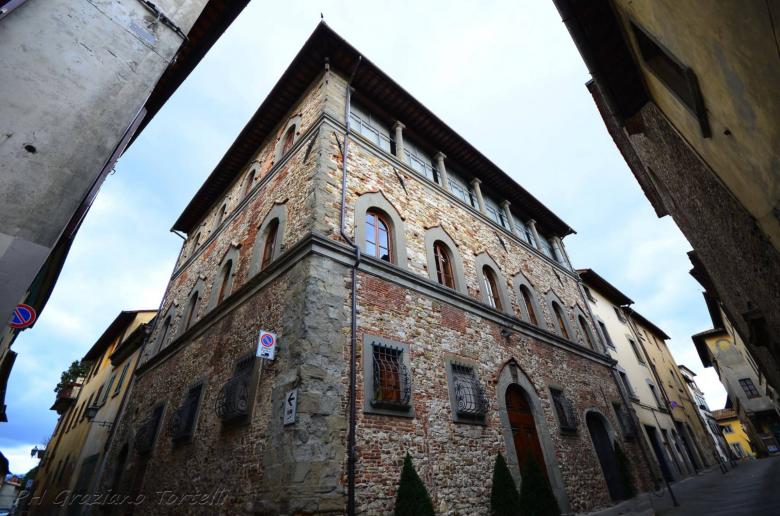 Cardinal Bernardo Dovizi, known as "the Bibbiena," built this mansion in 1498, creating one of the more important architectural elements of Bibbiena. It has three floors, following the Florentine Renaissance style. Its façade, once covered by plaster, today has a more rustic appearance with elements of stone and terracotta. The main door and windows have rounded arches in rusticated ashlar and end in a portico divided by architraved columns. Inside an imposing main staircase, with only one flight, leads to a sitting room preceding the Cardinal's apartment, where you find a remarkable coffered ceiling and a wonderful fireplace.
The main façade, looking into Via XXVIII Agosto, bears the Medici coat-of-arms, while on the side facing Piazza Poltri we can see the family's emblem. Due to many changes in ownership, the façade of Palazzo Poltri has been restored many times: the balcony, for example, is a late addition. Moreover, the entrance hall, with its sober structure and stone staircase which leads to the upper floors, is worth noting.


This mansion is in Via Cappucci near Palazzo Martellini. There is a characteristic, small cloister and a flight of stairs which ushers you into a series of remarkable rooms, including a beautiful salon.
You might also be interested in
Casentino
A land of forests and monuments to the Christian faith, of profound silence and soul-stirring transformations, the Casentino inspires a spirit of meditation and reflection. Colours are everywhere, adding to the spiritual atmosphere of the forest. ...
Scopri Casentinokeyboard_backspace