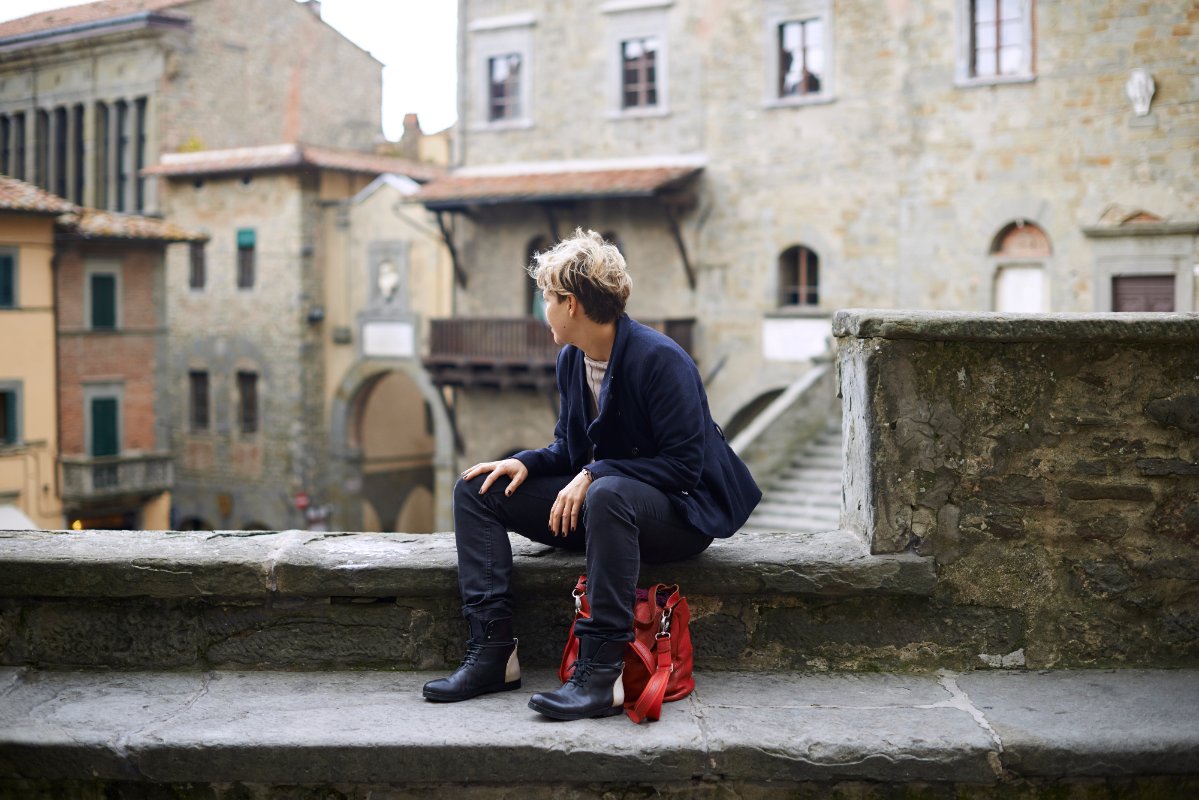 Adi Nes "Deposition" at Museo Alinari Florence
Museo Alinari
in Florence presents an exhibit by contemporary Israeli photographer
Adi Nes
from
January 13 to March 6 2011
. The artist's three series representing "Soldiers", "Boys", and "Biblical Scenes" present layers of meaning from personal, art historical to socio-political. In the company of the artist, we looked at the composition and meaning of some of his most important pieces, including the
Last Supper
below. Here is what I learned.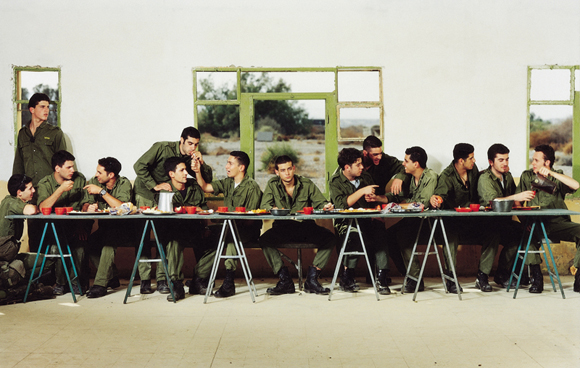 In Adi Nes's large-scale photographs,
nothing is left to chance
. A slow process of concept, research, decisions and orchestration takes place for each series, each photograph. His "Soldiers" series with 22 photographs took 4 years to complete, while the "Biblical Scenes" has taken 10. Nes is like a movie director - he has casting calls, locations, assistants, and even lights borrowed from movie production - as he arranges every detail of each scene. The result is a perfectly lit, beautiful parody of reality that may fool you for a moment until you start to notice incongruences - like a pallette of makeup placed at a dying soldier's side.
The artist spoke of the personal nature of these photographs
: the three themes are unified by his own identity issues and are thus both self-referential and relevant in wider ways. As an Israeli man, he deals with issues of masculinity; he photographs
soldiers
because every Israeli will eventually be one (he did his military service as an air traffic controller). As a
gay
man, he addresses homosexuality. His parents are from Iran, so he is concerned with
immigrant
mentality, and their home was in the
suburbs
so this appears as a backdrop to one of the series. The "Biblical Scenes", the latest of the three, is when Nes finally addresses Old Testament stories; as a
Jew
, he realized it was "odd" that he first dealt with Christian topics like the Last Supper and the Pietà, though he explains this as caused by the strong influence of art history and Christian visual culture. Standing in front of one of his masterpieces, the
Last Supper
, Nes talks about the subject, its composition, and the challenges inherant in creating a large-scale photograph like this. A journalist asks why there are 14 figures here (count them!) and the artist replies that he did it in part because he wanted us to ask that (and then explained that it was for compositional reasons - he needed a vertical). Based on Leonardo da Vinci, the pull of art history here is strong, but there are challenges in rendering painting into photography. It took him years to find the perfect location. Then, the casting call - these are professional models. The figure of Christ at the center was chosen because of his blank stare when his strong eye-glasses were removed; he was unlikely to fix the camera. We observed that the groupings of figures don't follow the narrative of Leonardo's or many Last Suppers in which figures respond to Christ's announcement that one of them will betray him. This, the artist says, is because this might be the final meal for any one of the men here. And, unlike Leonardo's use of depth, Nes sees photography as having rather little depth (in fact the figures and table are in sharp focus but landscape plays no role). For this reason he felt he needed to include the standing 14th figure on the left as a vertical who serves to keep our eye going around and inside the image. More recent art history is apparent in Adi Nes's representation of the Biblical Figure of
Hagar
: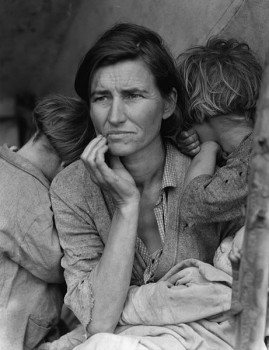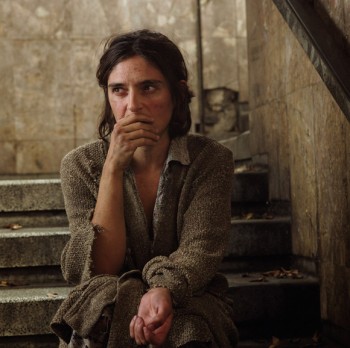 To see them now, side by side, means seeing their specific differences, but in the gallery, with Lange's iconic image just a memory, the way the later photo recalls the earlier one is so striking, you don't even pause to think of how they're different, only what it might mean. Hagar, the second wife of Abraham, is pictured here in the moment she loses her son, who is buried under a tree. I hardly thought about the fact that Lange's image includes the woman's children - a factor useful to make the viewer question where this modern woman's children are. Rather, I thought about her hardship and her feelings. It is, however, strange to consider how this figure is entirely set up - it's the wife of a friend of the artist, made to look poor and dirty.
While Lange's image is the birth of photojournalism, Adi Nes's photograph is... art. So can it be similarly powerful?
Exhibit information
Museo Nazionale Alinari per la Fotografia Piazza Santa Maria Novella 14a r Open daily 10-18:30 ; closed Wednesday. Adult ticket 9 euro.
You might also be interested in