The Slow Travel Fest returns to Monteriggioni every September for a celebration on the ancient pilgrimage trail
A Slow Travel Day on the Via Francigena
Every year, deep in the Tuscan countryside, is a travel festival devoted entirely to slowing right down. A gathering together to walk, talk, stretch, raft, cycle, eat. To explore the Tuscan culture and landscape. It's the Slow Travel Fest held near the beautiful hilltop Monteriggioni in mid September.
You may not know it, but slow travel is part of the lifeblood of Tuscany. Ancient pilgrim route the Via Francigena, starting in Canterbury in the UK and finishing in Rome, runs like an artery through Tuscany from head to toe - stretching almost 400km. So for 1000 years, pilgrims have journeyed through Monteriggioni, stopping for food and rest at ostelli like the one the Slow Travel Festival was housed in: the 12th century fortified abbey of Abbadia Isola.
You might also be interested in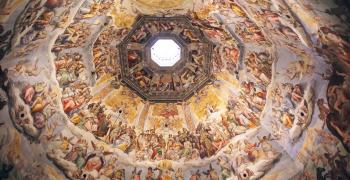 Learn more
Art and Culture
Tuscany is the cradle of the Renaissance and known all over the world for its immense artistic and cultural heritage.
continue...