A culture lover's must-do list for Firenzuola
Keeping busy in a proverbial "borderland"
A convenient midpoint between Florence and Bologna, Firenzuola has long been a pit stop for travellers passing through to more famous destinations. But this built-on-a-slope mountain town, a centre of life in the Tuscan Romagna and Mugello regions, merits a visit for its own sake.
The Pietra Serena Museum: a window on local life
To understand this town, start with its "stone face". The Museum of Pietra Serena "chisels" out an overview of how pietra serena, a gray sandstone best known for its prevalence in Renaissance architecture, has shaped Firenzuola's economic and social development (quarries have long been part of the landscape).
Founded in 1999—rather recently in "Tuscan time!"—the museum opens with contemporary artworks, as if to show visitors just how much the pietra serena tradition still shapes local identity. Additional sections include an introduction to the extraction process; an exploration of pietra serena landscapes; a presentation of everyday objects, from household items to work tools; and a virtual area reconstructing a typical country home, highlighting the territory's typical architectural elements.
The final chapter makes the strongest visual impact, underscoring how pietra serena has been used to aesthetically enhance buildings for centuries.
Beguiling Bruscoli's portrait of the past
History lovers should stop in Bruscoli (population 229), a fraction of Firenzuola, if only to get a glimpse of its Museo Storico Etnografico (Museum of History and Ethnography). A cross between a natural history museum and a community snapshot, the space features archaeological finds from the area, as well as objects and clothing that paint a colorful portrait of daily life down the centuries.

Many of the artifacts on display were discovered during the excavation of Bruscoli's medieval castle, formerly occupied by the Counts of Alberti. Fast forwarding to the 20th century, another section will wow World War II buffs, as it features military relics from along the Gothic Line, the Italian Campaign's German defensive line along the Northern Apennines.
A complex cemetery worth a visit
Continue to wade into the area's World War II history at the German cemetery on the Passo della Futa. Built on the midpoint of the Gothic Line, and inaugurated in 1969, the cemetery bears witness to the many brutalities carried out against the backdrop of the Apennines. Visiting is a sobering experience: you won't find glorification of the war, as the space is designed to be a cautionary monument for new generations, and a mourning of the 31,000 fallen buried here, rather than a veneration of the cause.

Its architectural intrigue is hard to miss, however: designed by Dieter Oesterlen with input from landscape architects Ernst Cramer and Walter Rossow, the cemetery is laid out in a spiral shape, accented by occasional pools of water. Tombs are lined up mathematically, befitting of a military graveyard.


Managed by the German organization Volksbund Deutsche Kriegsgräberfürsorge, the cemetery occasionally hosts reconciliation initiatives and activities for schoolchildren aimed at warning of war's horrors, and sending a message of peace.
You might also be interested in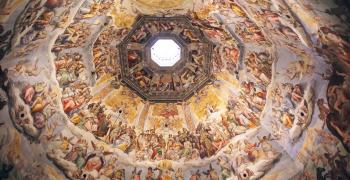 Learn more
Art and Culture
Tuscany is the cradle of the Renaissance and known all over the world for its immense artistic and cultural heritage.
continue...