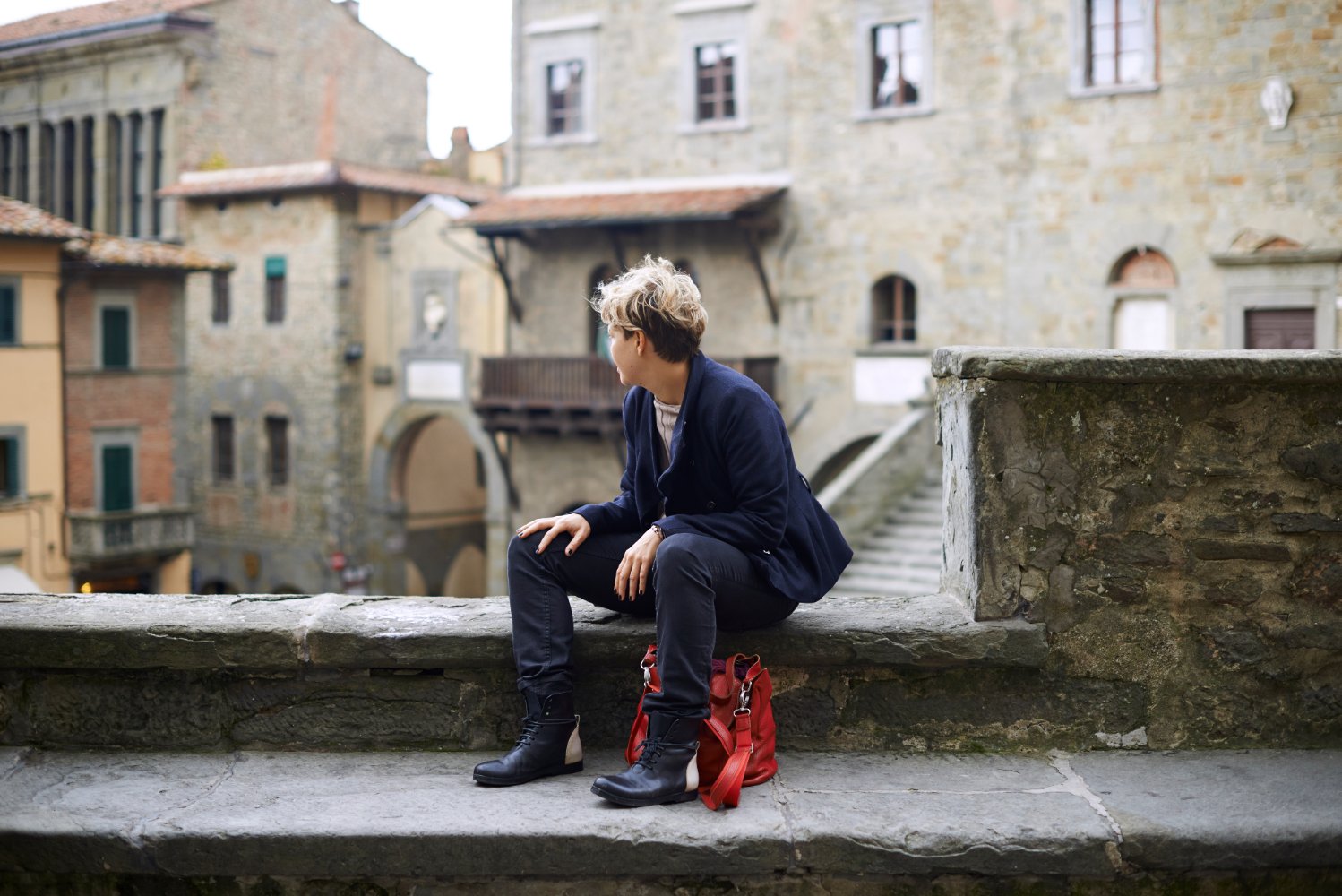 The wine route in Tuscany: Montepulciano
I was looking for a romantic place to go for Valentine's Day. OK, there's The Love Route (I talked about it here), but that was a few days ago so I decided to drive to Montepulciano, the paradise for wine lovers. Is there anything cooler than drinking Montepulciano's wine at Montepulciano? It was a cloudy day and it was also cold (there was a bit of fresh snow everywhere) so drinking red wine seemed to me like a perfect (and warm!) idea. Probably if it were summer time, I would have preferred doing some sporty activity like walking in vineyards (and tasting grapes!) or riding a bike, but when it's cold, wine-tasting is simply the best option. Don't forget to set aside a little money for souvenirs as you might like to buy some hand painted ceramics or an apron for your Italian cooking lessons (if you need some authentic Tuscan recipes visit the blog Tuscanycious).
"Anteprima del Vino Nobile di Montepulciano"
At Piazza Grande, in the center of this Tuscan medieval hill-town, there was a special event going on: the preview of the Vino Nobile di Montepulciano. In simple words: I had the possibility to taste many delicious D.O.C. and D.O.C.G wines from Montepulciano. I am not a wine expert but I had so much fun tasting them with my friend who is a sommelier. By the end of the afternoon I had selected a few personal favorites, but I don't really feel able to name them here. Do you have a favourite Montepulciano wine? Let me know in the comments. I also suggest you read this article by Tuscanycious about extraordinary wines. The wineries taking part in the 2010 preview are: Avignonesi, Bindella, Boscarelli, Canneto, Carpineto, Casa Vinicola Triacca, Contucci, Croce di Febo, Dei, Fassati, Fattoria del Cerro, Gattavecchi, Godiolo, Icario, I poderi di Poggialgallo, La Braccesca, La Ciarliana, Le Bernè, Lodola Nuova, Nottola, Poliziano, Salcheto, Tenimenti Angelini, Tenuta di Gracciano della Seta, Tenuta il Faggeto, Tenuta Valdipiatta, Terra Antica, Vecchia Cantina, Villa S. Anna.
D.O.C & D.O.C.G.

On 12th July 1966, three years after the Designation law came into effect, a decree was issued to recognize the Registered Designation of Origin (D.O.C) for "Vino Nobile di Montepulciano" and provide production regulations.. In July 1980 Vino Nobile di Montepulciano obtained Registered and Guaranteed Designation of Origin (D.O.C.G.) which placed it among the most prestigious wines in Italy. The "Nobile" is also the first Italian wine to be sold with the official D.O.C.G. neck seal and to celebrate the Consorzio del Vino Nobile di Montepulciano has maintained ownership of the first 50 seals issued in Italy. (...) Vino Nobile undergoes strict monitoring: it can only be sold under the name of Vino Nobile di Montepulciano D.O.C.G.: after a series of chemical and organoleptic tests carried out by a panel appointed by the Ministry of Agricultural Policy.
Tips & Advices
During the Winter most shops and restaurants are closed, especially on Sunday. So, if you would like to visit a specific restaurant it is wise to call them first.
If you are looking for special walking tours in the vineyards, tour by bicycle or spas near Montepulciano click here.
To view my pictures at Montepulciano click here.
For further information visit www.consorziovinonobile.it
You might also be interested in