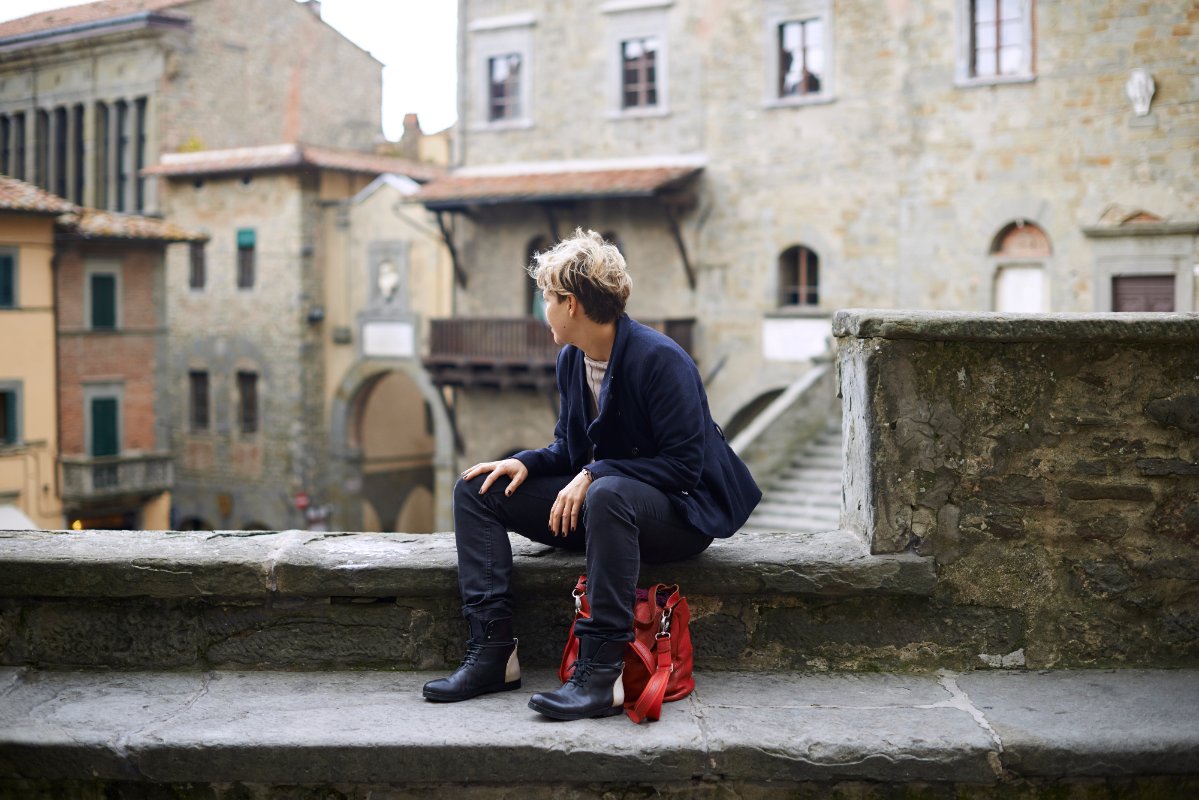 10 wonderful black and white pictures of Tuscany
Welcome to a free journey through Tuscany! I have selected ten black and white photographs on Flickr and I have reflected on what they might mean. First it's not that common to find tourists taking black and white photos, is it? "A megalopolis, a city in general or a landscape, whether small or large, is always in colour. But your interpretation of what you see can also be black and white." - said one of Europe's greatest documentary photographers, Gabriele Basilico to Illywords. I've thought of what emotions these stir up in me - I'm not a photography critic - maybe you'll think of something else when you see these photos... So, if you want, you can share your thoughts with us: leave a comment below, tell us which picture is your favorite.
1. Tuscany countryside
An itinerary in the Tuscan countryside. There is this single tree, alone, and a series of signs left behind by the passage of someone or something. A single tree, a single life, so many possibilities.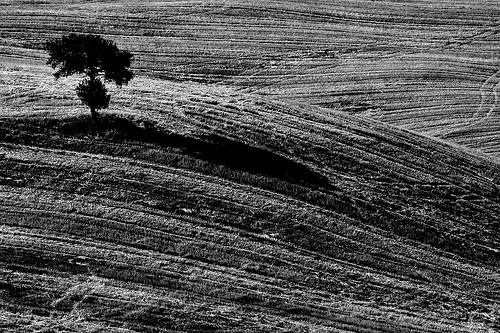 2. Tuscany countryside
The author of the picture doesn't say where exactly it is and it's hard to guess. It could be in Val d'Orcia or Maremma. What do you think? I am struck by the position of the clouds - they provide so much depth and make the landscape look so open and inviting.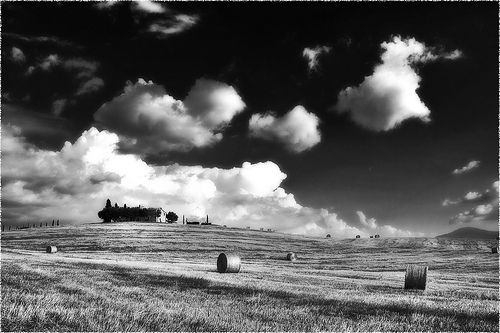 3. Val d'Orcia
Val d'Orcia means colors: the contrast of an astonishing blue sky against the green hills in the Spring; the sunny yellow of sunflowers in the summer... It's not common to see it in black and white and the result is great! I like it!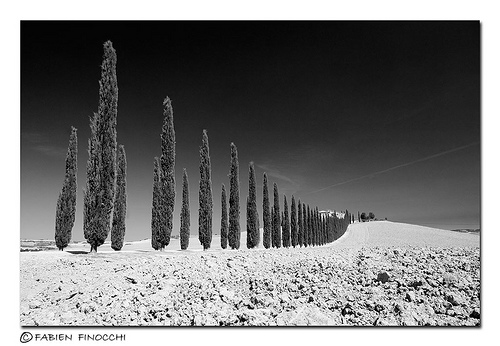 4. Ponte del Diavolo
Or the Devil's Bridge. Regular readers of Around Tuscany know that I love this place and I have talked about it here in the blog so many times (here, here and here). The arches are just beautiful, as we can see in this great picture taken by Patrick. The choice of black and white makes me think of the ancient legend of this bridge...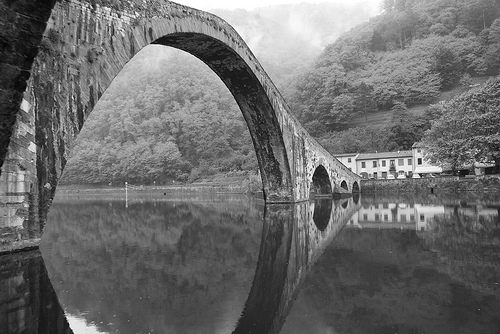 5. Church of Santo Spirito, Florence
Are we in the sky? In this picture by Piero Farolfi I feel like we are in another place - heaven? This is the church of Santo Spirito in Florence: normally buzzing with the sound of people having lunch in the streets, often literally standing up to eat, or sitting in the terraces of nearby restaurants... This picture cuts out that noise: I hear the silence.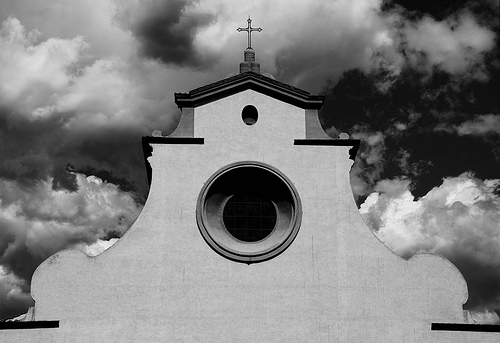 6. Palazzo della Signoria, Florence
This is one of my favorite pictures of Palazzo della Signoria in Florence. Heavy medieval doors open so that the light can enter the dark room; in the background we see Florence which is a synonym of art, beauty, creativity. The picture represents leaving the dark behind and letting the fresh air enter our lives.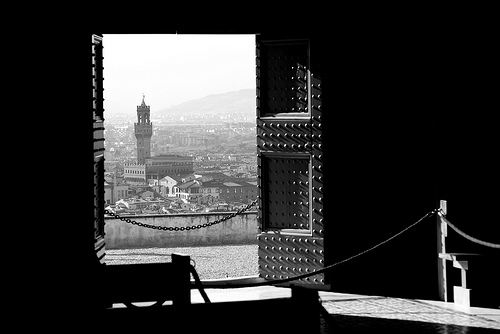 7. Church of Santa Croce, Florence
Some months ago, Tuscany Arts promoted a "Slow Art Friday" in the church of Santa Croce. The idea behind it was to notice details, things we normally don't see when we are in the hurry to consume art. When I look at this picture I feel the sensation of "times are changing". Can you see the wind blowing the clouds away? Probably it will rain somewhere for a while, but surely the sun will be soon shining again...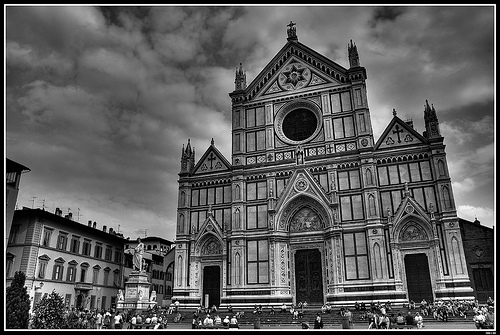 8. Marciana Marina, Elba
The atmosphere of this picture is familiar and romantic at the same time. We almost forget that during the day it's Elba - summer, heat, crowds of people tanning. By the way, Marciana Marina is one of the 26 incredible beach towns of Tuscany according to la Guida Blu.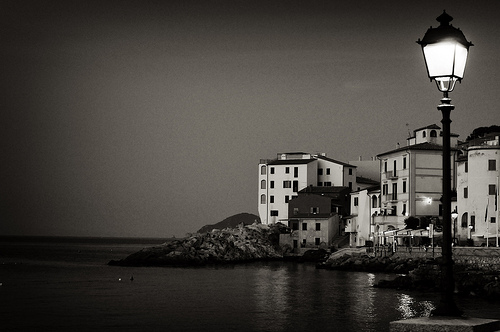 9. Rooftop in Tuscany
Freedom! Let's fly away, let's follow our heart. This is what this picture means to me. I like the light in the center of the picture. I don't know where Dimitri was, it could be anywhere in the countryside of Tuscany, it's easy to find old stone houses and terracotta roofs here in Tuscany. As Alexandra Korey says: "When in Tuscany, don't just look ahead – look up! and down."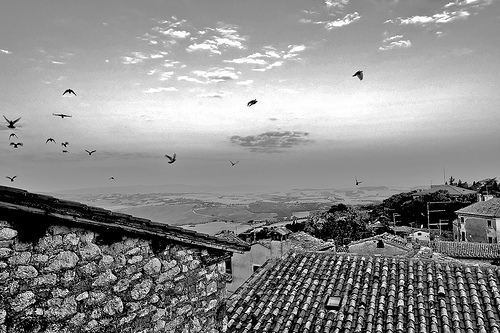 10. Marina di Alberese, Grosseto
Black and white pictures are generally related to the past. In this timeless picture life seems easy and peaceful for the boy and the girl. A childhood far away from the frenetic life of big cities in the 21st century...
You might also be interested in