10 reasons why cycling is the best way to explore Tuscany
Have you ever considered the unique benefits of exploring Tuscany by bike?
From the stunning ridgelines of the Crete Senesi to the hilltop villages like Montalcino, Tuscany offers some of the most stunning backdrops for an unforgettable European vacation, and the vineyard-covered rolling hills offer the perfect terrain for both cycling enthusiasts and beginner cyclists looking for a new way to see this beautiful region. Have you ever considered the unique benefits of exploring Tuscany by bike? Explore with us why cycling is truly the best way to discover the beautiful, serene region of Tuscany for your next vacation.
Cycling connects you more intimately to the landscape
When you travel through Tuscany on a bicycle, all five of your senses are fully engaged. You can smell the harvesting grapes, hear the cowbells in the pastures, feel the wind upon your face, and take in the beauty of the rolling hills that surround you in a way that you could not on a tour bus or in a car. Cycling allows you to be fully immersed in the surrounding beauty. Even if you've been to Tuscany before, exploring the region by bicycle gives you a new perspective on this richly beautiful region. Cycling connects you with the landscape in a new and unique way.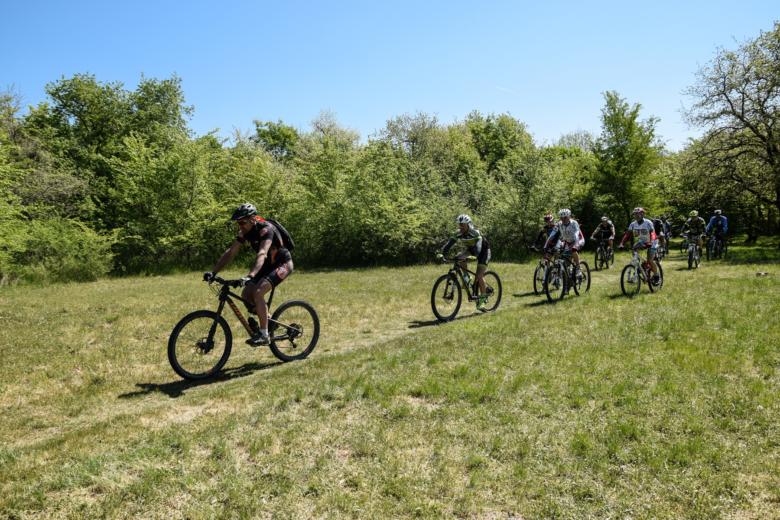 Cycling gives you more access
When you're in the saddle instead of behind the wheel, the world opens up for you even wider. You have better access to the tiny and picturesque villages like Montefollonico and San Felice. You can ride bike paths that are not accessible by car and view landscapes and views that you'll never see from the seat of a tour bus. When you're cycling through Tuscany, the world is your oyster.
Cycling allows you to eat and drink more
Hand-rolled pici pasta. Pecorino cheese. Chianina beef. Cinghiale (wild boar). Brunello. Chianti Classico. Vino Nobile. No trip to Tuscany is complete without tasting the incredible wine and food that the region has to offer. When you explore Tuscany by bike, you can indulge in all of these regional delicacies and local specialties without the guilt that often accompanies gluttony. You can explore the tastes of Tuscany knowing that the next day you'll be climbing the rolling Tuscan hills on a bicycle and burning off the calories that you consumed for dinner the night before. And best of all, cycling during the day gives you a bigger appetite so you have the stamina to try all the amazing food and wine of Tuscany.
The best way to see the Tuscany countryside is by bike
The hills in Tuscany can be challenging. You are going to sweat, and your legs are going to want to quit on you. But when you push yourself and make it to the top of the hill—as soon as you see that amazing view of the Val d'Orcia or the Asso Valley below, you'll know that the climb was totally worth it. As you rest at the top of the hill in Montalcino and savor the sense of accomplishment and achievement that's inside you, or as you coast down the ridges of the Crete Senesi, relishing in the wind on your face and the incredible vine-covered views that surround you, you'll understand that cycling is the best way to experience Tuscany. There's nothing like that feeling.
You are immersed in the cycling culture of Italy
There is a cycling culture sewn into the fabrics of Italian life that can only be understood by experiencing it. Cycling is an integral part of Italy's history and culture, and when you explore the lovely region of Tuscany by bicycle, you get to experience that unique relationship for yourself. Your fellow cyclists will wave at you as they pass you by; when you cycle in Tuscany, you are part of a secret club. And best of all, motorists respect cyclists. So even if you're cycling on trafficked routes by bicycle, you can relax and enjoy the ride knowing that Italians know how to share the road.
Cycling allows you to travel at the perfect pace
Traveling by bike slows you down. And in this high-speed internet era, slowing down can be the most important part of a travel experience. Italians understand the beauty in living life at a slower pace, and so cycling is the best way to do as Italians do. Bike travel is slower than traveling by car, allowing you to take in all the beauty that surrounds you. But it's also faster than walking so you can cover more ground and actually travel from one town to the next. Best of all, you can travel at your own pace when you're on a bike—racing up a hill or taking your time to take it all in.
Cycling makes you feel like a kid again
Cycling is an age-old sport that not only connects you to a simpler time in history, but also a simpler time in your own life. Remember when you were a kid, coasting down the hill behind your grandma's house with no hands? When you were a kid, being on your bike meant being free. Cycling is carefree and adventurous, just like travel should be. In a world where being a grown up means bearing a mountain of responsibilities, one of the best feelings you can experience on your vacation is that return to childhood—a simpler time when you had no cares in the world.
Cycling allows for more flexibility than traveling by a bus tour's itinerary or a Tren Italia time table. When you're on a bike, you can decide to sleep in or get up early; you can stop whenever you want to take photos in the sunflowers, follow any route you want, or even let yourself get lost! And there is a particular beauty found in getting lost.
You choose who you ride with
Cycling allows for flexibility in so many ways, especially when it comes to deciding who to ride with. When you cycle in Tuscany, you can travel with as many or as few people as you want. Cycling is a very social activity, but at the same time is a great way to travel solo. You can head out on a self-guided trip across Italy, or you can join a bike tour and meet other cyclists with similar interests who just might become life-long friends. Whether you're rediscovering your love with your spouse, exploring the world with your sister, or setting out on an independent journey—cycling in Tuscany can be a life-changing experience.
You can end your vacation knowing you accomplished something great
You've climbed the stair-stepping 12-kilometer ascent from the town of Asciano to the ridgelines of the Crete Senesi and were rewarded with breathtaking views of the pastures and fields below. You took on something you may not have thought you could accomplish. You didn't just sit in the back seat of a tour bus and gaze out the windows, eat great food, and return home with a few extra pounds of pasta on your hips. You traveled by bike, and you can return home from your vacation feeling re-energized and inspired to live an even more active lifestyle at home. Try it. I dare you. It might just change your life.
Guest post by Kelsey Knoedler
You might also be interested in