Cheese and cold cuts
Tuscan Soppressata
A round salami, full of spices and seasoning
Category
Cheese and cold cuts
Origin
Tuscany, particularly the provinces of Arezzo and Siena
Tuscan Soppressata is a round salami made using the maximum amount of parts from the pig as possible, typically those which would not normally have been used. The name "soppressata" derives from the term "compresso," or "compressed," and it is made from first cooking the head, heart, tongue and kidneys of the animal. The meat is then divided into pieces, encased with salt, spices and seasoning, which results in a spiced and flavourful salami.
The product is put to cool in cold storage rooms for around 20 days; it is produced from October to March and should be eaten fresh, within two weeks.
The typical nature of the soppressata is due to how it is made, it follows an old tradition which has remained unchanged. Generally, it is eaten with Tuscan bread DOP (which is made without salt) and red wine.
You might also be interested in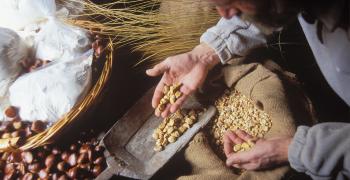 Learn more
Food and Wine
Olive oil, wine, truffle and other culinary delights make up the excellence of Tuscan gastronomy.
continue...