Cheese and cold cuts
Pecorino from the Versilia
A blend of sea and land flavours
Category
Cheese and cold cuts
Origin
Apuan Coast and the Versilia
An aspect that renders Tuscany so unique is its cuisine. In every part of the region, visitorsv will find themselves savouring tasty, centuries-old dishes and recipes. From the sea to the land, up to the highest peaks: products and recipes await to delight the palette.
Pecorino from the Versilia is only one example of Tuscan culinary excellence. Made with sheep's milk, white and delicate with a meadow scent, its maturation generally last no more than 20 days, whilst for grated pecorino cheese, aging lasts up to a year and gives the cheese a stronger taste. You eat it when it is fresh or aged, combined with broad beans and pears.
You might also be interested in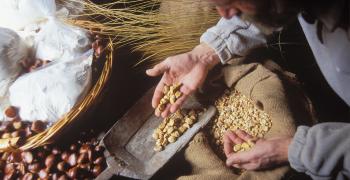 Learn more
Food and Wine
Olive oil, wine, truffle and other culinary delights make up the excellence of Tuscan gastronomy.
continue...