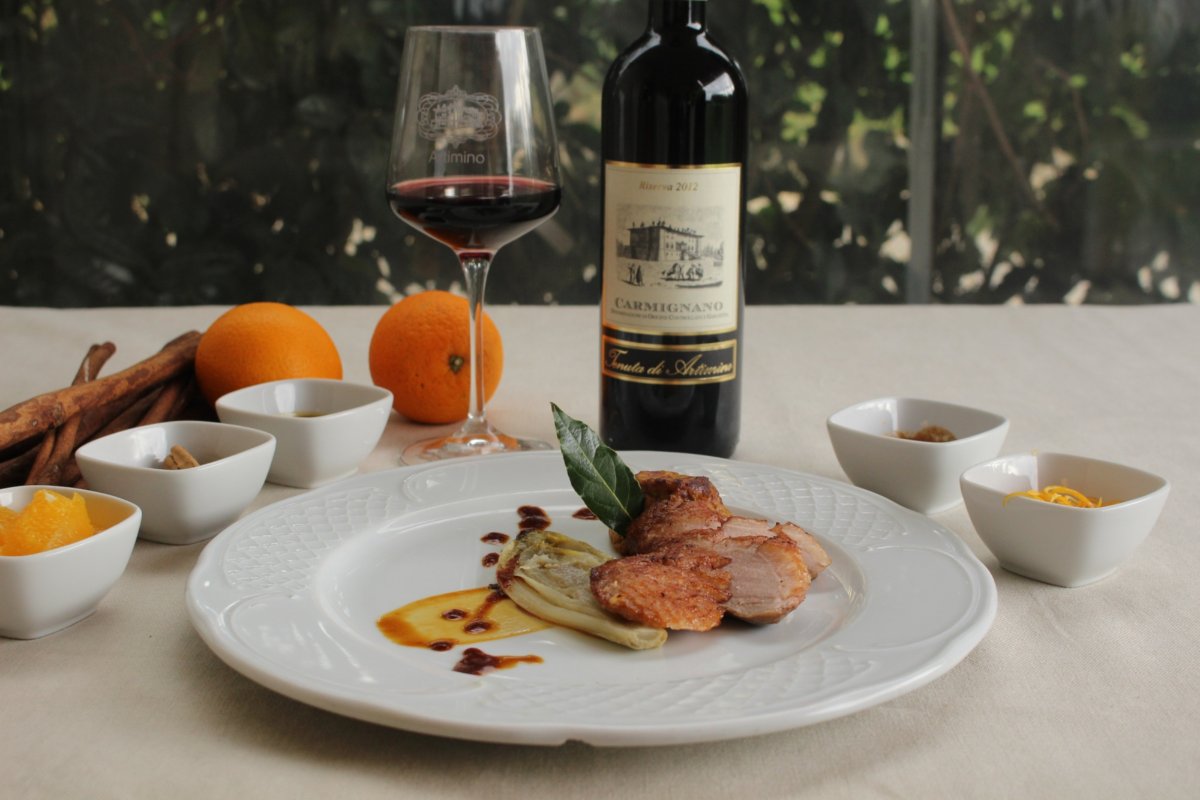 Wine, olive oil and honey
Carmignano Wines
Carmignano DOCG, Barco Reale di Carmignano, Rosato di Carmignano and Vinsanto
Category
Wine, olive oil and honey
Consortium
Consorzio dei vini di Carmignano
The hills around Carmignano, which have been home to Etruscans and the Medici, are full of vineyards. This area has been much loved by wine makers for centuries as the soil always produces a fine yield.
Carmignano DOCG, Barco Reale di Carmignano, Rosato di Carmignano, Vin Santo di Carmignano e Vin Santo di Carmignano Occhio di Pernice DOC: these are the wines that have made the territories of Carmignano and Poggio a Caiano famous the world over. They are both areas that are located under 400 metres in altitude.

The terrain, position, rain, temperature, humidity, ventilation and insolation are differ even within a few kilometres. It is an equation with a great number of uncertainties, a magic formula that we will never discover.

We can only name a few of the favourable characteristics: the well-drained, limestone terrains, the opening of the hills on the large plain that allows ventilation and a good insolation; the winds that come from the nearby High Apennines that ensure cool nights.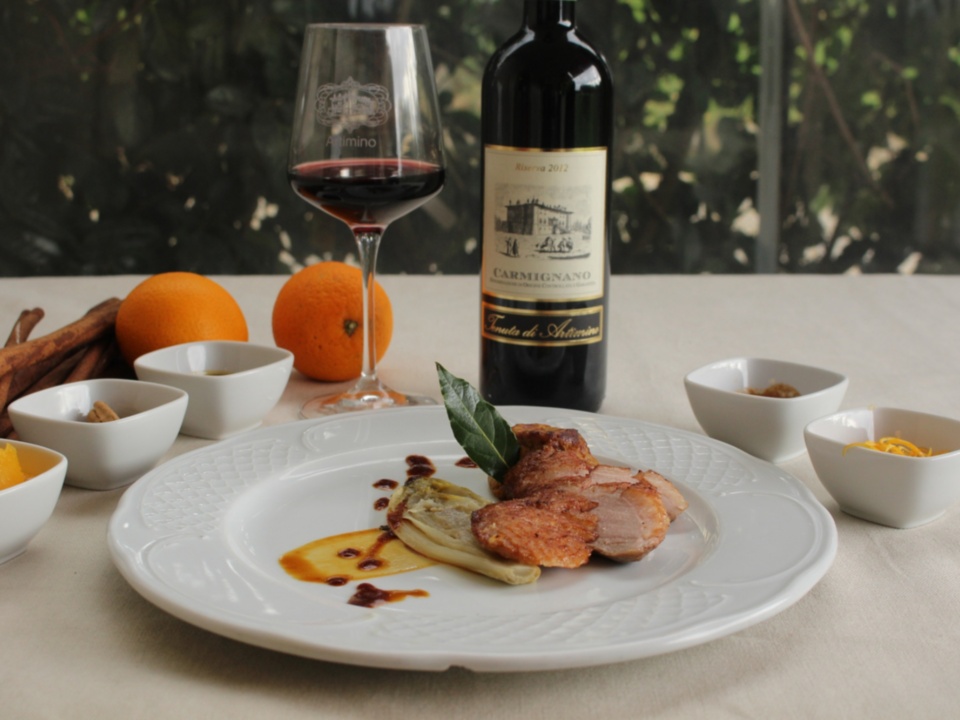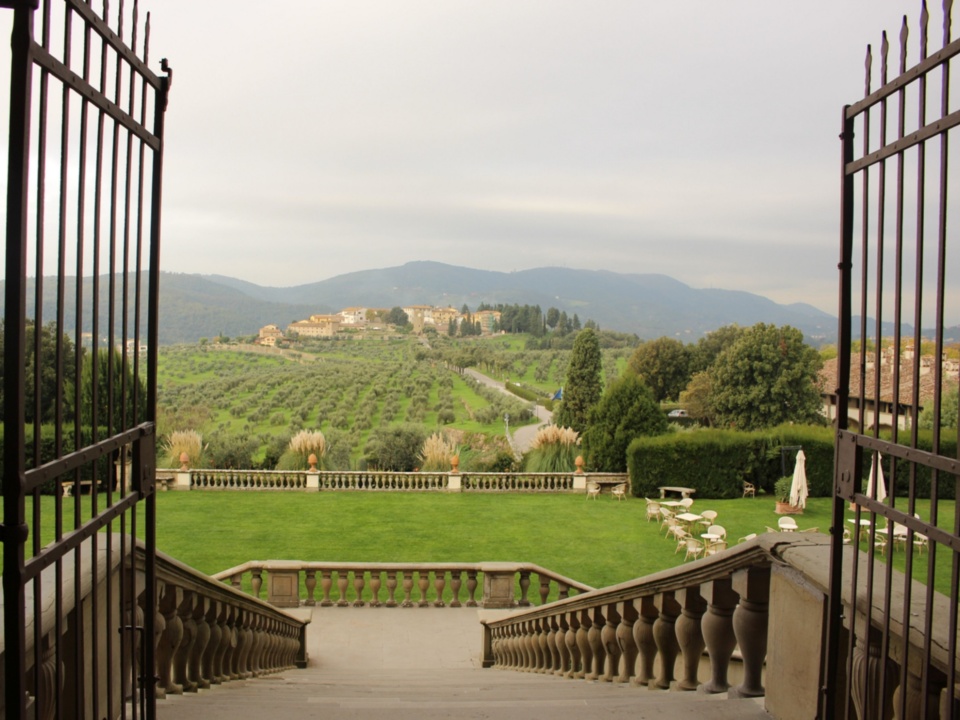 The grapes grown here are mainly Sangiovese, Cabernet and Canaiolo. Carmignano wines go particularly well with game and mature cheeses.
Here they produce Carmignano DOCG, a great, aging wine that is also pleasant when young, the Barco Reale DOC that takes its name from the ancient grand-ducal property, the Vin Ruspo (Rosé of Carmignano DOC: produced here from the same grapes but using a different pressing method), all with the same assorted base: this is the first denomination of Tuscan origin that prescribes, along with the Sangiovese, Cabernet (up to 20%), as well as the Canaiolo and other complementary vines.
Finally, the area's Vin Santo is made from dried white grapes and is left to age for some time. It is the perfect accompaniment to desserts and cheeses.

From white grapes they produce the Vin Santo di Carmignano DOC, one of the most appreciated ever. From red grapes the Vin Santo di Carmignano Occhio di Pernice DOC. The nature and the vineyards are the main creators of the type and quality of the wines. From the famous eulogy "Bacchus in Tuscany", written by Redi in 1673, we quote: "But if a jar I take of brilliant Carmignano, such gratefulness pours in my heart, that ambrosia and nectar I envy not of Jove. Now this that oozes from the dusky grapes Of such stony Tuscan vines...."

Carmignano DOCG (Rosso and Riserva) is made from 50-90% Sangiovese grosso grapes, 10-20% Cabernet Sauvignon and/or Cabernet Franc, 0-20% Canaiolo Nero and 0-10%Trebbiano Toscano and/or Malvasia and/or Canaiolo Bianco.
Barco Reale and Rose': Sangiovese (minimum 50%), Canaiolo nero (up to 20%), Cabernet Franc and Cabernet Sauvignon (10-20%), Trebbiano Toscano, Canaiolo bianco and Malvasia (up to 10%); other vines of red grape are allowed up to 10%.
Vin Santo: Trebbiano toscano and Malvasia bianca lunga (at least 75%); other vines of white grape are allowed up to 25%.
Vin Santo Occhio di Pernice: Sangiovese (minimum 50%); other vines of red or white grape are allowed up to 50%. Each hectare produces a maximum of 100 quintals of grapes.
Carmignano DOCG matches perfect with roasted meats, game and cheeses. Barco Reale is a wine for pastas, especially recommended for meat-based pastas. The rose' is recommended as an aperitif, with traditional Tuscan starters and flans. The Vin Santo is recommended for all kinds of desserts. The Occhio di Pernice wine is recommended for 'meditation' but it can be paired with fruit pies and biscotti from Prato.
You might also be interested in