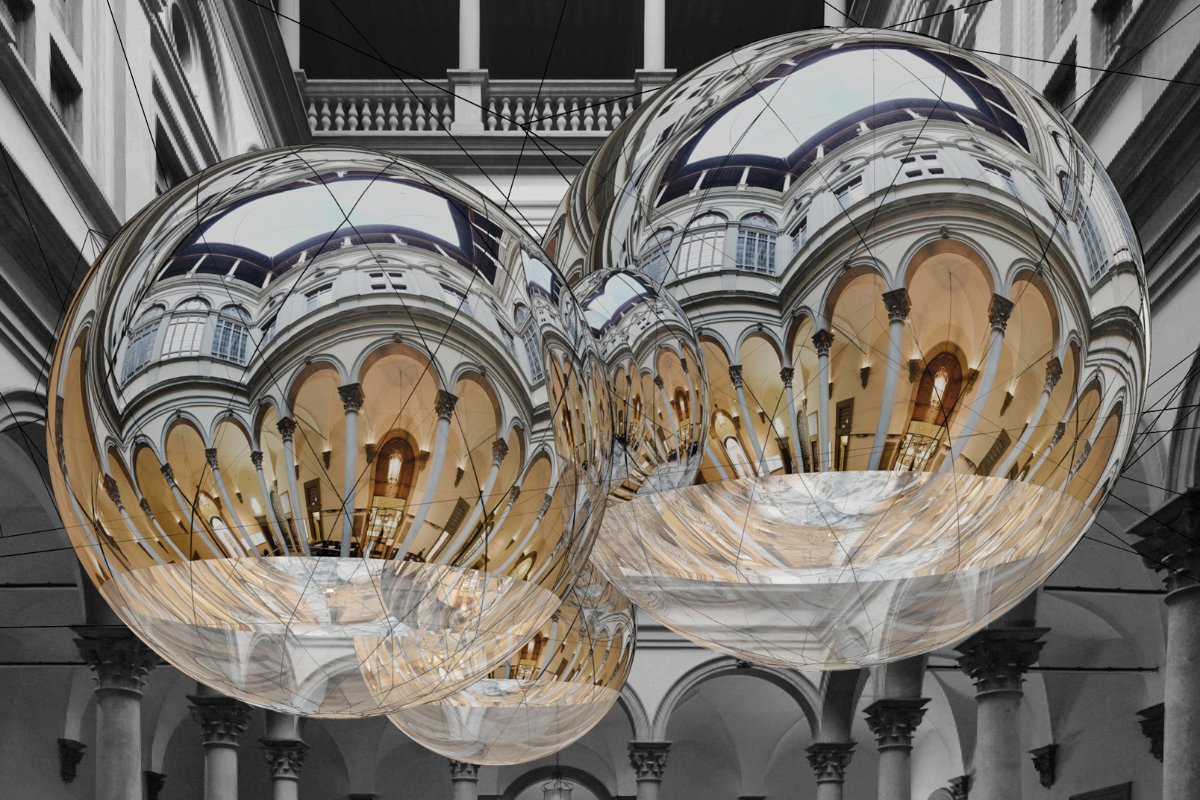 collectionsExhibitions
Tomás Saraceno: Aria at Palazzo Strozzi
From 22 February to 19 July in Florence, a one-artist show by the internationally renowned Argentine
Flying sculptures, floating gardens, spider's web as art and arachnoid-inspired tarot cards: this exhibition by the Argentine artist Tomás Saraceno invites viewers to look up to the sky to reflect on what keeps us alive while connecting our body with the rest of the world. It's something so simple we take it for granted: air.

His show at Palazzo Strozzi begins with a striking installation in the courtyard: "Thermodynamic Constellation", three large reflective spheres hanging in the air that symbolize the Aerocene, a new worldview that the artist aims to contrast with the Anthropocene. Saraceno's artworks hinge on his respect for the environment, blending art with natural and social sciences.
Tomàs Saraceno explains it as follows:"This interface between us and the Sun, is controlled by the few and continues to be compromised: carbon emissions fill the air, particulate matter floats inside our lungs while electromagnetic radiation envelops the earth, dictating the tempo of digital capitalism, in the era of global warming. Yet, a different epoch is possible, an Aerocene epoch - one of interplanetary sensitivity through a new ecology of practice. Towards this, collective ideas must form, by asking: how would breathing feel in a post fossil fuel economy?"
The exhibition, mostly in the dark, continues by inviting viewers to experience the sensory world of spider's webs. An oracle of our past, present and future, the spider's web is a metaphor that asks us to rethink the traditional hierarchical structures through which we conceive and organize the world.

A complete set of 33 'Arachnomancy Cards' made by the artist can be viewed in one of the rooms. Here, every Thursday from 7 to 9:30pm, visitors can take part in individual readings of the cards by Gestalt psychotherapist Gianmarco Meucci. The reading is partly inspired by the practice of nggám, or spider divination, practised by the Mambila tribe of Cameroon and Nigeria, during which questions are asked of a grounddwelling spider who submits an answer by rearranging 'divination cards'.

On 23 and 30 May and on 6 June, Manifattura Tabacchi will host three days of aerosolar flights, from 10am to 6pm, with the Aerocene Backpack, a portable flight starter kit containing an aerosolar sculpture that can lift with the heat of the sun and the air we breathe. This happens without the use of fossil fuels, helium, hydrogen, solar panels, batteries or burners.

In the Cascine Park, the artist will assemble the'Museo Aero Solar', a collective project that's open for everyone to turn used plastic bags into a balloon that floats in the air. It is both a floating museum and a solar sculpture. The balloon will be assembled on 27 June and blown up on Sunday 28 June.
When
From 22 Feb 2020
to 19 Jul 2020
Details
From 22 February 2020 to 19 July 2020