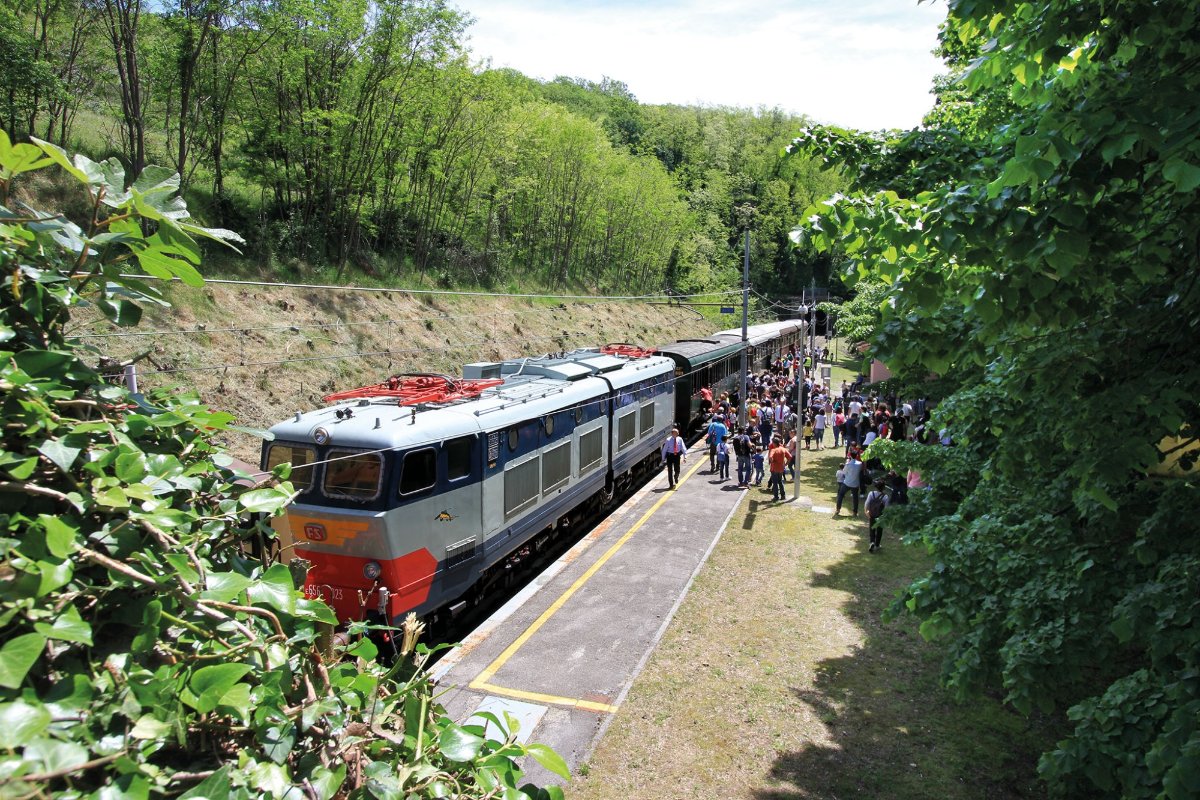 This event has passed
shopping_basketFood festivals
Porrettana Express
Eight historical train journeys from June to October on the railroads that shaped Italian history
Unique glimpses of the Apennines, unspoilt woodland inhabited by deers, small villages where traditional cuisine and little known artistic itineraries are waiting to be discovered, a journey into nature and the history of Italy: this is the Porrettana express, which proposes a conservation project for the land linking Tuscany and Emilia Romana along one of the oldest and most symbolic train lines in the country, La Porrettana. The initiative, which envisages the creation of a real Railway Eco-museum spread across the region, comes into action Sunday, June 30 with the inaugural cycle of 8 unique journeys, each one characterised by in-carriage events and significant stops along the way.
Departing from the Historical Train Depot in Pistoia, several dining cars from the beginning of the 19th century will take families and curious individuals along the route which aims to be recognised throughout the world as The Italian Transappennine, through small villages immersed in green, tunnels and viaducts with an ancient history. The history of the Porrettana, in fact, is inseparable from the beginning of Italy's crucial years between the war that led to independence and the Unification of Italy. Owned by the Savoy Kingdom and then by the new Kingdom of Italy, the Porettana was inaugurated in 1864 and became the backbone of communications between North and South-Central Italy. It played an important role during the Great War and up until the 1930s, when it was overtaken by the direct train line between Prato and Bologna.
The project is the result of a collaboration between a number of Tuscan and Emilian organisations, from local authorities to public bodies and institutions, all of which have been coordinated by Transapp. This first series of journeys represents the start of an ambitious project that is expected to grow over the years.
The Transappenine is a panoramic gateway to the Pistoia Mountains, which is scattered with a dense network of itineraries for lovers of the outdoors, in particular those who love trekking and mountain biking, unexpected viewpoints and an artistic and musical heritage yet to be truly promoted, making it an excellent location for families and travellers looking for a fully immersive experience that brings you close to nature. In collaboration with Coldiretti, this series of itineraries also aims to rediscover and enhance a culinary tradition that includes typical produce and centuries-old recipes.
Here is the schedule of the train journeys, all of which depart from the Historic Railway Depot in Pistoia (the destinations along the route are shown are in brackets):
June 30 - Inaugural train with local authorities, journalists and passengers (Pitecco Pracchia - The Ecomuseum of the Pistoian Mountains)
July 13 - Kids Train managed by the Pantagruel Cooperative (Orsigna)
August 18 - "Pracchia and Music" by Transapp
September 15 - "SMI Museum and Gothic Line"
September 22 - Green Train managed by the Legambiente
October 6 - "Theatre on the Train" managed by Il Funaro (arrives at Porretta Terme)
October 13 - Kids Train managed by the Pantagruel Cooperative
October 27 - Yellow Train managed by the Yellow Friends in Pistoia (arrives at Porretta Terme)
When
From 30 Jun 2019
to 27 Oct 2019
Details
From 30 June 2019 to 27 October 2019