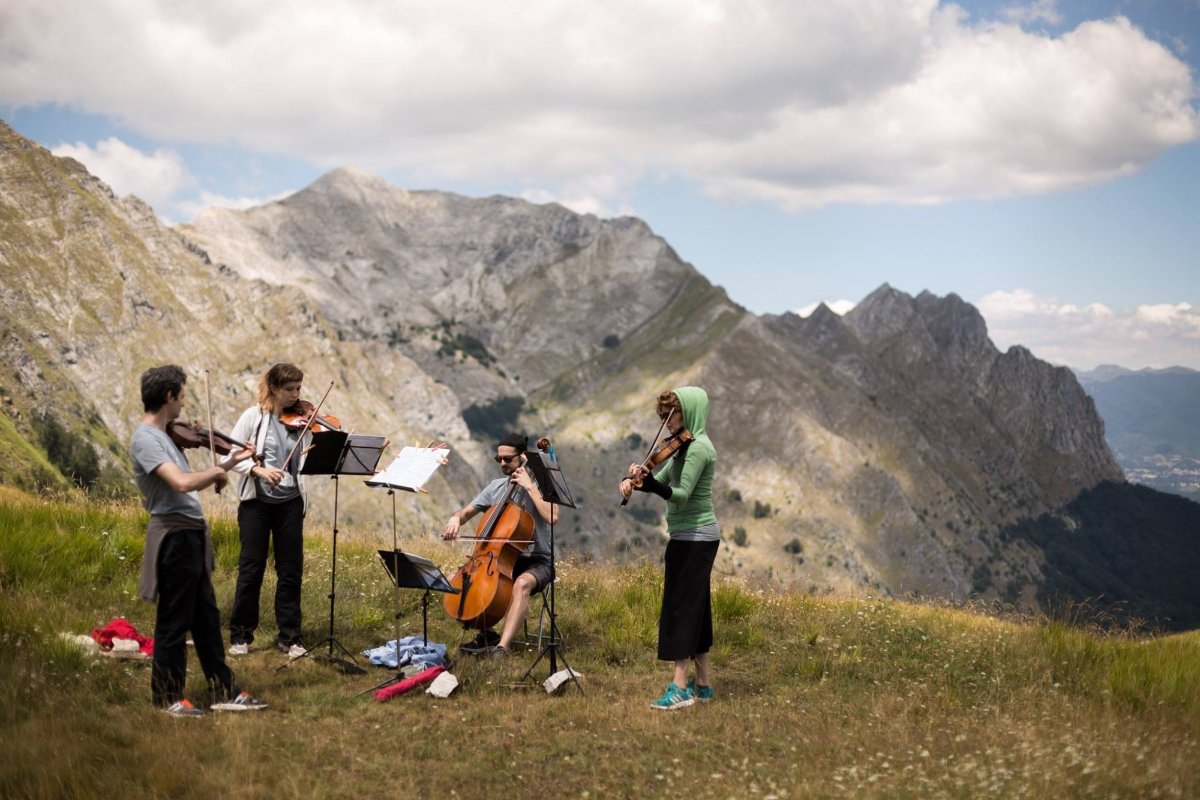 music_noteMusic
Musica sulle Apuane - Music in the Apuan Alps
From June 22 to September 8, high-quality hiking and concerts
"Musica sulle Apuane" is a festival that aims to contribute to the spread of sustainable and knowledgeable practices in tourism in the interest of protecting such a beautiful and fragile place as the Apuan Alps. From 2013 until today, the festival has attracted some 10,000 people from all over Italy creating an attentive and participatory public. The project aims to lend relevance to environmental themes, combining hiking itineraries with music.
People with disabilities can also enjoy taking part in Musica sulle Apuane thanks to the Joelette devices that will be available for use by even those with very compromised walking abilities, allowing them to enjoy hiking the mountain pathways. Events are organized by CAI volunteers who will oversee security and hiking routes.

The festival will offer a multifaceted program aimed at attracting and piquing the curiosities of an ever-growing audience, with programming running the gamut from classical music to jazz, rock to singer-songwriter pieces, and theatre to storytelling, with huge names from both the national and international scenes. Access to all events is free.
On the program for the 2019 edition is an appearance by the great clarinet musician Gabriele Mirabassi, pianist and artistic director of the Associazione Musicale Lucchese Simone Soldati, the music critic Sandro Cappelletto, the violin and cello quartet CelloPlay Quartet, the viola-violin duo Davide Alogna and Simonide Braconi, the first violin at Teatro Alla Scala, the ORT Attack ensemble from the Orchestra della Toscana, Alessandro Carbonare Clarinet Trio, with Alessandro Carbonare, first clarinet at the Orchestra dell'Accademia Nazionale di Santa Cecilia.
Moving beyond just classical music, Kinnara will also be guests at the festival to mark 20 years since the death of Fabrizio De Andrè. Other names in the non-classical lineup include Alberto Mos in a fingerstyle guitar concert and singer-songwriter Bobo Rondelli in a performance dedicated to his most successful album "Per amore del cielo".
Theatrical events will be organized and put on by the
Compagnia S-Legati
with "Un altro Everest"; directed by Soledad Nicolazzi with "Marbleland"; and scored by the composer Carlo Matti in "Leonardo e il bosco", which celebrates 500 years since the death of Leonardo da Vinci.
The 2019 edition will take place in the following venues: Paese di Pruno (Stazzema, Lu), Rifugio orto di Donna (Minucciano, Lu), Foce di Giovio (Minucciano, Lu), Paese di Antona (Massa, Ms), Rifugio nello Conti (Massa, Ms), Campocecina fields (Carrara, Ms), Monte Calvario (Seravezza, Lu), Monte Burgiana (Massa, Ms), Monte Folgorito (Montignoso, Ms), Monte Castagnolo (Massa, Ms).
When
From 22 Jun 2019
to 08 Sep 2019
Details
From 22 June 2019 to 08 September 2019