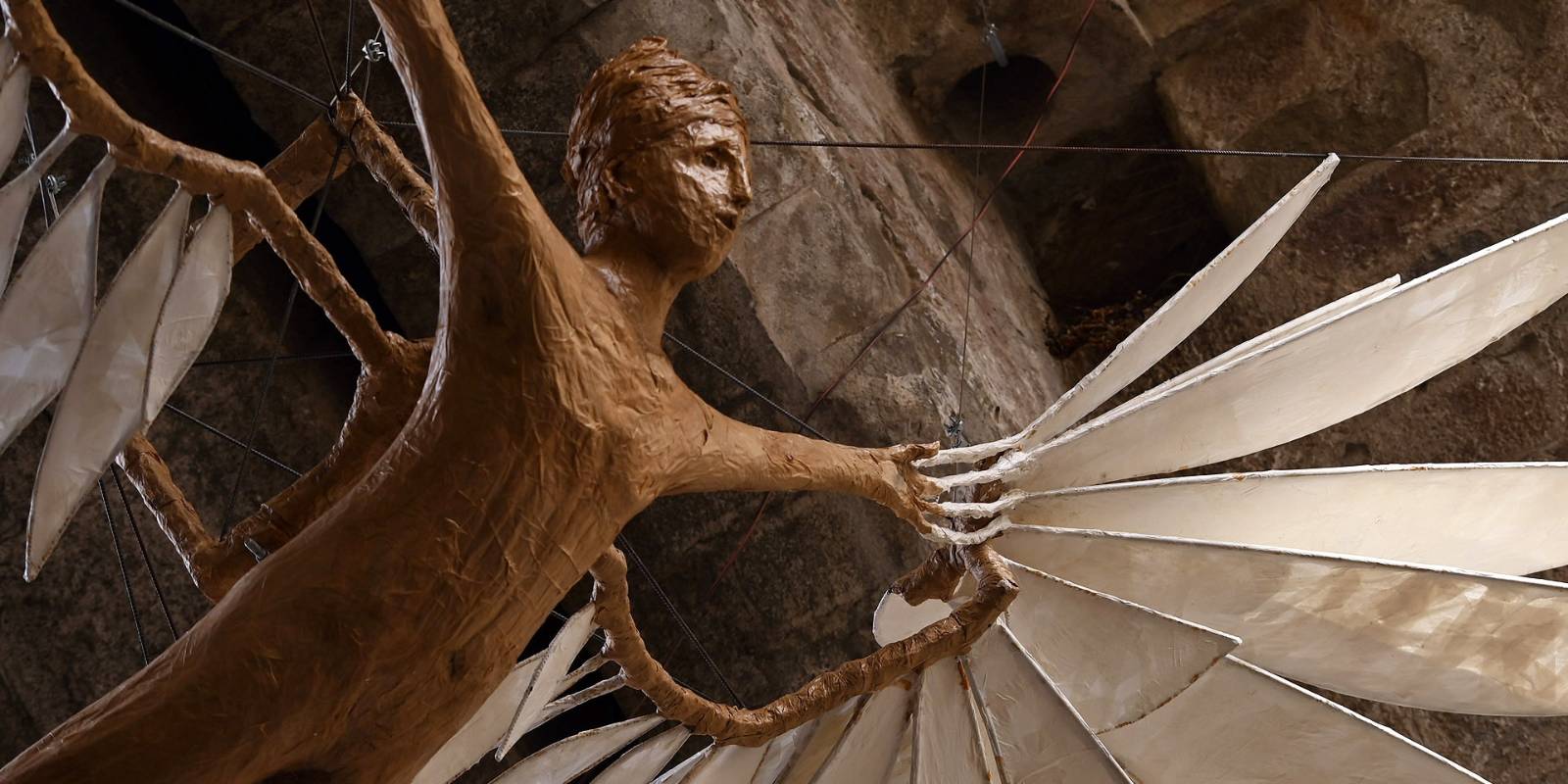 Photo ©turismo.lucca-r.giomi
collectionsExhibitions
info
Important information:
Events and shows all around Tuscany can take place provided that the guidelines aimed at containing the risk of infection from COVID-19 are observed. We invite you to contact the organizers for up-to-date information about the status of the single events. Stay updated
here
LuBiCa - Lucca Biennale Cartasia
Biennial exhibition of art, architecture and design in paper and cardboard in the heart of Lucca
Fear and desire are the keywords of the 2021 edition of LuBiCa - Lucca Biennale Cartasia, the combination on which artists, performers, designers and architects have been asked to reflect in order to talk about art and society through their works.
There will be many sections of the festival: Outdoor Exhibition, Indoor Exhibition, Performance, Architecture, Fashion, Focus on (guest country), Events, Workshops, Network Days and Off Section, which will host artistic performances, focus on fashion, exhibition of jewellery, accessories and clothes made of paper and cardboard, workshops dedicated to children and adults, and the unfailing appointment with the Ned-Network days where fans and professionals of the sector meet and network.
From 2 August to 26 September, the monumental sculptures will enrich the most evocative corners of the city and will be the subject of an exhibition at the former Comics Museum and of many events and appointments.
Eight monumental statues, some of which measure over 9 metres, will once again adorn as many of the city's squares,
Over one hundred works by artists from all over the world for the indoor exhibition at the former Comics Museum, two thousand square metres to be discovered,
30 international paper artists in as many unusual places such as restaurants, shops, workshops, professional studios for the parallel section - Lucca Biennale off.
In the squares
Sleep walker by Amber Dohrendwend - piazza Guidiccioni
Clouds of illusion by Ankon Mitra- ex Cavallerizza
First of all, movement by Claudio Acuña - piazza san Francesco
Risky Rewards by Emma Hardy - Loggiato palazzo Pretorio (piazza san Michele)
Hybris by Matteo Raciti & Officina Chiodo Fisso - porta dei Borghi
In-between by Papier Atelier - piazza Cittadella
Crossing borders by Sebastian Blomqvist - Piazza di Porta santa Maria
The Amazon by TOMA! - former Cavallerizza
At the ex Cavallerizza.
Various works, some of them monumental, included in the "eXtra" section of the Biennale.
Seeds of the Alphabet 2017 and 2018 two beautiful kites by Anna Onesti (tsugaru style the first and lozenge style the second), two tributes to Japan, host country of Cartasia 2021.
Restless objects by Lucchese artist Jonathan Bocca
The wedding dress made entirely of paper worn by Davide Francesca during the performance in the streets of Lucca.
Kindergarten organised by Papperlappap.
Download the leaflet
When
From 02 Aug 2021
to 26 Sep 2021
Details
From 02 August 2021 to 26 September 2021

Monday,
Tuesday,
Wednesday,
Thursday,
Friday,
Saturday,
Sunday
start 10:00 end 19:00