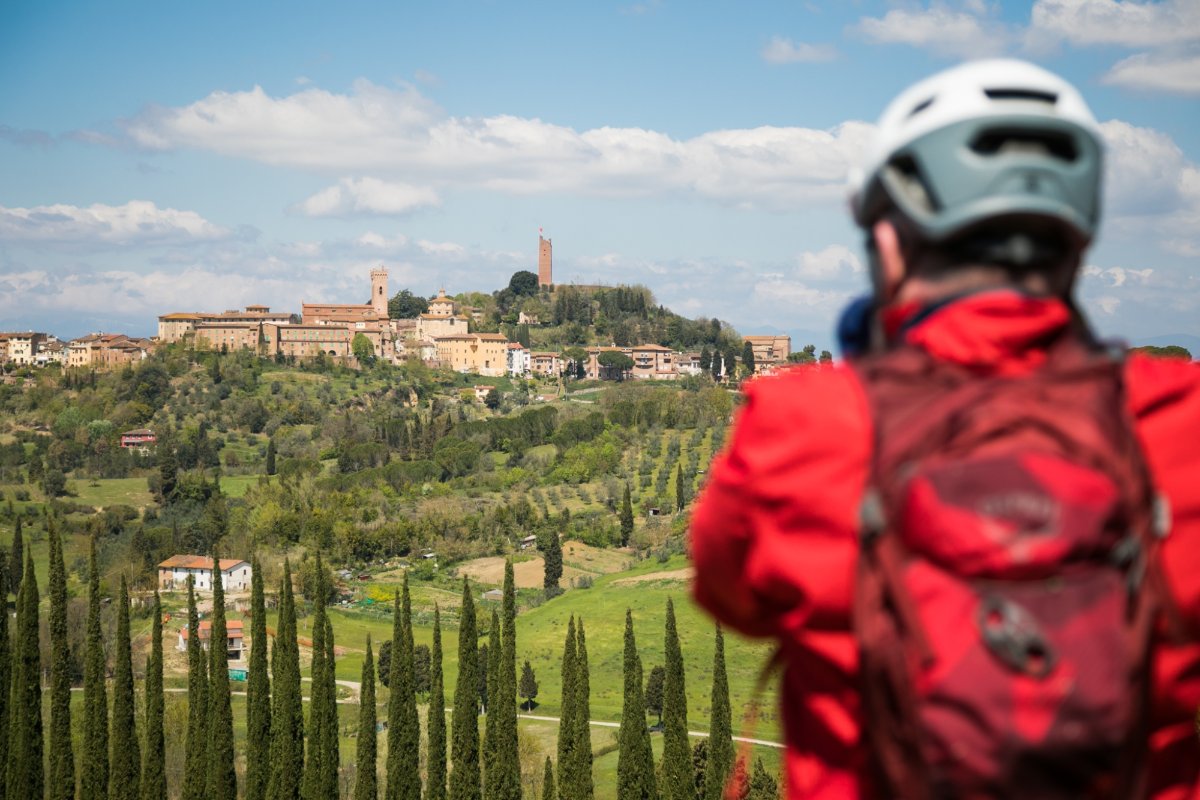 This event has passed
golf_courseSport
Fucecchio Bike & Ride
Two days of cycling , music, shows, red wine and steak, along the ancient roads and pathways of Tuscany, from the Via Francigena to the Via Romea Strata.
The event is to be held from 18th to 20th October in Fucecchio, just a few kilometres from Vinci the birth place of Leonardo, in the very heart of Tuscany. Fucecchio Bike & Ride, 2019's is part of the Slow Travel Festival circuit aimed at Cyclists of all kinds ( Gravel bikes, MTBs and road ).
Over recent years cycling has become one of the most popular ways to travel and explore ; it is no coincidence that the event starts in Fucecchio, a crossroads of two important cultural itineraries such as the Francigena and the Romea Strata.
The inauguration will be held Friday 18th October at the Nuovo Teatro Pacini in Fucecchio with Bartali Eroe Silenzioso, a show paying homage to the great Gino Bartali, a sports champion renowned throughout the world as well as a champion of humanity - so much so as to have been recognised as a "Righteous Amongst the Nations" by Yad Vashem for his civil efforts.
Saturday 19th October will be focused on Via Francigena with itineraries suitable for gravel bikes, MTBs and road bikes. On Sunday 20th there will be two main events: Francigena per tutti, an easy excursion on bike, foot or horse-back, covering a stretch of the Francigena starting from the historical town centre, coasting the Padule (the largest stretch of inland marsh area in Italy – a natural oasis for birdwatching enthusiasts) all the way to the Medicean Bridge. A simple itinerary suitable for all with lunch, music and entertainment upon arrival at the Ponte a Cappiano hostel.
Those feeling up to a longer ride can embark on the Romea Strata Trail which offers gravel bike and MTB enthusiasts some exciting routes through the hills and woods of the Montalbano. This route also offers a shorter 40-km ride and another that climbs further along the Montalbano that lasts 60km. All participants can enjoy lunch in Vinci, the birthplace of Leonardo da Vinci. This event offers the chance to sample local flavours while admiring the landscape that inspired the Tuscan genius. On Sunday afternoon a local village fair will provide entertainment for adults and kids alike with music, food and circus performance
When
From 18 Oct 2019
to 20 Oct 2019
INFO
Website
Mail:
info@slowtravelfest.it

Fucecchio Bike & Ride is a leg of the Slow Travel Fest circuit, the outdoor festivals of the Via Francigena, a project by Regione Toscana and Toscana Promozione Turistica, with the support of the Associazione Europea Vie Francigene. The Fucecchio edition is organised by the Pro Loco di Fucecchio with the coordination of Ciclica, support of the Comune di Fucecchio and in collaboration with BAM Europe.
All events, apart from refreshments, are free of charge. You can see the full programme on the site.
Details
From 18 October 2019 to 20 October 2019
Friday, Saturday, Sunday start 09:00 end 21:00