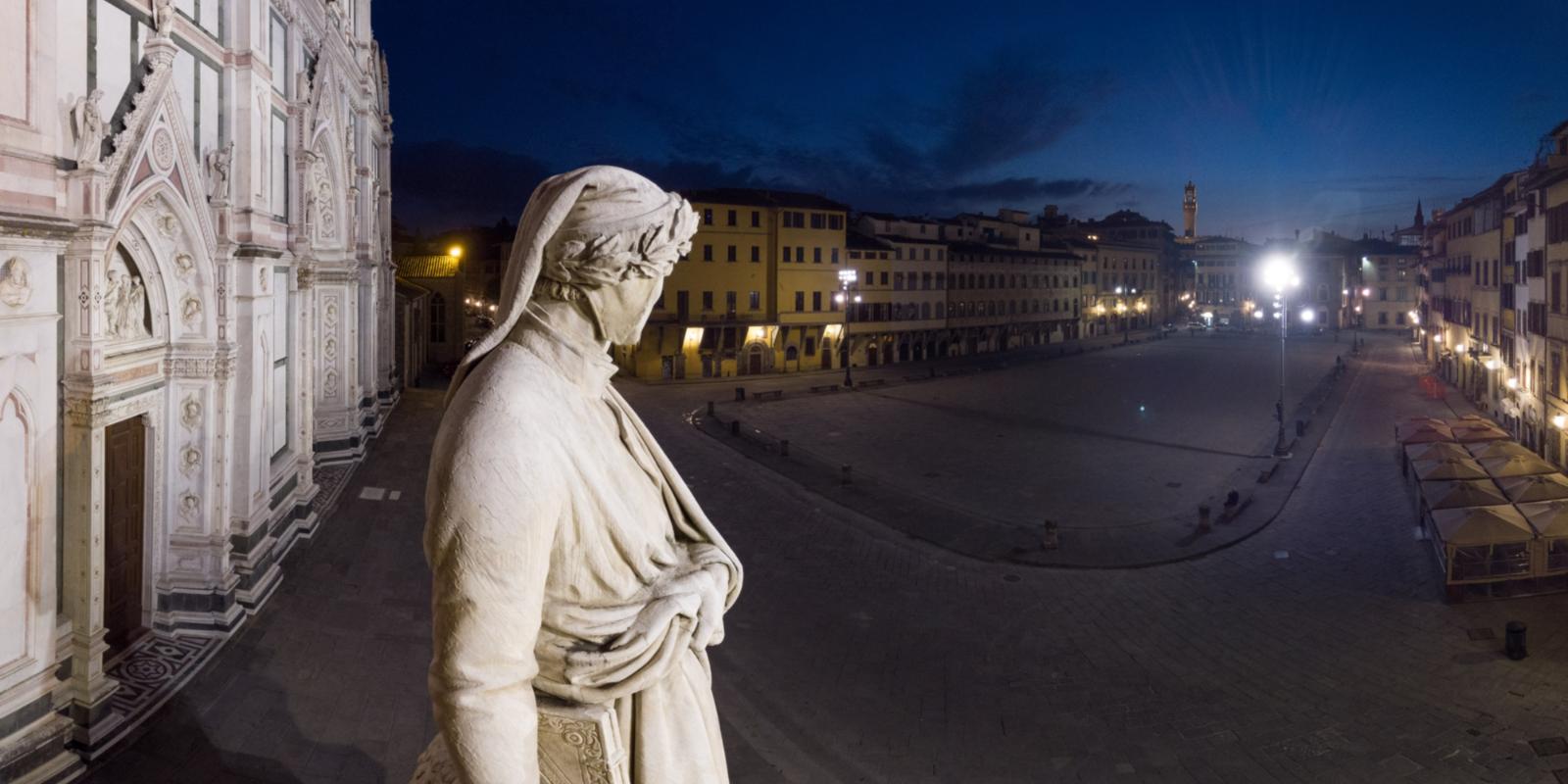 collectionsExhibitions
info
Important information:
Events and shows all around Tuscany can take place provided that the guidelines aimed at containing the risk of infection from COVID-19 are observed. We invite you to contact the organizers for up-to-date information about the status of the single events. stay updated
here
Dante 700
Dal 29 ottobre 2020 fino al 6 gennaio 2021 nel Complesso Museale di Santa Maria Novella un ritratto dei luoghi del Sommo Poeta nelle fotografie di Massimo Sestini
Le parole della Divina Commedia, il mondo lirico, politico ed emozionale di Dante, perfino il suo profilo inequivocabile fanno parte da sempre del nostro Dna culturale ed espressivo. Tracce del Sommo Poeta sono ben presenti nella contemporaneità, nell'immaginario di tutti come nella vita di ogni giorno, nei luoghi della cultura come nelle strade delle nostre città: è questo il filo conduttore di "Dante 700 – Un ritratto di Dante e i luoghi del poeta nelle fotografie di Massimo Sestini", la mostra che si terrà a Firenze dal 29 ottobre 2020 fino al 6 gennaio 2021.
Un racconto fotografico in 20 immagini, in formato 150×100, realizzate da Massimo Sestini, fotoreporter di fama internazionale, noto per la sua capacità di cogliere la realtà con uno sguardo inedito e con tecniche fotografiche sperimentali e non convenzionali. Una mostra che parte da Firenze, città natale di Dante, a Ravenna, dove sono conservate le sue spoglie, passando per la sorgente dell'Arno sul Monte Falterona. Ma anche Venezia, Roma, Verona e Poppi, per scoprire quanto il volto del poeta continui ad accompagnare le nostre vite.
Lo sguardo di Sestini, sempre proiettato al futuro, emozionante e mai banale, scongiura l'effetto cartolina anche attraverso l'impiego di strumentazioni innovative. Con un'asta telescopica, sormontata da una fotocamera leggerissima, Sestini porta il visitatore letteralmente all'altezza della statua di Dante in una Piazza Santa Croce, a Firenze, svuotata dal Covid. Con un drone, invece, fotografa l'artista Enrico Mazzone intento a realizzare l'opera lunga 97 metri, Divina Commedia, all'interno del Mercato Coperto di Ravenna. E ancora, immerso nella laguna veneziana, con maschera, pinne e boccaglio, il fotoreporter sfida i vaporetti per immortalare "La barca di Dante", opera in bronzo dello scultore georgianoGeorgy Frangulyan.
Tra gli highlights della mostra, altre due foto che regalano uno sguardo assolutamente inedito. La prima, un'incredibile immagine del Giudizio Universale di Giorgio Vasari e Federico Zuccari che decora la cupola della cattedrale di Santa Maria del Fiore a Firenze. La foto, che offre – per la prima volta – una visione dell'affresco dall'alto verso il basso, è stata realizzata grazie a una fotocamera radiocomandata calata con un filo da pesca dalla sommità della lanterna del Duomo, a 85 metri di altezza. La seconda, un'immagine simbolica di Firenze che – ripresa dall'alto – diventa un pianeta: Sestini l'ha realizzata sporgendo da un elicottero una macchina fotografica per immagini sferiche legata a un palo lungo otto metri. Non mancano scatti tratti dalla cronaca, tra liceali alle prese con le terzine dantesche e opere di street art che celebrano con creatività il grande genio della letteratura.
I 20 scatti sono accompagnati da un capolavoro del Rinascimento: un portale ligneo, proveniente dal Museo di Palazzo Vecchio, realizzato nel 1480 da Giuliano da Maiano e Francesco di Giovanni detto il Francione,su disegno di Sandro Botticelli. Gli intarsi ritraggono Dante a figura intera. Si tratta di un'opera preziosa, sia per il suo valore intrinseco sia per l'immagine del poeta che ci ha tramandato.
When
From 29 Oct 2020
to 06 Jan 2021
Details
From 29 October 2020 to 06 January 2021